Blakeburn, in the hills above Coalmont, appears as a ghost town on various websites although there's nowhere even for ghosts to reside...

Map of Blakeburn (this is a pdf, 5.3 mb. that will download or open in a new window, depending on your browser. Bob Murray mailed it to me in 2010; it is a copy of his original, with the type slightly cropped at the top right. You will see the road to "Coalmont & Louis Camp" at the top right)
From Shannon Nadasdy, 2020:

My family research in Blakeburn has continued since 2015 when I first contacted you. These photos are from my personal archives. Donald McLean was the Mine Manager at Blakeburn from about 1919-1927. He and his wife and sons were from Ladysmith BC and after returning from WWI a hero, he oversaw operations in Blakeburn. His tenure predates the mine explosion that occurred after his departure. (He appears to have left after his wife Margaret McMurtrie (Her brother was the owner and proprietor of the Abbotsford Hotel in Ladysmith) became ill and they returned to the coast. I believe that two photos of Donald McLean are taken in front of Mine #2 although they appear to be taken years apart. Another, less clear photo of Donald McLean also appears to be taken in Blakeburn.

Also attached is a newspaper article about Donald McLean and family's time in Blakeburn. Although in a senior role, they maintained a very low profile in the community of Blakeburn during their time there. The Princeton museum has a collection of newspapers from this early period with extensive information about Blakeburn. I have included excerpts from the Times Colonist as well as Coalmont/Blakeburn section of the Princeton Star.

There seems to be community memory about the mine explosion and later events after Donald McLean left, but I had to piece together the story and timeline of these members of my family from original source documents. If there is anyone who is related to Donald & Margaret (and therefore me), I would love to pass along cherished family photos. I was contacted by a living Bryden family member who saw my post in your blog and I am hopeful to hear from others with this additional information for you to share.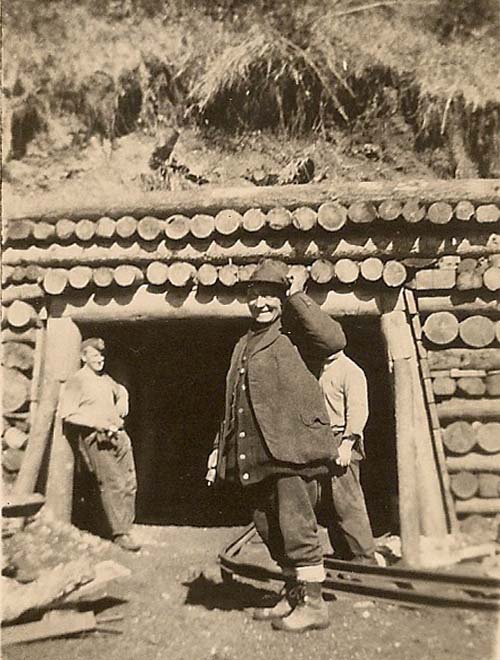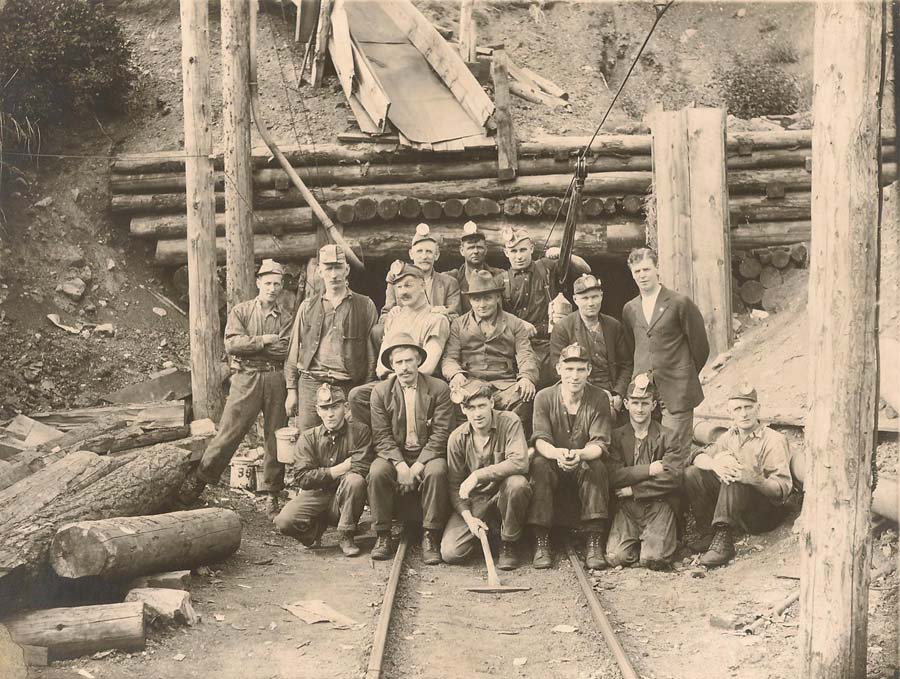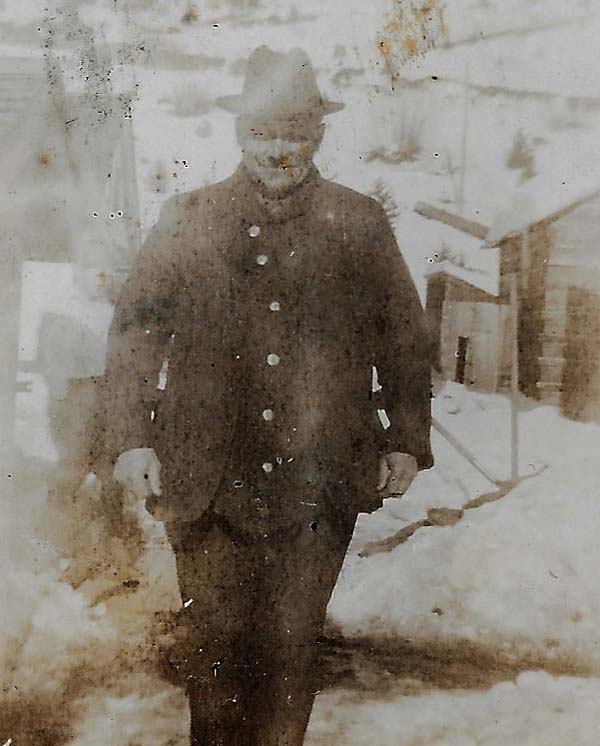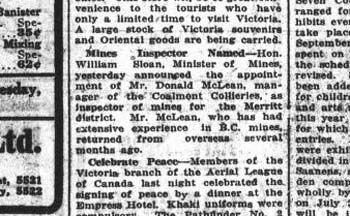 Clipping from the
Daily Colonist
, June 29, 1919
From Annie Kaps, 2019: My father was living in Blakeburn but off-shift when mine disaster occurred. He (from Croatia,Jugoslavija) like many of the miners were from Eastern Europe, as attested to from names on the memorial in Princeton Cemetery and the Slav languages on their individual headstones.

I shared the attached certificate with Terry Malanchuk, in order that he would list my father in his book. He has an error, since he shows my mother Kate Cindrich; however, Kate is the wife of Nick Cindrich and mother of Frank, who are also listed in his book. My mother did not come to Canada until 1937.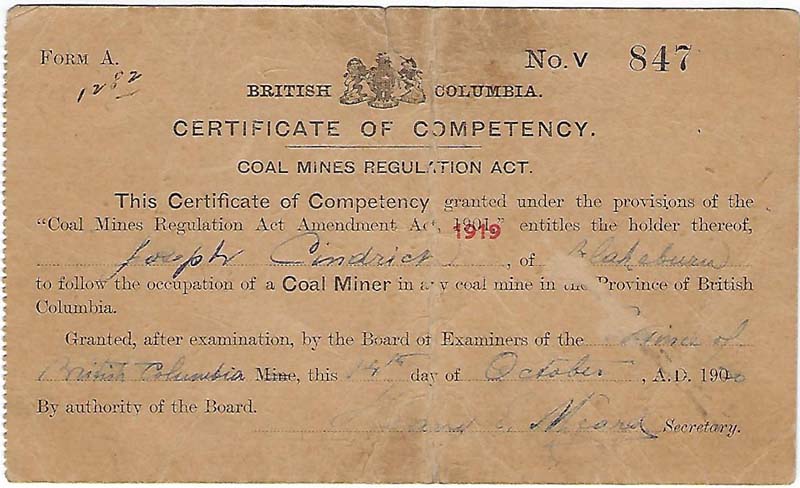 From Sherri Schiebout, 2019: My Mom had told me that her Dad, Stanley Pepper, was a miner in Blakeburn. I found Stanley, his brother Leonard and Leonard's wife Isabelle living there from the 1935 and 1940 voters list. Not sure what year they actually moved to Blakeburn. Leonard and Isabelle were actually married in Coalmont on May 28 1933. I found my Uncle Andy Conway (stepdad was Leonard Pepper) on the 1938 Blakeburn hockey team photo! My Grandpa was born in Brockville, Ontario. He told me he didn't want to be a farmer like his father, and heard that he could make a lot of money being a miner (that turned out to be a lie), so he and Leonard came west, starting in Drumheller, Alberta in 1925. Diane Stern in 2012 had listed the names of babies interred in the cemetery one of them Ronald White is the son of my great Uncle Charles White and his wife Rachel Milligan. Charles is Isabelle Peppers brother.

From Dakota Loven, 2018: hey I saw the image on your website of the blakeburn school kids from 39-40 Jackie miller was is either my great or great great grandpa I am currently trying to find images of a Frederick miller? me and my grandmother are unsure what his title was or even if that was even his name or if we remember it wrong to maybe help you find these images my grandmother always tells a story of how he was the man who went into the mine with the canary after the explosion occurred she said he might be been a fire chief who work the day shift but switched shifts with the night worker the night before which is why he is survived the fire maybe this helps you find his image and also if yu want to post my story that's fine but uh let's prove the story first because I can't find any evidence of him being a fire fighter or eve rescue worker in blakeburn all I know is that he was there that day and wasn't in the mine
From Don Daniel, 2017: Re – Albert Cole ( killed in the Blakeburn Explosion ) ---- Albert Cole was my Uncle. He was 21 yrs. when he died. My father tells me he was standing right outside the entrance to the mine when it exploded. He told me Alberts body was in tact, but the coal dust was literally blown into his skin. Albert was the oldest of 6 children. His oldest sister ( Bessie ) just died last year. ( 2016 ). My grandfather ( William Cole ) came from Scotland to work in the mine. He often told the family how grateful he was to be working there , because in Scotland, you laid on your belly, chipping coal with your pick, This was often done in cold water, He said he "Never thought he would be a miner STANDING UP ! I understand he was called a " Timberman " . He would go into the mine and pull down the timbers when the shaft was finished being mined. A very dangerous job indeed ! I'm not sure what year the family moved from Blakeburn, but the family eventually moved to Michel, B.C. My grandfather continued working the rest of his working life in Michel. The Holley family also left Blackburn for Michel. They were good friends of the "!ole " family. I have a map of the underground mine at Blakeburn. It is the Number 4 mine. It is dated (1950 ). Maybe you know if this map is rare / or weather there is many of them ????

From Gord Stone, 2016: My grandfather, William Stone was employed by the Middlesbourough Coal Company in Merritt as a Mine Captain (Safety Supervisor) at the time of the disaster. As such, he was sent to Blakeburn to aid in the rescue/recovery. A special train was organised by CPR to transport Safety Supervisors from all over B.C. He left in the middle of the night telling my grandmother that he would likely be back in a week but he wasn't home for three weeks. My grandmother said he wasn't the same man when he returned home; having taken part in the recovery of 25 men; most of them young. She said he wasn't the same for quite a few months due to the shock. I understand that 45 men were lost but I distinctly remember the figure of 25 so I would conclude that he helped to carry out that number and then was sent home. It was a disaster that touched many lives and was always spoken of with a great deal of reverence in my family.

From Darren Bradbury, 2016: I am a Great nephew of the J Bradbury listed as one of the men killed in the explosion at the Coalmont Colieries mine in 1930. I am looking for any pictures or information regarding Jesiah that you or one of your readers may have.

From Tara Rose, 2015: I am a great granddaughter of a miner from Blakeburn named Arthur Rose. His two sons grew up in Blakeburn, the eldest son being Thomas and the younger being Lawrence. Thomas is my grandfather and is 94 years old now. My great grandfather Arthur narrowly missed the great mine explosion in the summer of 1930. The day of the explosion a picture was taken of some of the men involved, including Arthur. I have this picture. Arthur having left Blakeburn the day of the explosion suffered a huge mental collapse causing him to spend the remaining part of his life in the mental hospital called Riverview. He felt enormous guilt and couldn't understand why his life had been spared while his co workers and friends had perished. His two sons, both fabulous men, often talked of their glorious childhood in Blakeburn. Thomas and Lawrence Rose live in Nanaimo. If you have any further information of Arthur Rose during his time in Blakeburn, I would be honoured to receive it and pass it along to my grandfather Thomas.
Further from Tara Rose in 2016: My grandfather Tom had a small heart attack over Christmas so I came home to see him. He and I have spent hours on hours looking at his memory lane photos. And we found sound pictures taken along the way at Blakeburn. My Grandpa still thinks I am 5 with sticky fingers so I wasn't allowed to touch them, however I did take snaps of them to share with you. The stories behind the pictures captures a life one can only imagine of. My Rose history, my grandfathers history makes me so very proud, and I feel very fortunate that I can share it.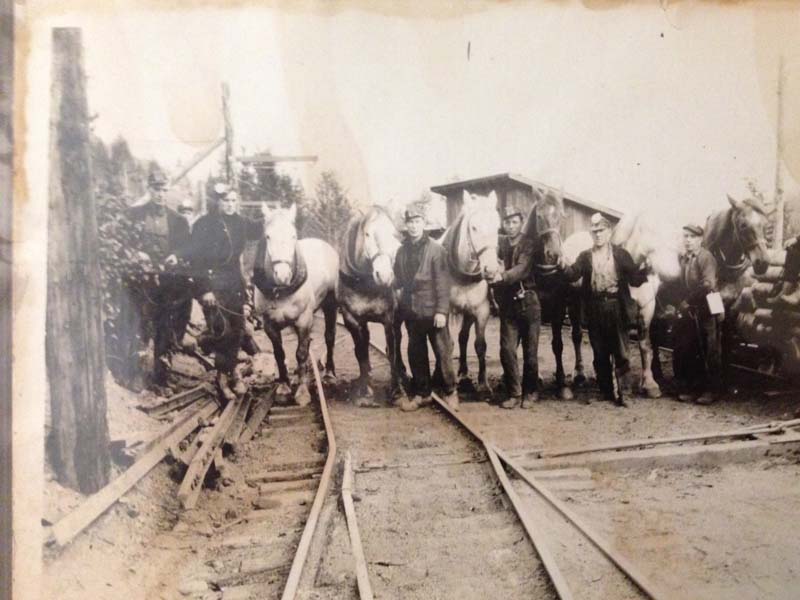 Arthur Rose and fellow miners at Mine #4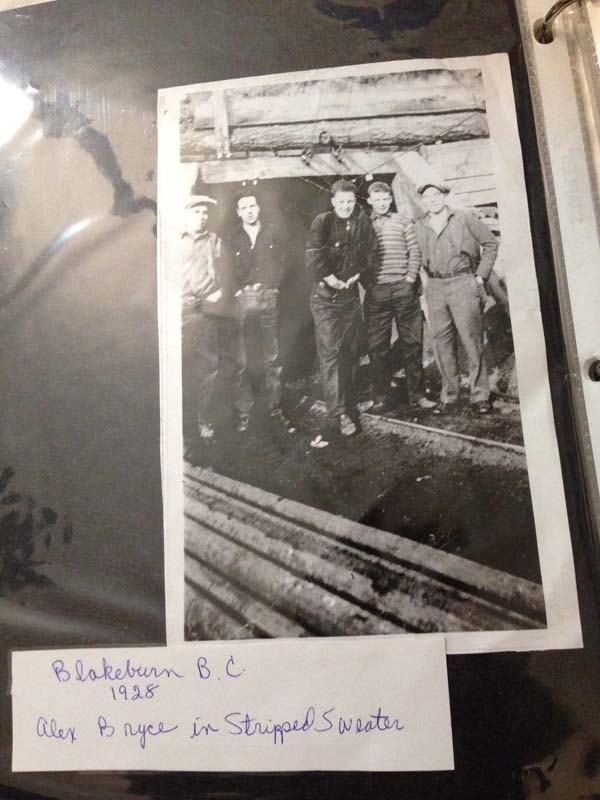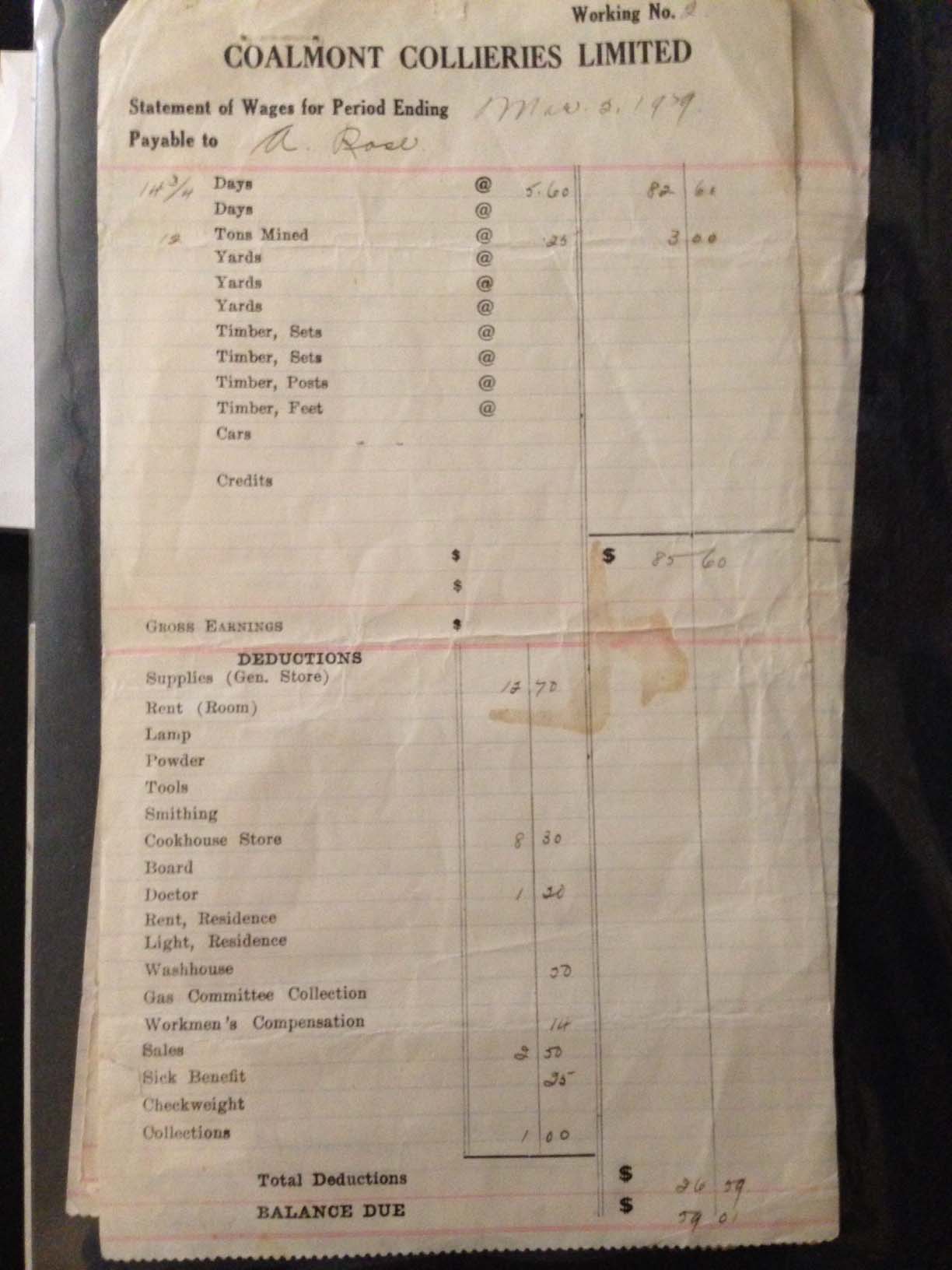 Pay sheet from Coalmont Collieries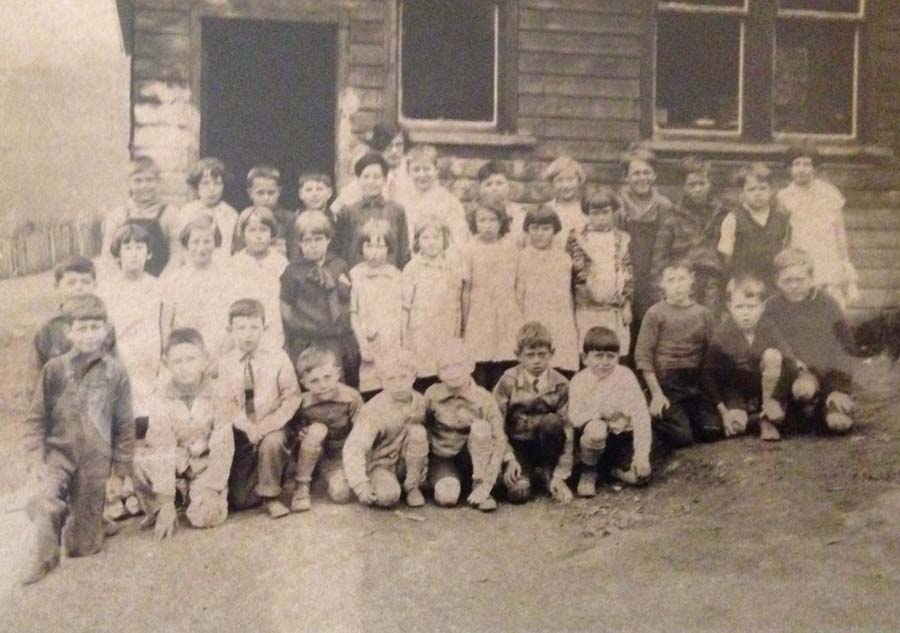 Blakeburn School class about 1930
---------------------------------------

From Shannon Nadasdy, 2015: I am working on
some family geneaology. My parents still live in Hedley BC (but I live in
California) so I'm familiar with Coalmont, but have only recently learned
about the Blakeburn mine specifically. These are photos from my a recently
deceased great-aunt and my grandmother who regularly visited the area as
children (via train to Hope and then wagon to Coalmont via I suspect the
Dewdney trail) in the 1920's approximately.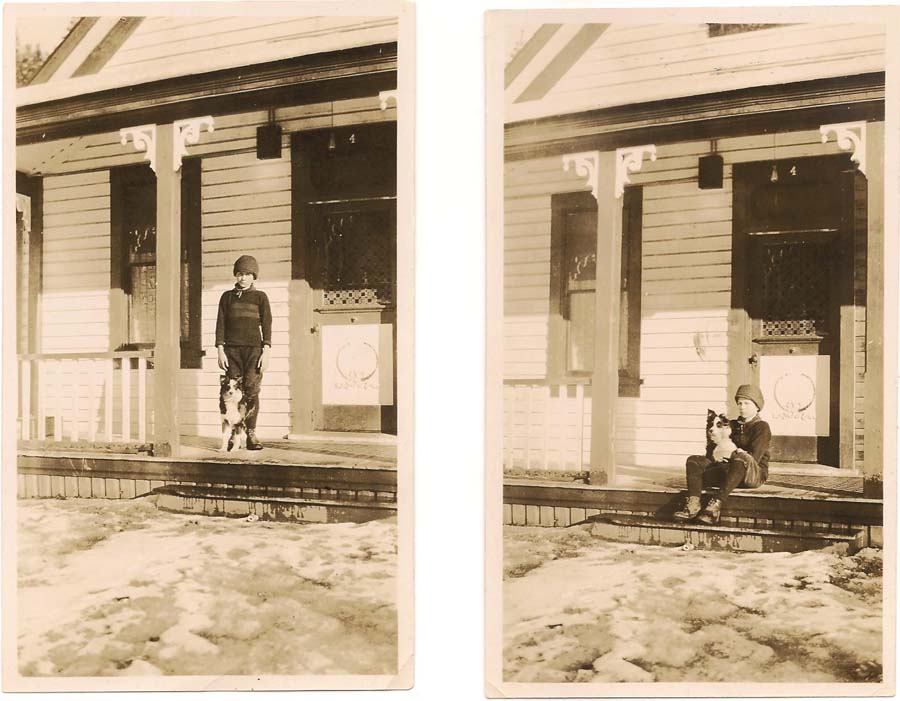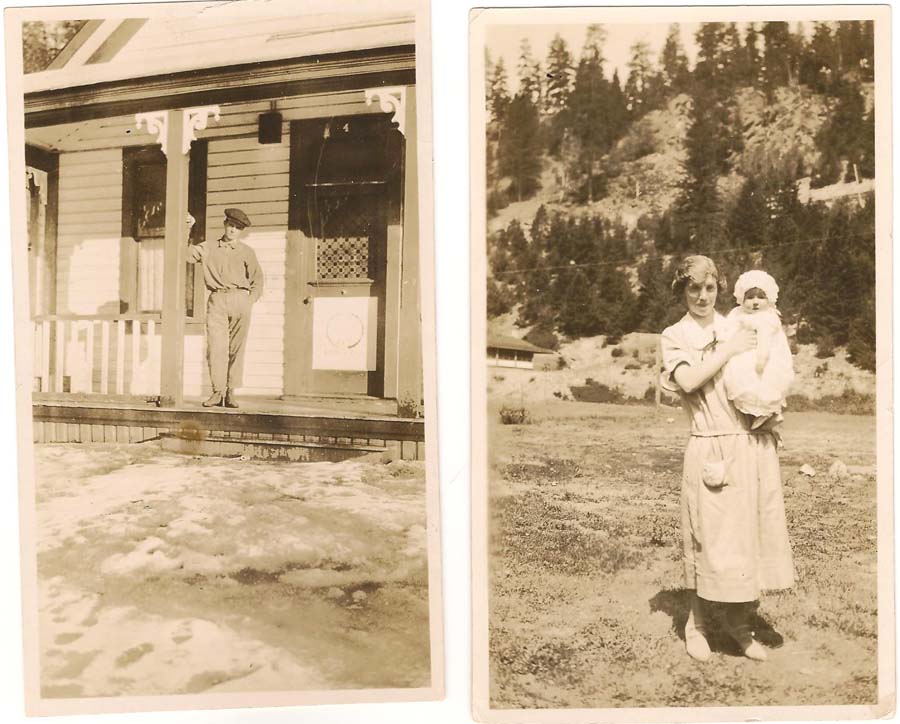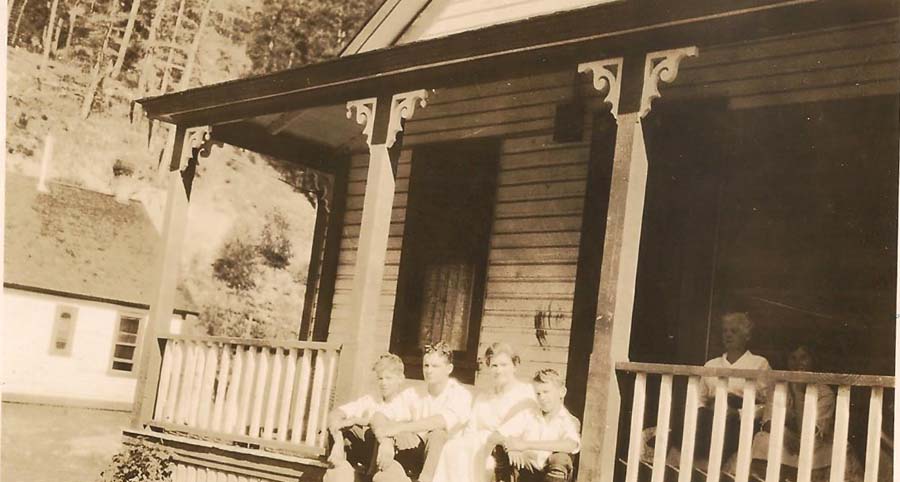 We were able to find Thomas
(my 1st cousin 3x removed) and Isabella Bryden's graves at the Princeton
cemetery but unfortunately not David Bryden (1900-1963). Since there was no
cemetery map, I had to walk the aisles to find the grave stones. I am most
interested in any Bryden family history you come across. Additionally, I do
not have the above named David Bryden in my family tree so far, so he in
particular is of interest to me. Based on census information, I think it is
David Alexander Bryden but I cannot fit either him or Alexander Bryden (his
father) yet into my family tree so I'm not sure yet of this relationship.

As promised, here are the photos that I know are taken in Coalmont. While I
know I had family there earlier than 1923-1924, these photos have clear
dates and places written on the back so I know for sure when they are taken.
The child in the photo taken May 1924 is Merle Tanner (child of Richard
Tanner and Blanche Bryden Davidson). I think it is Blanche Bryden Davidson
(mother) holding her.

With the photos if you have any way of knowing about the house I'm
interested. While the architecture resembles, what in [Diane Sterne's] book is referred
to as "The Columbia Coal and Coke Office", I do not think it is the same
building. I know for sure that these photos were taken in the area (they
say Coalmont specifically), but the roofline isn't the same and it appears
to be closer to a hill than in your photo. I have reason to believe that
this was a family home to the Bryden/Davidsons.

In her response to Shannon's enquiries, Diane Sterne wrote: I went through my records for the Blakeburn Directories (Blakeburn was located above Coalmont and was where the coal mines were) and below is what I found:
1928 and 1929 - W.G. Bryden (Timekeeper)
1930 - Andrew Bryden (Miner)
Thomas Bryden (Miner)
W. G. Bryden (Timekeeper)
1931, 1932, 1934, 1935, 1936, 1937 – David A. Bryden (Weighman)
Thomas Bryden (Miner)
W.G. Bryden (Timekeeper)
1938 – David A. Bryden (Weighman)
Miss G. Bryden (Schoolteacher)
Thomas Bryden (Miner)
W.G. Bryden (Timekeeper)
1939 – David A. Bryden (Weighman)
Miss G. Bryden (Schoolteacher)
Miss Percilla Bryden (Asst. Post Mistress)
Thomas Bryden (Miner)
W.G. Bryden (Timekeeper)
1940 – David Bryden (Weighman)
Thomas Bryden (Fireboss)
Wilfred Bryden (Clerk)
Note: The Blakeburn mines closed in 1940 and Blakeburn was dismantled and abandoned.
Coalmont Directory:
1941 – David A. Bryden (Weighman)
Thomas Bryden (Miner)
Wilfred Bryden (Timekeeper)
No mention of any Brydens after 1941.

In Terry Malanchuk's book "It Was A Good Blakeburn" on page 75 it reads:
"Blakeburn did not cease to exist overnight. Many families stayed on through that last summer of 1940. As the men sought employment either with other mines or, in the Canadian Military, sending for their families when arrangements could be made. Mine Foreman, Robert Murray, Tom Bryden, and Wilf Valentine were kept on salary to essentially 'close up the store'."

Also from the same book on page 101 the following Brydens are listed:
BRYDEN, Tom (1930-40) Fire Boss #4 Mine. Served in the 1940 cleanup crew. Lived in Shaughnessy.
Geraldine "daughter" "Teacher 1937-39"
Priscilla "daughter" "Assistant Post Mistress in 1939"
Wilf G. (1928-40) Blakeburn mine "timekeeper", "Caldonian Club Pipe Band"
John also "Caldonian Club"
Alex "Overman"
Andrew (1930) "Miner"
David A. (1931-40) "Weight-man"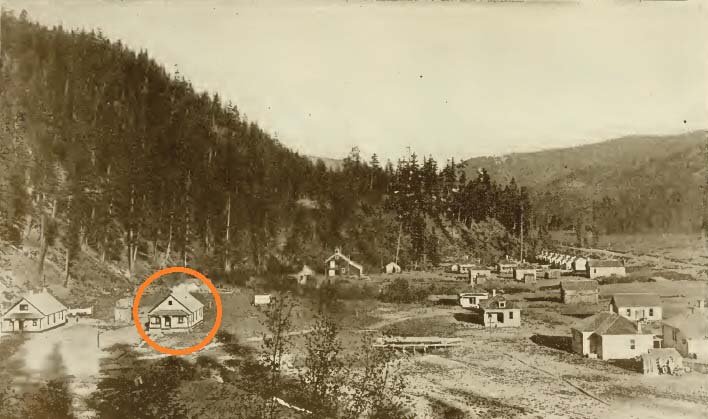 ... and found a photo of the house in Upper Town, as it was in 1911.
*************

From Trefor Jones, 2014: I am from England, and a parishioner at Prinknash Abbey, Gloucestershire. At the time of the disaster, a Catholic priest, who had been a monk at Prinknash, Fr Aelred Carlyle, attended the scene as 'Chaplain'. It is nearly 60 years since Aelred Carlyle died and I am searching for information about his times in B.C. Do you have any information or any idea on where I may find info?

From Bonnie Dickson, 2013: I found a picture of the former Blakeburn outhouse and thought I would pass it on to you. My mother said the outhouse is from the school in Blakeburn. I contacted my brother Roger who confirmed that the outhouse was given, a few years ago, to the Reicherts in Tulameen. According to my brother, it was placed on a concrete slab in a Memorial Park of some type. Marg Reichert apparently is involved in discovering the history of the area. The Reicherts own the ATV and Snowmobile business in Tulameen.

I've attached a picture of the outhouse taken around 1990. John Hudson (deceased) (who along with his father Arthur, transported the outhouse to Keremeos) is pictured with his wife Claribel in front the outhouse where it sat in Keremeos for over 50 years.

From Diane Sterne, 2012: While updating the names of those interred at the Granite Creek Cemetery, I came across the names of some babies that are listed on their death certificates as buried at Blakeburn. As these are all babies, it would seem that perhaps there was a Baby Cemetery at Blakeburn, however, no one I have spoken with, seems to recall this. The babies listed as interred at Blakeburn are:
Cunningham, Baby (d. 1924-12-06); Frew, Baby (d. 1929-08-08); White, Ronald (d. 1929-05-19); and Barnes, Corry Anne (d. 1937-12-11). There could be more, these are just ones which I happened to come across. If anyone knows of such a cemetery, please contact me at:
editor@mozey-on-inn.com
.
Update, November, 2011: I just heard from Terry Malanchuk via Diane Sterne that Robert Murray has passed away. RIP.
From Lorraine Taylor, 2011: some great photos of Blakeburn....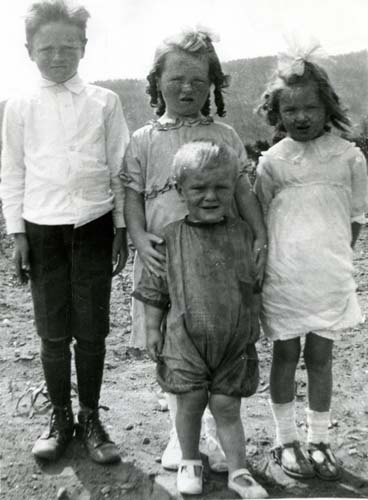 Walter, Ida, Isobel and Jack Pacey

Mixed hockey team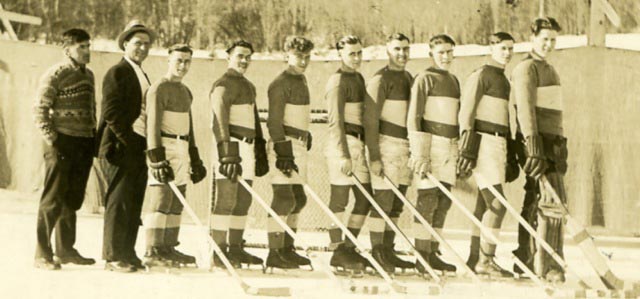 Hockey teams
Note and photo from Robert Murray, Merritt, 2007: I was born in Blakeburn the year before the explosion in # 4 mine and lived there until operations ceased in 1940. My uncle George Murray was the mine manager, my father Robert S. Murray was pitboss from 1925 to 1940, my uncle Dave Murray was a compressor and lamp cabin attendant. Fortunately they were not at work when the explosion occurred and we all left the area in 1940.
I have returned to visit my old home town on several occasions but unfortunately, Mother Nature has now pretty well reclaimed it. The picture below shows the main seam outcrop as it appeared on my last visit in the fall of 2003.
There have been two books written on Blakeburn - the first was by an author named Don Blake and was published by Skookum Publications Ltd. of Penticton B.C. in 1985. The title is "Blakeburn From Dust to Dust", it is now out of print. I was never able to contact this gentleman as it was before the communication revolution. There are still copies available at a fairly high price on the internet. I have two copies and am keeping them for my two sons. This book also had a fold out map of the underground workings of #3, #4 and #5 Pits in the front and a fold out map of #4 Pit after the explosion in 1930. There is also a book by Terry Malanchuk.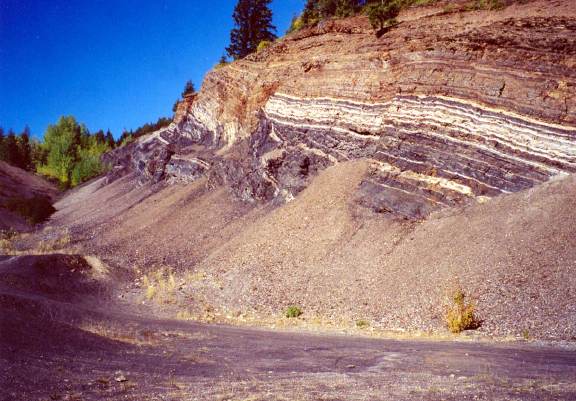 Narrative and photos by Bob Murray Merritt B.C. March 2010, on BLAKEBURN BRITISH COLUMBIA
The small company owned coal mining town of Blakeburn B.C. composed of less than 1000 souls, was stuck on the southern slope of Lodestone Mountain above the famed Granite Creek Valley of gold rush fame, about 16 road miles north-west of Princeton B.C. Two business men of the time, Blake Wilson and Pat Burns of the meat packing firm, had invested some money and their names in the coal venture. The placer gold was pretty well cleaned out of Granite Creek by 1912 when some of the gold seekers moved to the coal mining industry. I gleaned this information from my parents - Jessie and Robert Murray and also my sisters, Jessie the eldest then Margaret and Rena ( Bunty). Mom and my three sisters had arrived in Blakeburn in 1926, although my coal-mining father had come a year earlier to join his brother George and make our living in Canada. Another brother Dave and family also located here two years later from their Village of Lemahagow, South Lanarkshire , Scotland.
Blakeburn being a small town, any entertainment was mostly organised, arranged and supplied by local residents. The company had a large bunkhouse and cookhouse for the many single men that worked the mines. The cookhouse dining hall was the locale for any large dances, concerts or entertainments that were staged. Local teens did the baby sitting for any children who were bedded in the dining hall tables that were stacked in an ante room off the main hall, the top table upside down making perfect sided cribs for the tads. No one stayed at home, everyone came to entertain or be entertained, dance, swap gossip or in the case of the young ones, sleep the night away.
There was also a small church hall behind the main bunkhouse that every so often would screen excellent 16 millimetre movies that were enjoyed by all. The winters were spent, skating, playing or watching ice hockey, skiing or sleigh riding. If you remember the old style steer able steel runnered one-man sleighs, you can picture the following. We used to form ten or twelve man sleigh teams by hooking the toes of our boots into the front frame of the sleigh behind. Living on the side of a mountain, there was no lack of fast downhill runs. The last few sleighs in the team would be subject to a lot of centrifugal force on tight turns and they would usually end up well of the trail in a snow bank or snarled up in willow bushes. There is no remembrance of cuts or bruises, there must have been a few but only the memory of the days of fun remain. Some friends that attended school in Blakeburn were ; Tom and Dave Barras, Tino Liberatore and his sisters, Gus Malenchuk, Harry Cole, Lloyd Gilmour, The Edwards and Marochi children to name a few, there were many more but space and memory will not allow me to name them all.
A trick that my Dad, our boarder Jim Brown and my Uncle Dave played on me had a large influence on some of the above named school friends. There was a large rock outcrop on the high side of the road to Coalmont just below the schools, and a path down to it. During spring time break-up when the ice was melting, the tricksters would walk with me to what they called the "money rock" and claimed that coins would fall out of the rock when small stones were thrown at it. Sure enough when we all threw stones, money would clink on the gravel below the rock face. Of course the grownups would throw coins at the same time they launched their stones. This would take place sometimes when a few of my school friends were present, so , kids being kids we swallowed the story completely. Many of us would pelt that rock face with stones quite often and in vain when we were out rambling.
The disaster that befell this community should be mentioned here. There were forty six men working underground on the afternoon shift in number four mine on the 13th of August 1930. Without any warning the mine suffered a double explosion, either from an excess of coal dust or more likely methane gas, CH4. Forty five men died that day, one man in the main haulage tunnel survived with serious injuries. When, after many weeks, all the bodies were recovered it was determined that no dynamite shot had been fired at the time.
All the fire bosses' firing equipment had been found in their normal storage locations. Many of the tunnels and passageways were severely caved in which caused a delay in reaching and recovering the unfortunates. The inquiry that followed came to the conclusion that a lightning strike from a summer storm hit the rails and a spark crossing a loose fish (connector) plate had touched off the explosion. Local squads and special teams from Merritt and Princeton put great rescue efforts forth but to no avail. The miners not caught in actual cave ins were asphyxiated from the carbon dioxide generated by the explosions. This disaster put a damper on a normally happy town but the operation recovered and produced coal for ten more years. A large amount of money was raised from people all over the province and beyond to help the families that had lost their breadwinner. Luckily none of our immediate family was involved, they were either on holiday or days off.
Fishing was available in Blakeburn creek below the town or the more ambitious would go up Granite Creek to several cabins up at the headwaters. Summer holidays were spent mostly at Tulameen (Otter) Lake, camping in tents or sometimes a rented cabin; many happy days and evenings were spent there. Popular, were the evening singsongs around campfires with the Girl Guide and Boy Scout troops from Merritt and Princeton. A hiking trip to Tulameen with some of my buddies left me with a snake phobia for life. A mixed age group took off from Blakeburn to hike to the lake, about seven miles by railway and short cuts. One of the older boys caught a garter snake and as they often did, whip - snapped it, the head flew off and hit me on the side of my nose. The resulting nose bleed and boyhood panic eventually abated and we arrived in Tulameen and luckily found a ride home before dark.
The town supported a good number of dogs, we always had a cocker spaniel. The men at the bunkhouse cured the loose dogs that would urinate on a post at the top of the stairs. Two metal plates were installed, one flat on the floor and the other wrapped on the post. A suitable electric current was applied to the plates (not lethal). No dog was ever known to come back to the bunkhouse for "seconds".
Transporting the coal from the mines to a railhead in earlier times seemed almost insurmountable. Some was trucked to the nearest railway at Merritt B.C. but this proved to be very unprofitable. 1914 brought the railhead to Coalmont B.C. under the Canadian Pacific Railway after much dealing with the various railroads involved. This high quality, marketable, bituminous low ash, steam coal was in great demand. Coal was moved down Lodestone Mountain by any means possible, even horses and sleighs in the winter months.
 
 
Coalmont Collieries came into being with the new owners in 1918. The transport problem was well on the way to solution by 1920. A crew of very talented workmen on the company's payroll constructed an aerial tramline over three miles long.
They used the timber that was available in the area and much ingenuity to build the towers required. This unique, to a coal mine, feature went into operation and began delivering coal to the Coalmont tipple in November of 1920. Blakeburn became official in 1922 when it received it's post office. Several years later, my Uncle George Murray became Overman and upon the retirement of Mr. McLean became Mine Superintendent.
Finally a direct line through the Coquihalla Pass connected the line to the seacoast and the Vancouver market.
The tram was used to bring supplies into town from Coalmont when winter snows made the truck road impassable. This was fine transport for the goods and coal but very scary for anyone riding the empties. The teenagers from town had a number of exciting trips it was disclosed in later years. There was even a story about a salesman who missed the truck and rode an empty to Blakeburn only once. He made the mistake of standing and looking down into a canyon at the highest point above ground the line attained.
Markets for this good quality coal were disappearing. Most of the main customers, the railways, hotels and commercial buildings were turning to cleaner and more automatically controlled types of fuel. The decision to close the mines was dictated by economic conditions and spelled the death of Blakeburn. My Dad was one of the few who remained to lift rails and salvage any thing useable or saleable for the company. Finally in mid summer of 1940 I lifted my foot from the earth of my beloved home town and began my life in Vancouver. I remember that last summer as clearly as yesterday, working with Dad and Wilf Valentine removing the mainline rails between town and the mines. A ten year old boy probably had play in mind more than work but it still remains with me as a kind of sad never to be repeated magical time.
The main road out of town passed between the bunkhouse and cookhouse, past the company store and horse barns and thence onto the Coalmont Road. This was the route our family travelled together for the final time in August of 1940; Blakeburn and Lodestone Mountain were turned back to Mother Nature and the ghosts of the past.