Commissioned Paintings

Update 2023: I am not painting any commissions until further notice.

Below is a selection of commissions from the past 20 years – a commercial side of my work that from time to time helps pay the bills ("crass commercialism" indeed!). Although some are for corporate or institutional clients, I have painted images for people who are leaving a long-time home or garden, who are selling the family cottage or want to be able to look at it during the winter, or who want a memory to hand on to their children. Recent prices have ranged from $1400 Canadian to $4000 Canadian, plus travelling expenses. Contact me for further information.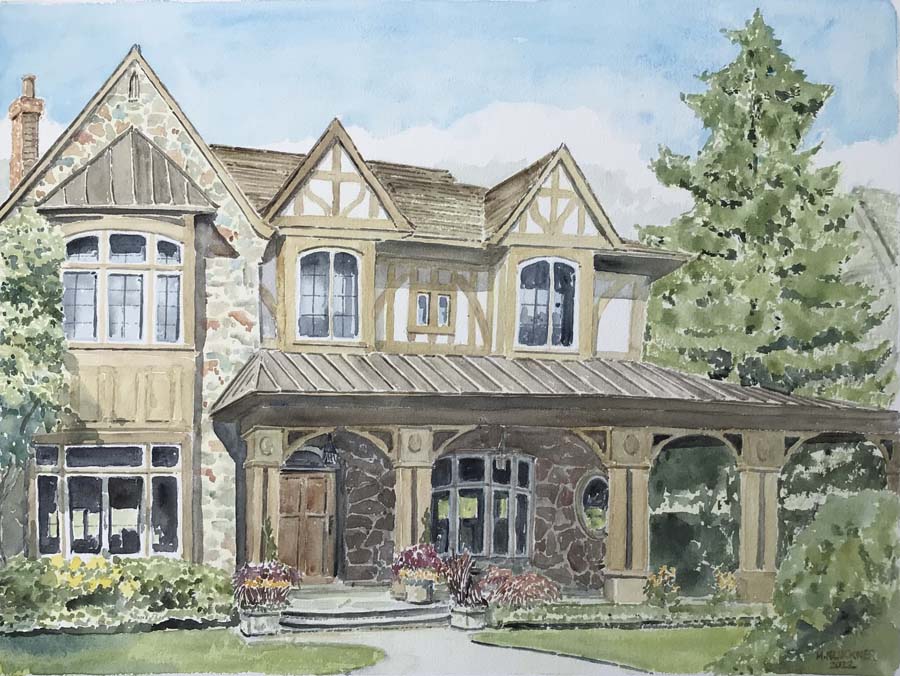 Wiltshire Street house, watercolour, 2022 (one of two) – the last one for the foreseeable future.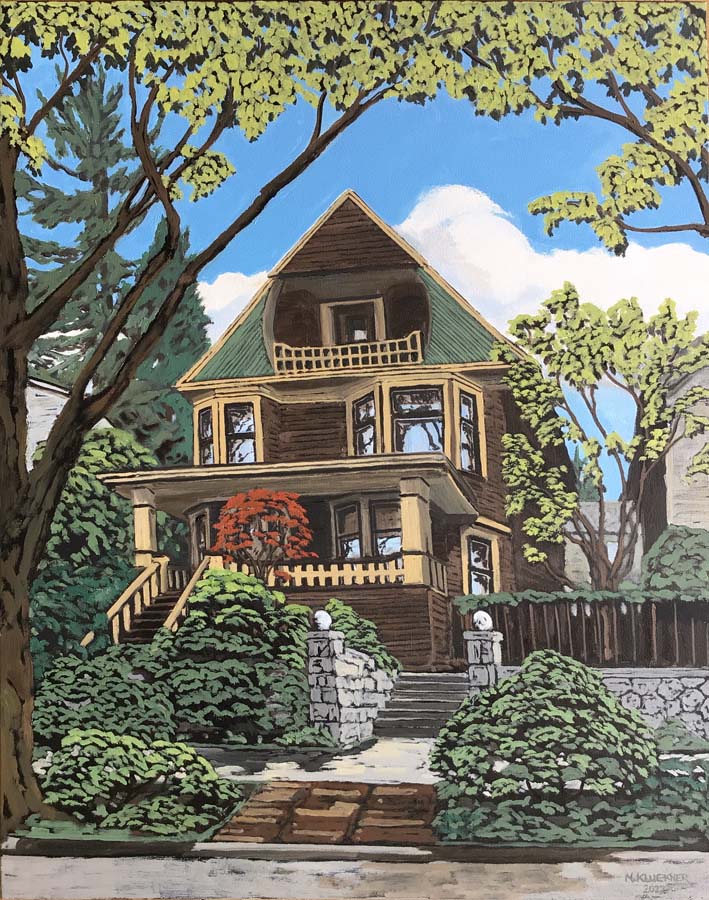 House 2022, a birthday present, oil on canvas, 24 x 30 inches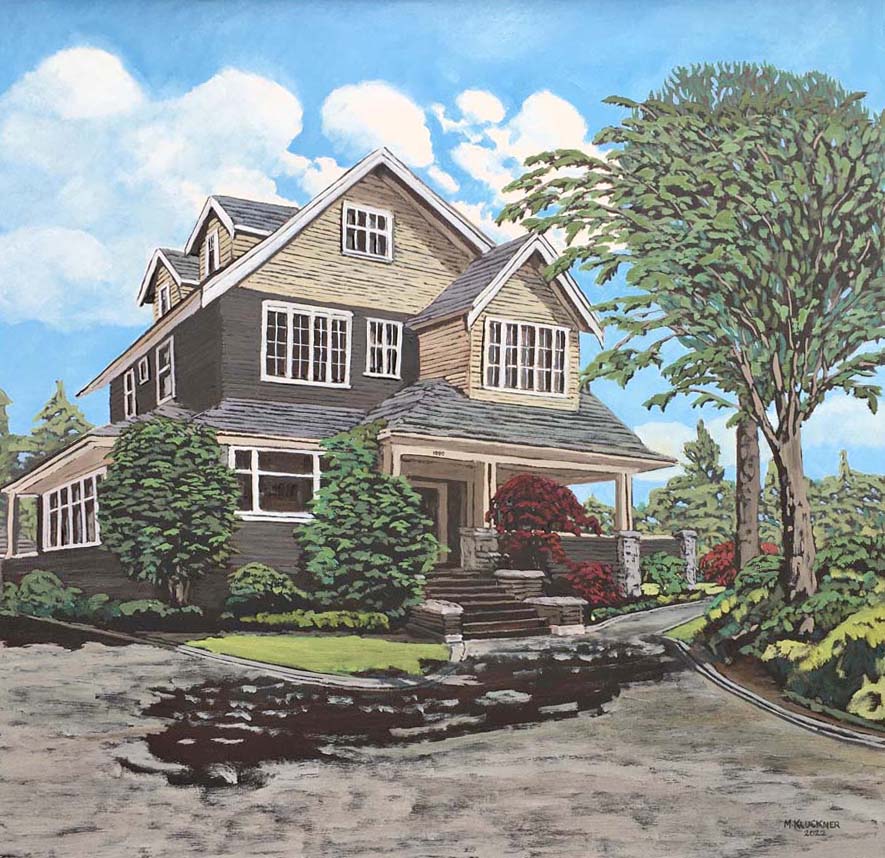 Shaughnessy House, 2022, 30 x 30 inches, oil.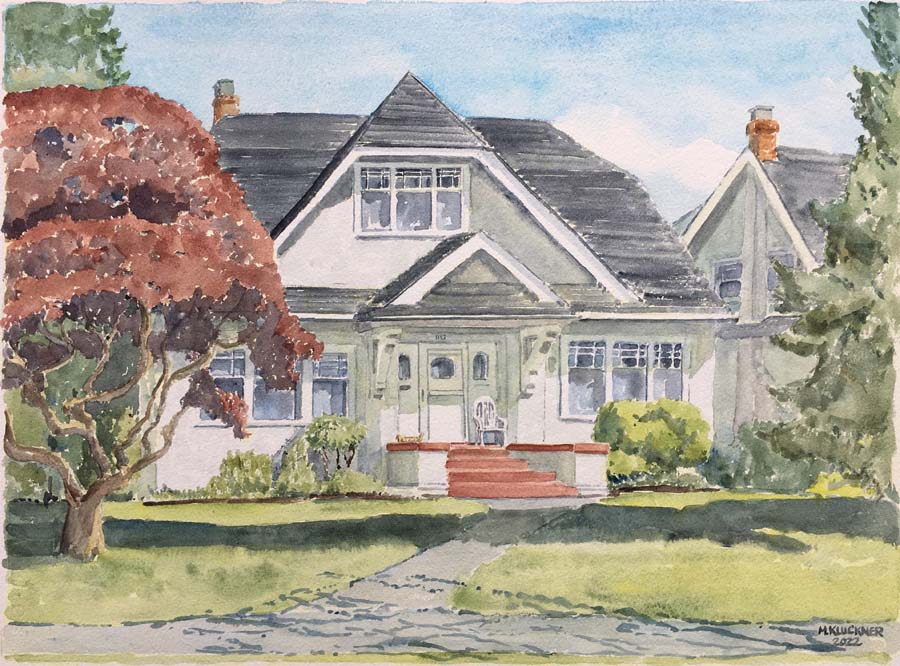 2022: a modest South Shaughnessy house – a keepsake for a daughter who grew up there in the '50s & '60s, after the passing of her mother in her nineties.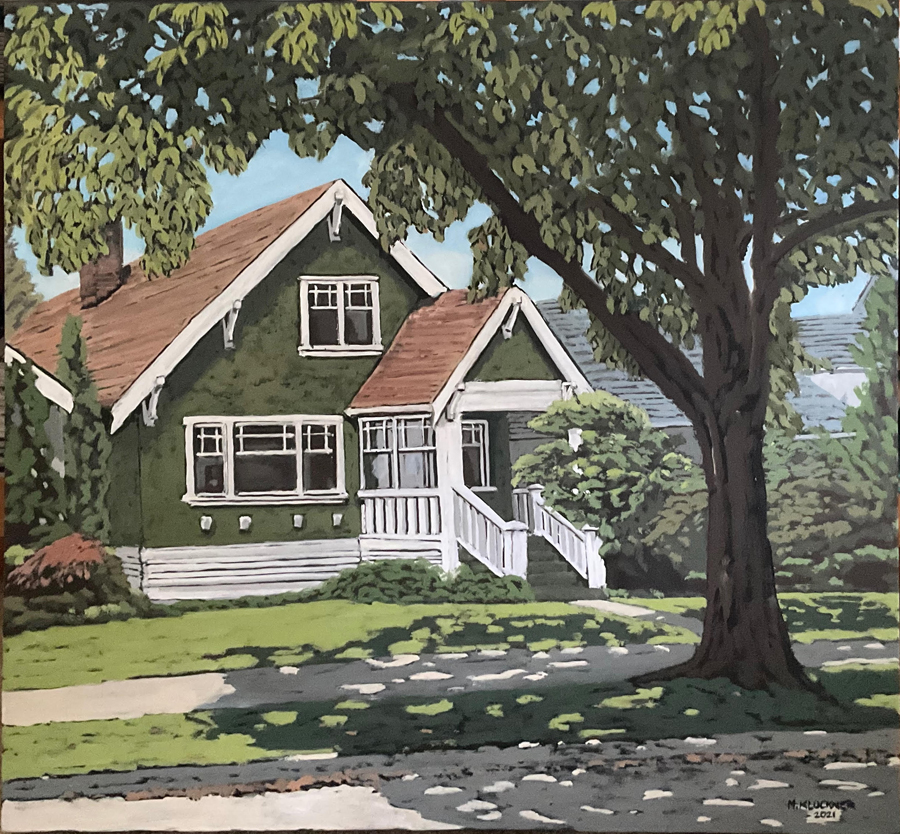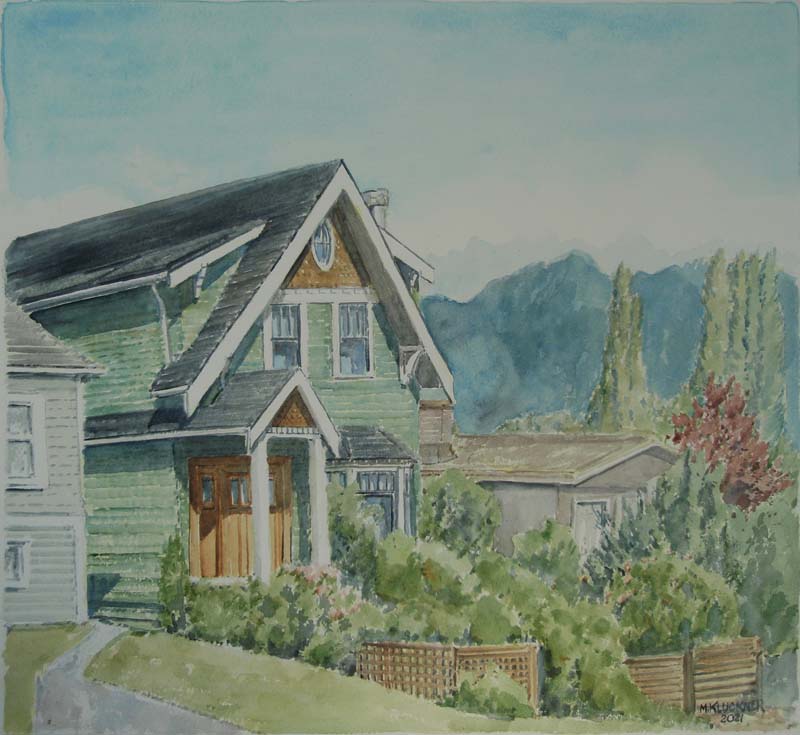 September, 2021: two Vancouver houses, the top one in oils and the bottom in watercolour.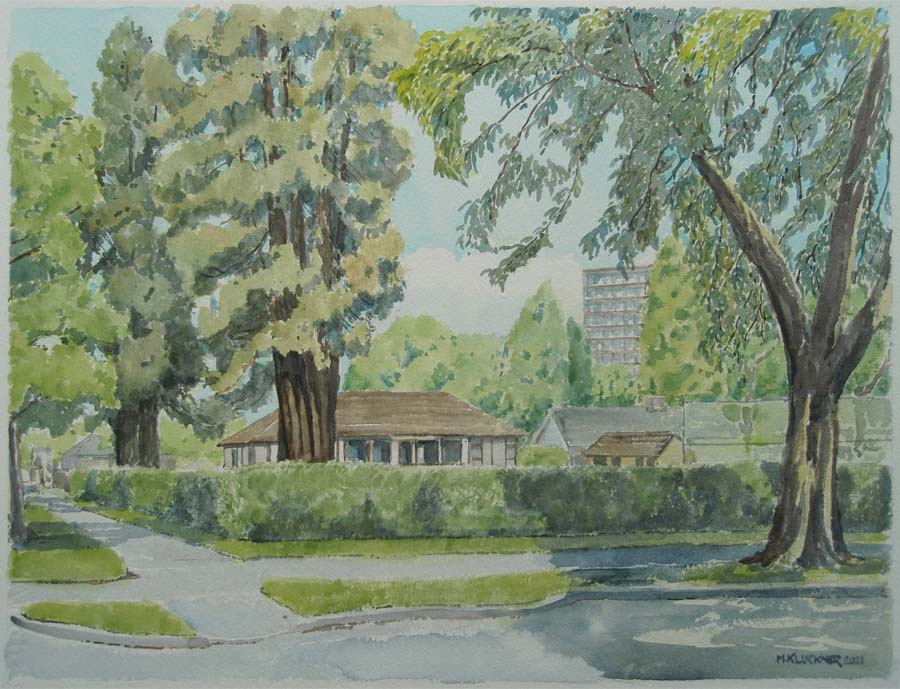 2021, the Kerrisdale Lawn Bowling Club, Vancouver – an opportunity to paint trees!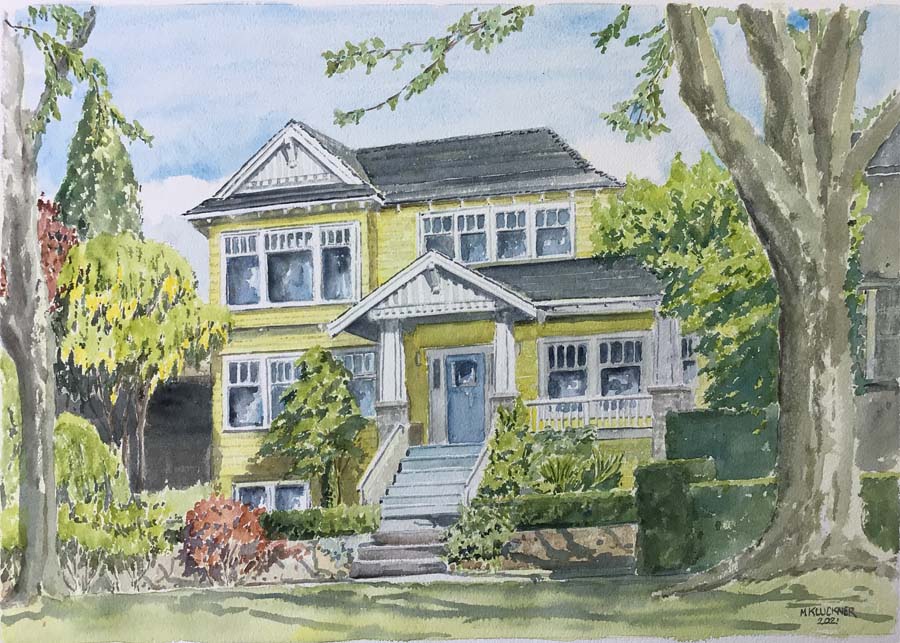 A particularly nice house and garden in West Point Grey, Vancouver. Watercolour, 2021




A curious one in oils, entirely from photos, of a Toronto house, 2020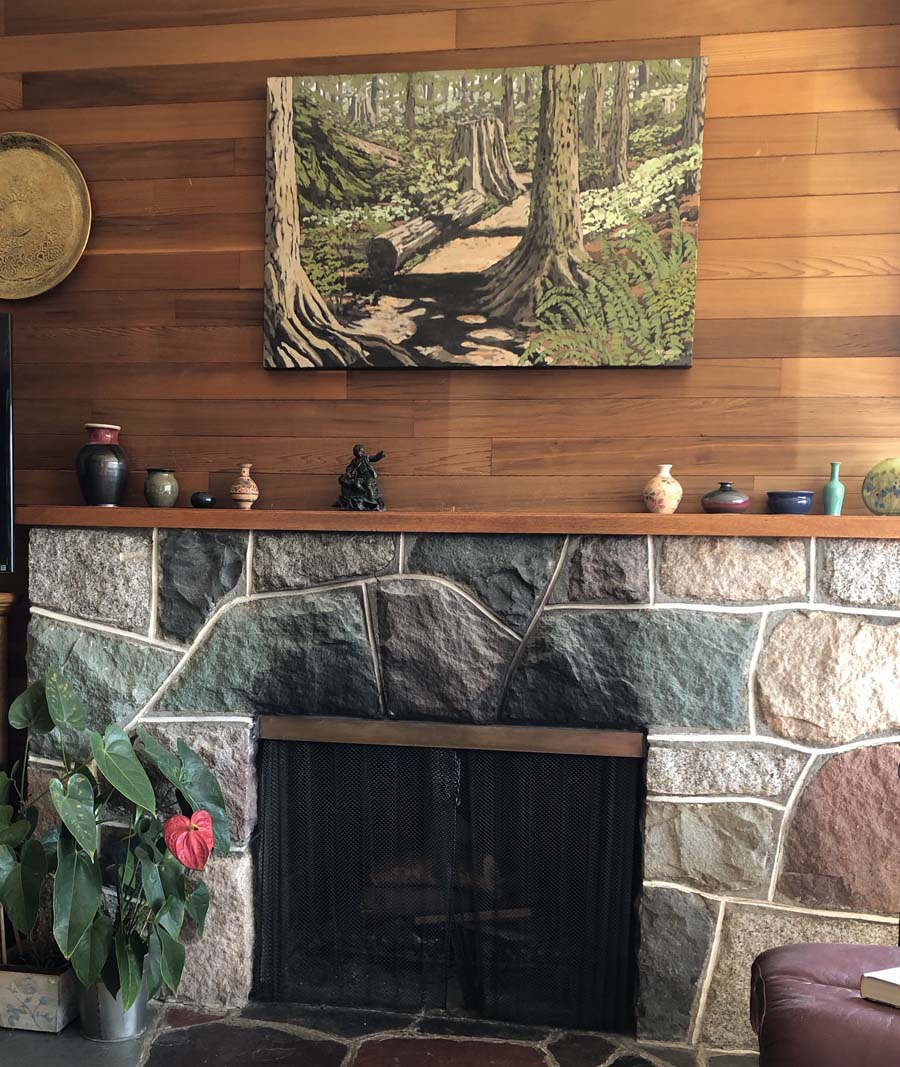 A made-up forest scene with the stumps and trees of coastal British Columbia for a woman who loves walking her dog in North Vancouver's forest. Oil on canvas, 2019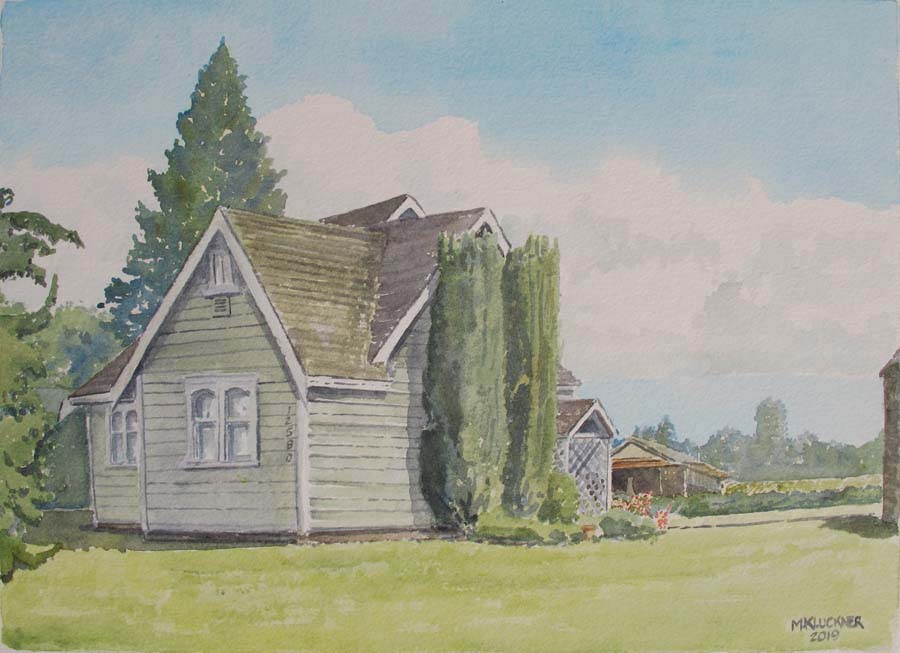 A doomed farmhouse and blueberry farm near Westminster Highway and Highway 99, beloved of a granddaughter. Watercolour.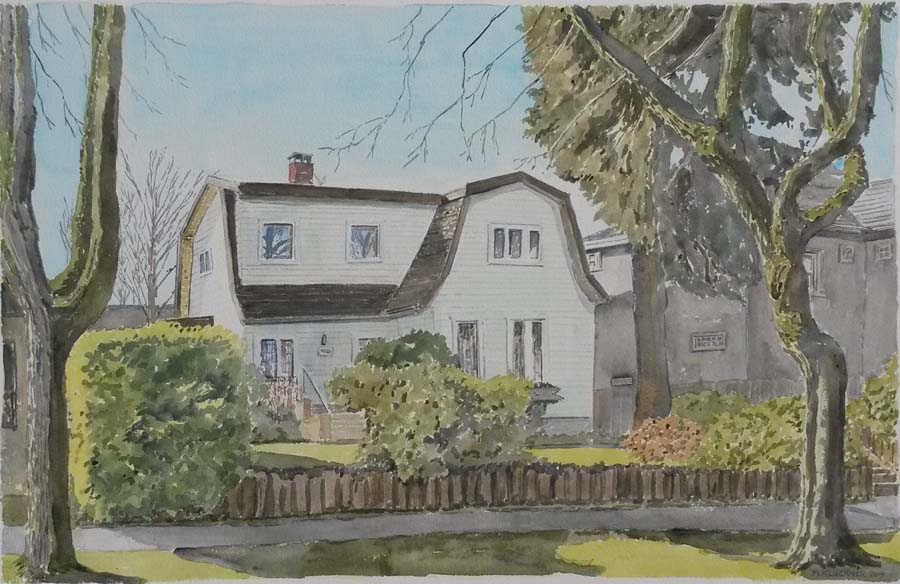 A very ordinary, unprepossessing house, just sold and awaiting demolition on Vancouver's west side, worth painting for its framing by trees and garden in the low winter light, 2019.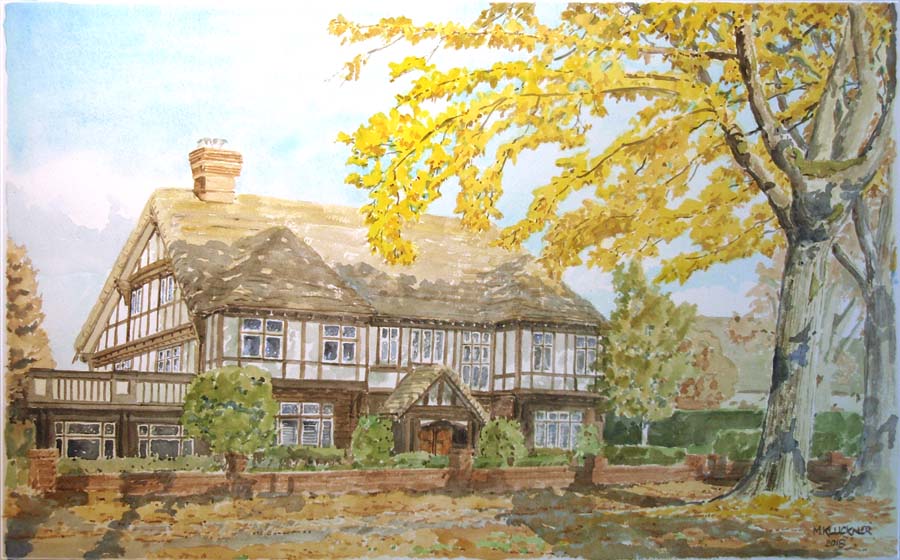 A fine Shaughnessy house in October, 2018.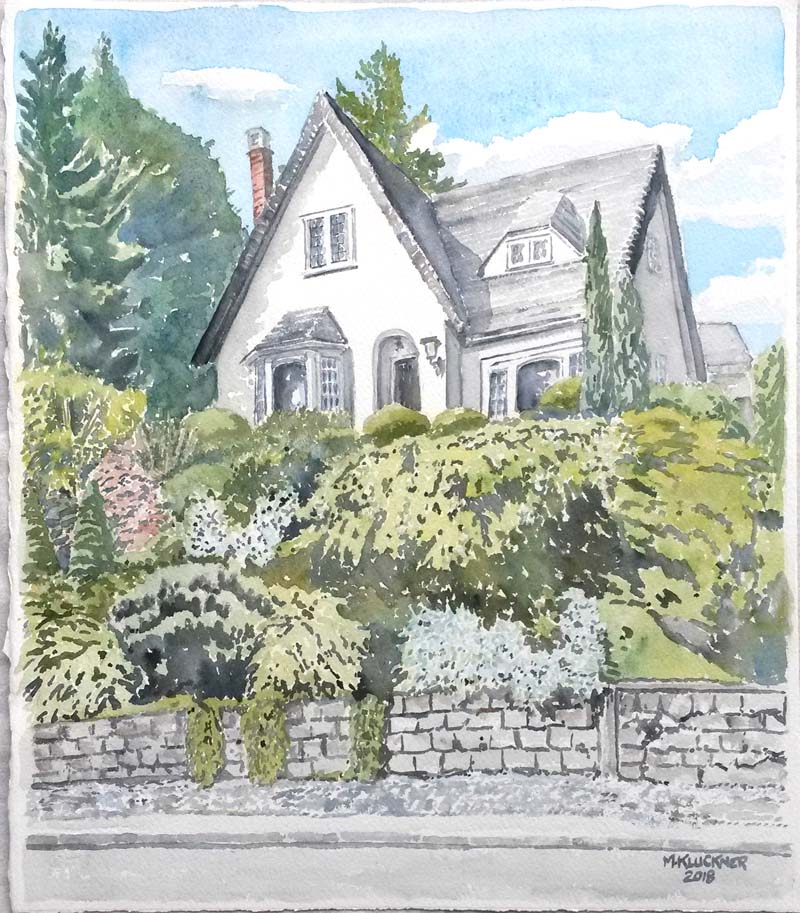 2018: A house high on a bank on Vancouver's West Side. In reality from that angle, the house is more buried – the garden taller.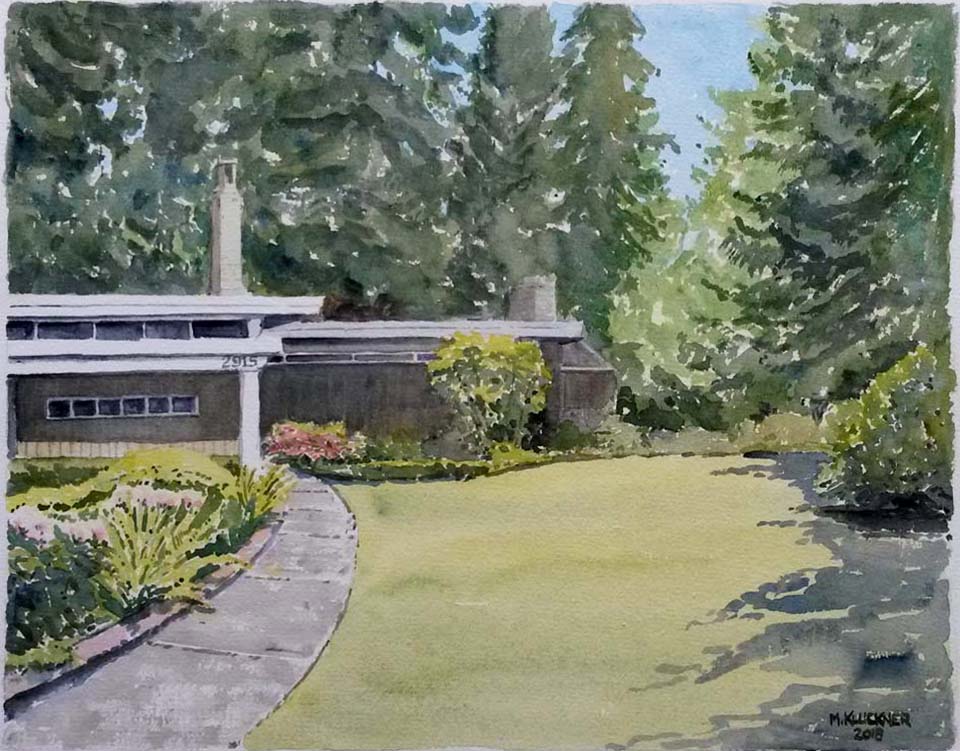 North Van house, 2018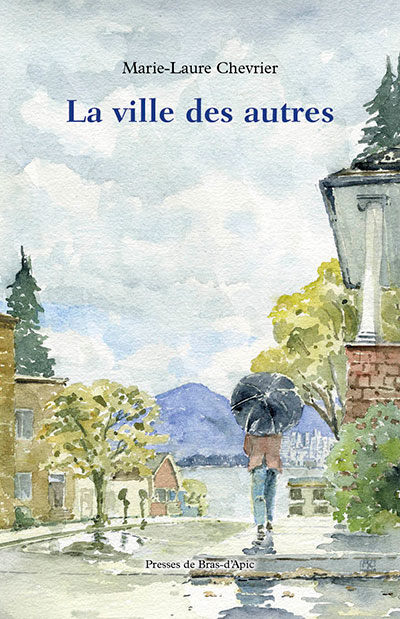 Book cover illustration for La Ville des Autres by Marie-Laure Chevier, 2017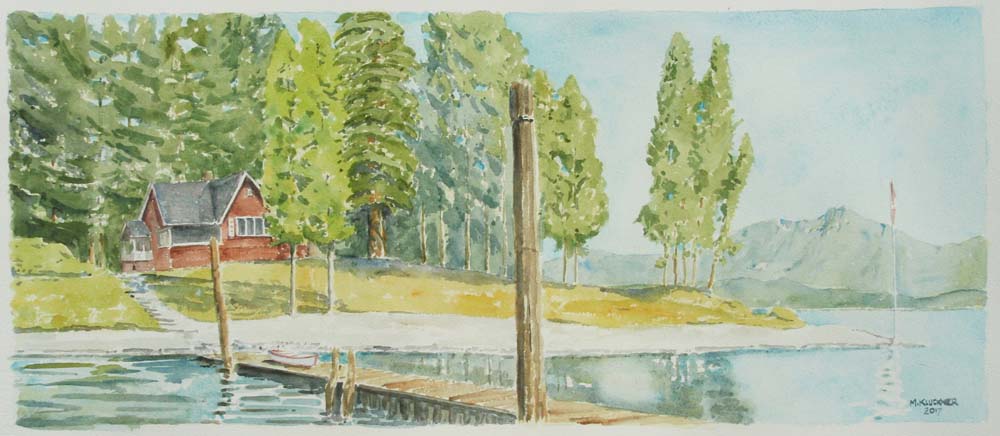 Sproat Lake Cottage, 2017





A final commission for 2016 that worked out well (a demolished Kerrisdale house, adapted from the client's favourite photo).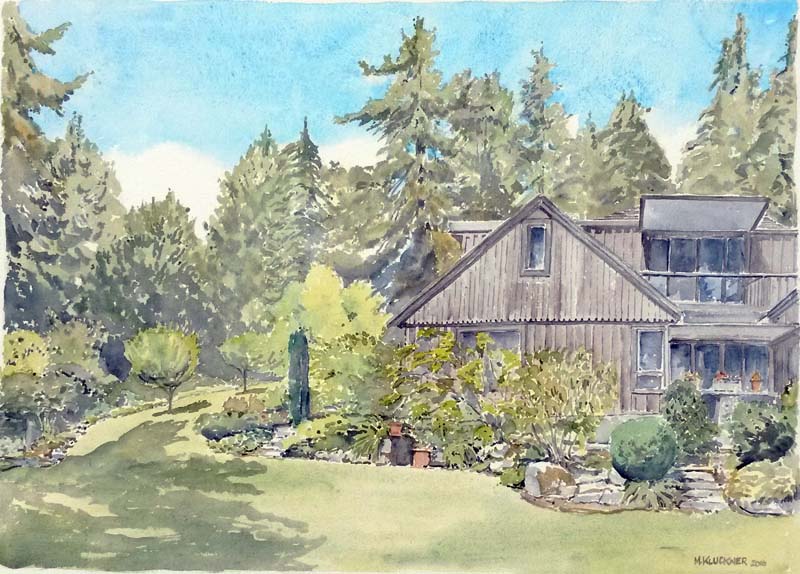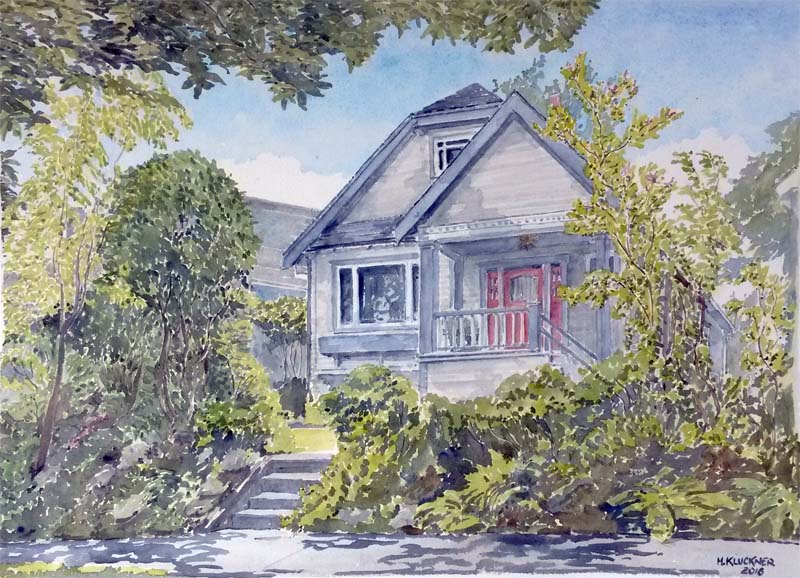 A couple of fairly standard watercolours in 2016, one in West Vancouver and the other in Dunbar. Neither of them are in response to an imminent move or demolition, but you always wonder ....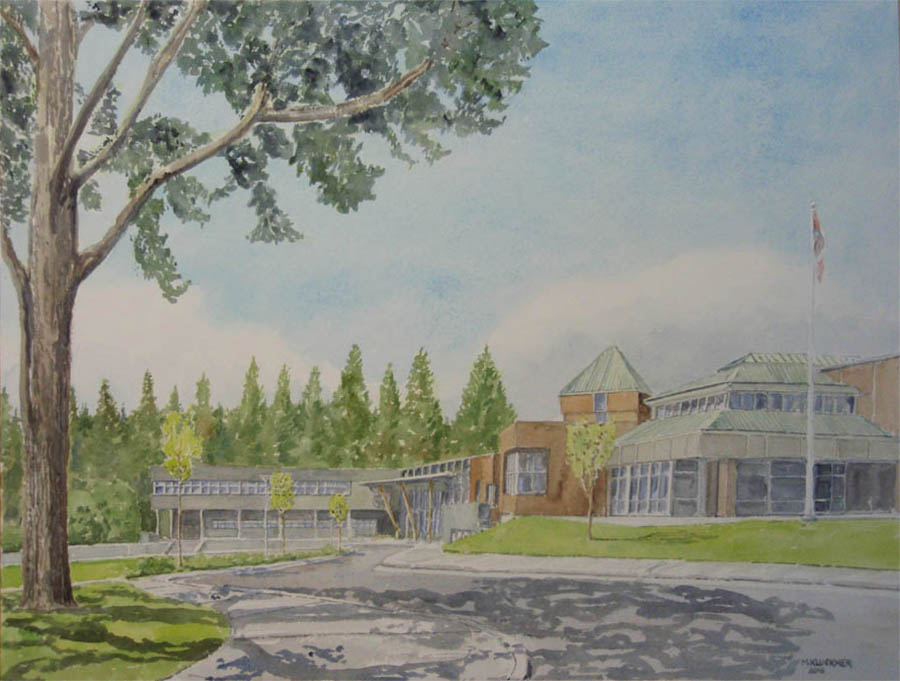 A private school in West Vancouver, 2016. It ended up with a lot of sky because the client wanted most of the school complex painted in a standard rectangular format that could be used for cards and other presentations.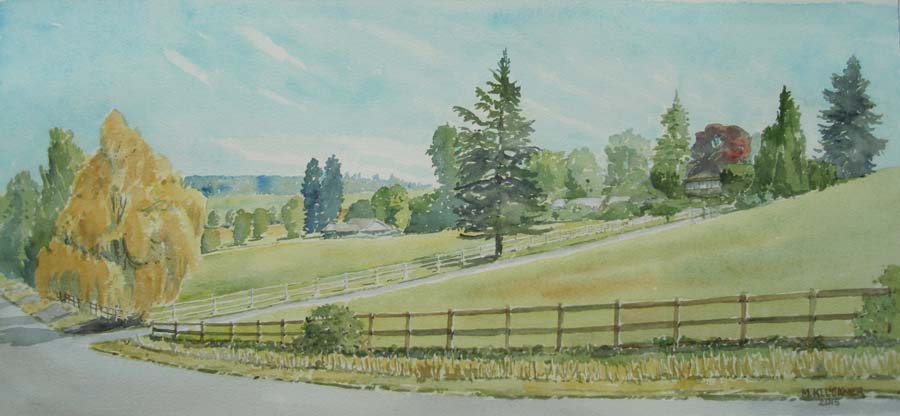 Langley Farm, watercolour, 9 x 20 inches, 2015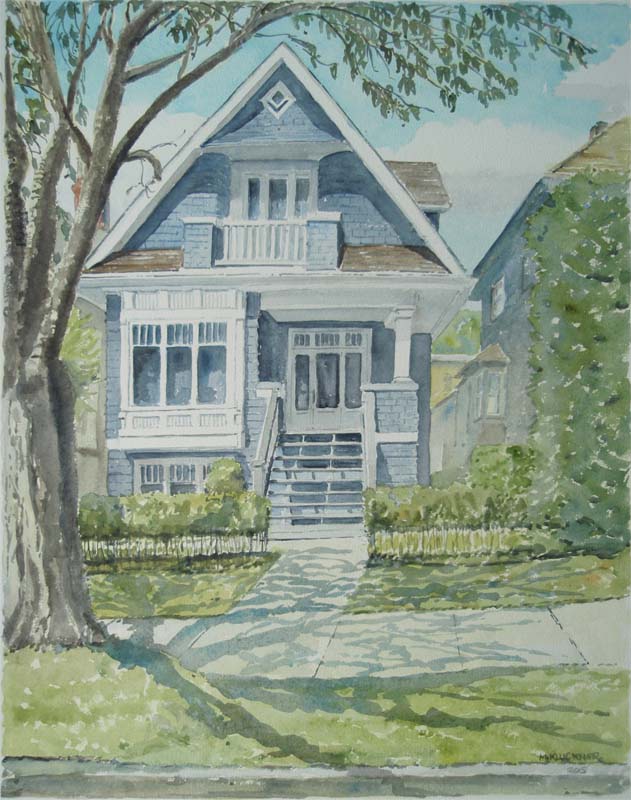 Vancouver house, watercolour, about 14 x 20 inches, 2015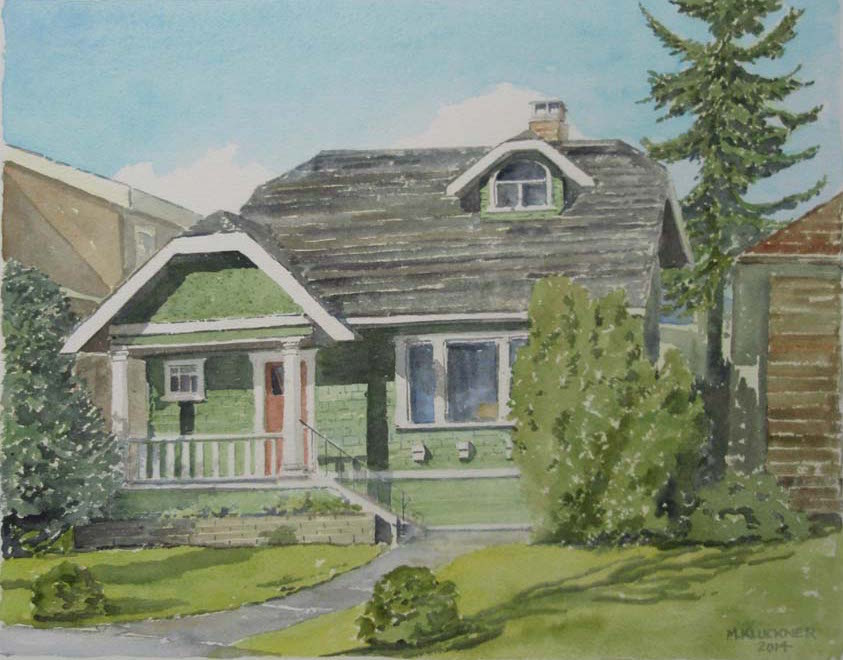 3657 West 23rd, Vancouver, watercolour, 11 x 14 inches, 2014
(a memory for its long-time owners who have moved away from a dying neighbourhood)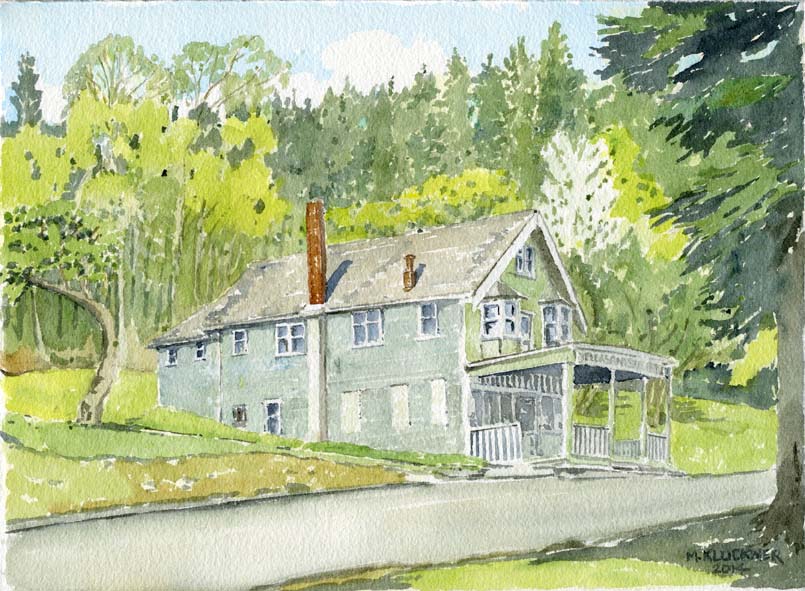 Pleasantside Store (out on the Ioco Road west of Port Moody); one of the few survivors from the cottage-country era.
Watercolour, 8 x 11 inches, 2014




Small Kerrisdale House, oil on canvas, 18 x 24 inches, 2014
(Interesting how my oils of simple subjects get an [Edward] Hopper-like stillness and loneliness to them without me trying for any specific effect)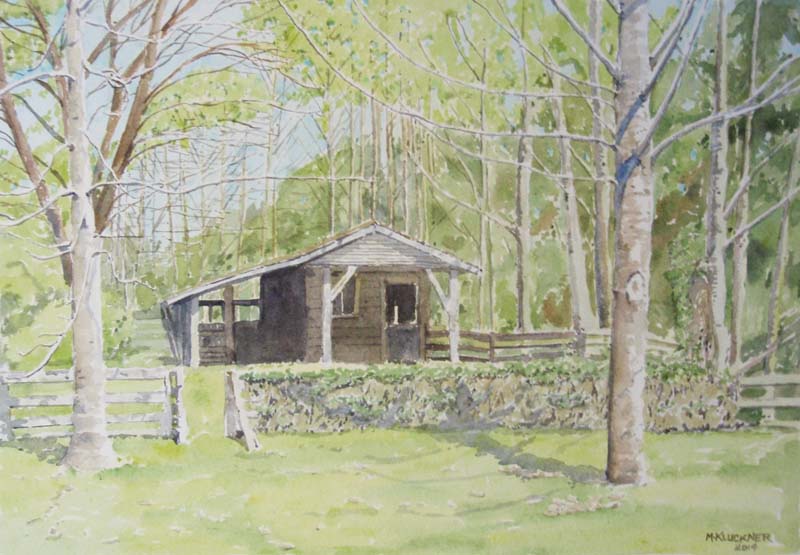 Spring sunshine in rural Langley, watercolour, 12 x 18 inches, 2014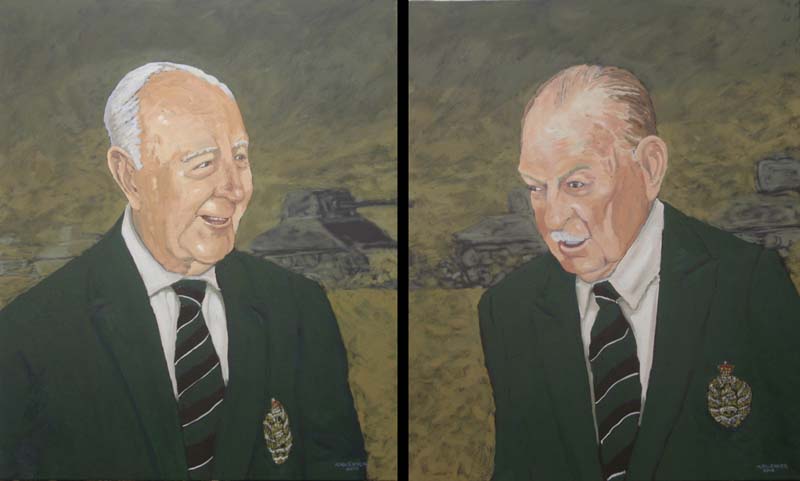 Portraits of Colonels Lungley and Toogood for the British Columbia Regiment, oils on canvas, 20 x 24 inches, 2013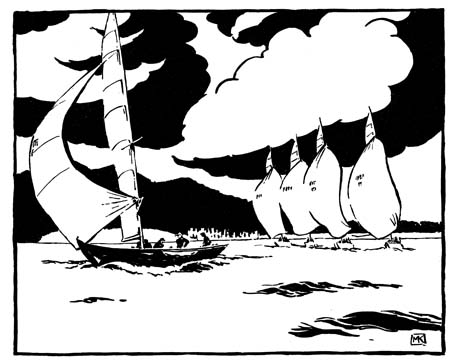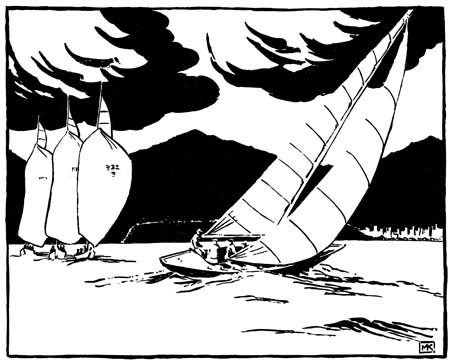 6-metre yachts racing in English Bay, 2 chiaroscuro (brush & ink) drawings for prints given to the winners, 8 x 10 inches, 2013





View from Savary Island, diptych (2 watercolours 15 x 22 inches), 2013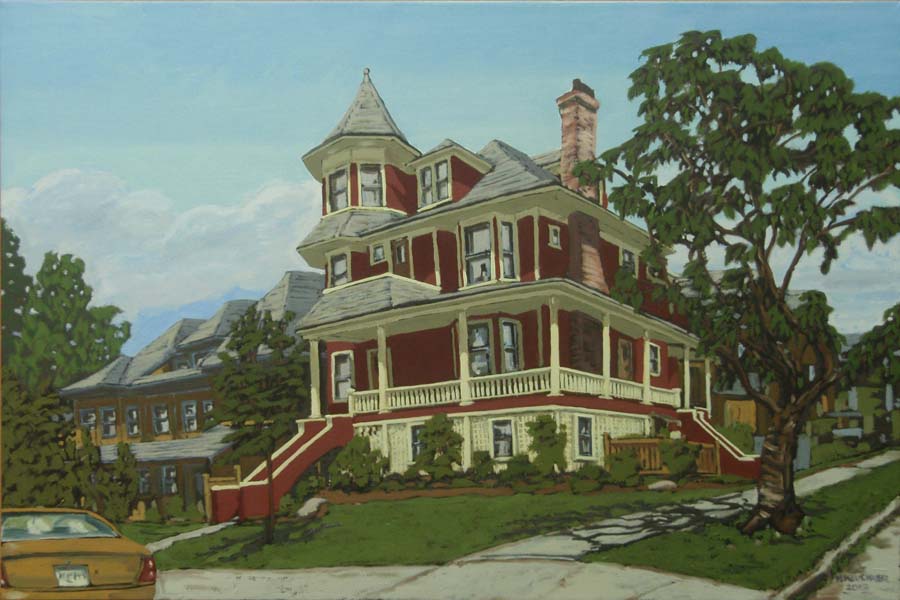 Jeffs' Residence (a heritage rehab and townhouse development in Vancouver), oil on canvas, 20x 30 inches, 2013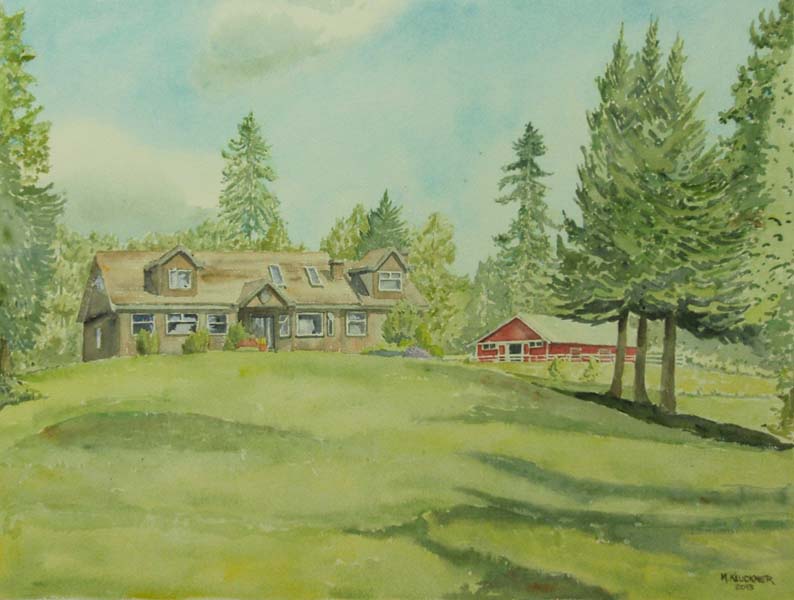 Langley property (a gift for the owner), watercolour, 16 x 20 inches, 2013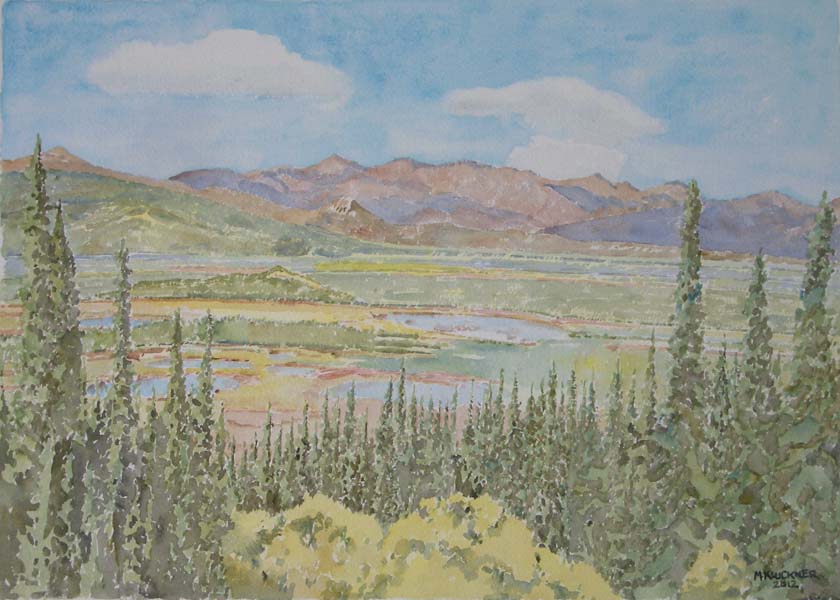 View from the former Elsa Townsite, Yukon, 2012, watercolour
(commissioned as a gift for a man who had started his working life there as a hard-rock miner)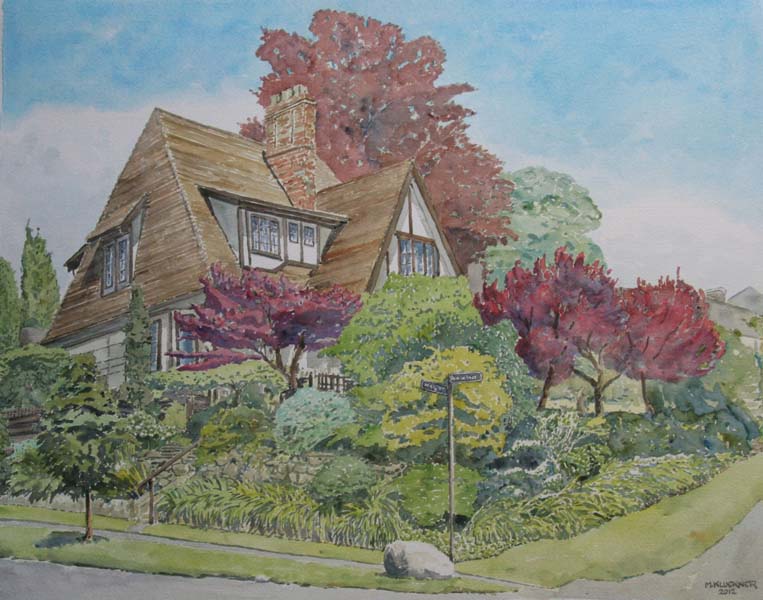 House and garden in Kerrisdale, 2012, watercolour, about 16 x 20 inches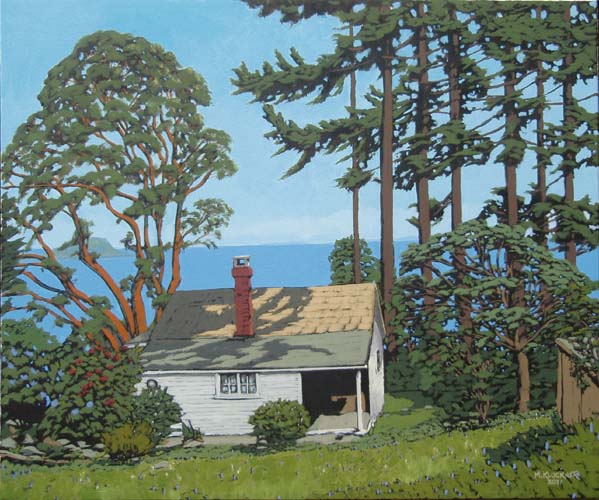 Cottage near Gibson's Landing, 2011, oil on canvas, 20 x 24 inches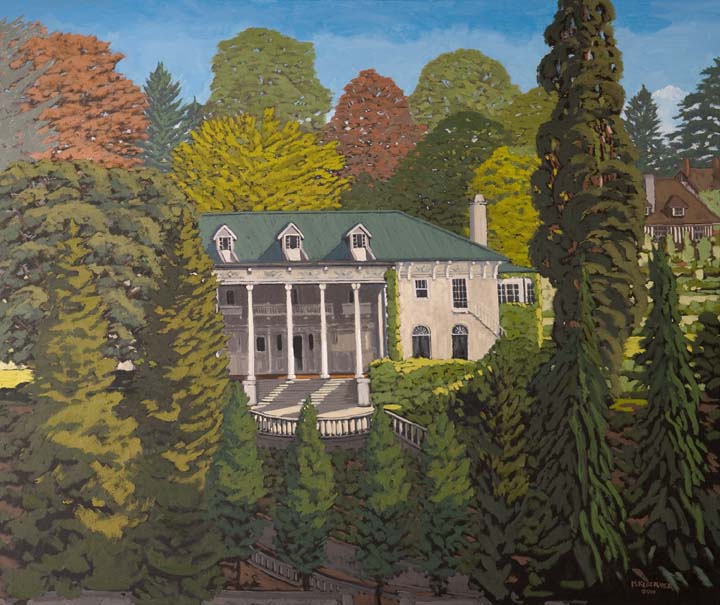 Hycroft, 30 x 36 inches, for the University Women's Club, 2011, oil on canvas
Reproduced as a "limited edition" as a fundraiser for the building's ongoing maintenance/restoration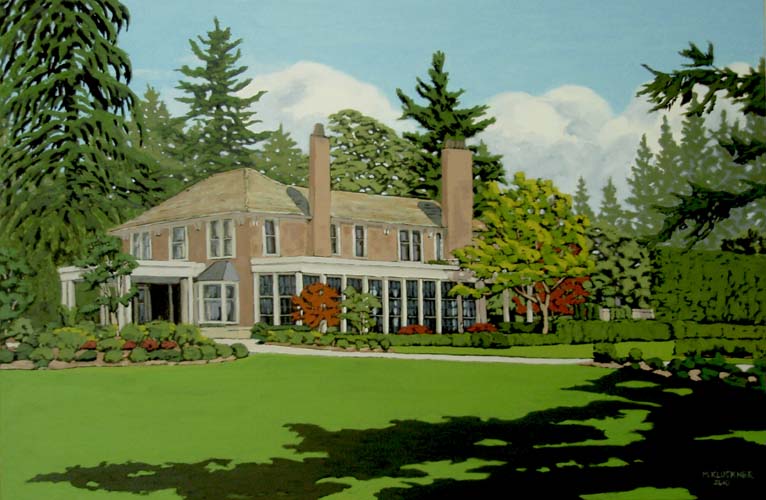 West Point Grey estate, 2010, oil on canvas 24 x 36 inches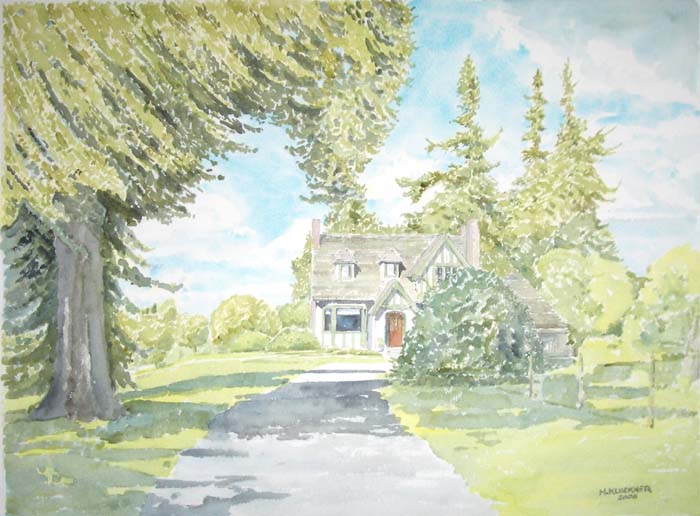 A property near Fort Langley, BC, 2006, watercolour, 18 x 22 inches.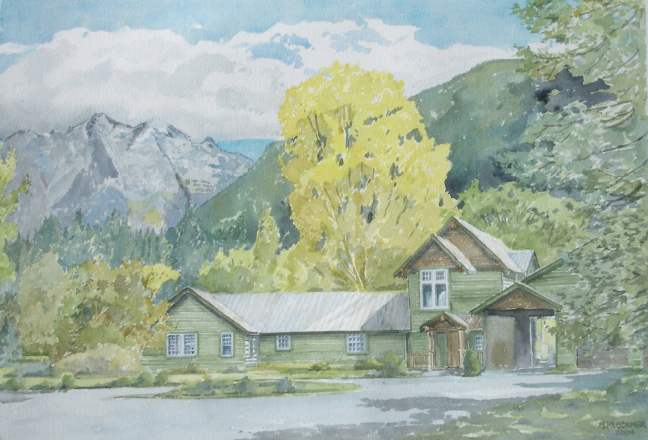 Auberge du Pre at Pemberton BC, 2004, watercolour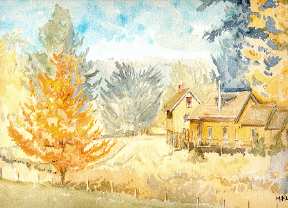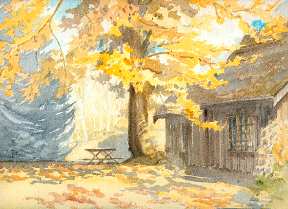 Two small watercolours of a country property, 2000, watercolour.
(After nearly 20 years on a property near Fort Langley, British Columbia, a family decided to move on and commissioned two views of their place, one for each of their two children who had grown up there.)
Liu Centre for the Study of Global Issues

University of British Columbia, Vancouver, Canada

A watercolour for the major contributor to the new centre, Dr. Jieh Jow Liou, an international businessman, politician and philanthropist, commissioned for the official opening of the Centre in September, 2000.

In the July/August 2000) issue of Cottage Magazine, I wrote an article called Shuswap Summers, reflecting on the decade in the 50s and 60s my family spent in a little cabin at Pierre's Point on Shuswap Lake in the British Columbia interior. This was the illustration for the cover.




Toyota Brochures

Watercolours from Canada sketchbook, 1999-2000

Toyota Canada's 2000 brochures feature watercolours first published in Canada A Journey of Discovery. Each vehicle was featured with watercolours from a Canadian province or territory. The campaign was created by Saatchi and Saatchi in Toronto, account director Gerry Arnott, art director Judy Hancock.

City Hall on a Winter Day

1999, watercolour, 12 x 16 inches

Commissioned by the City of Vancouver for Mayor Philip Owen's Christmas card, the image shows an unusual view of City Hall from Yukon Street, where it is visible through a screen of boulevard trees and past an Edwardian-era Queen Anne-style house. It has since been published as a postcard for the city and as a high-quality reproduction for use as a civic gift.

Old and New Vancouver

1999, watercolour, 16 x 22 inches

Commissioned by the Lady Vancouver Club as a gift for Tourism Vancouver. The idea was to find a real place that showed the old city, the new city, and something of its natural setting. After considerable exploration, I settled on the corner of 8th and Birch in the Fairview Slopes area, with Granville bridge and the city's West End in the distance.




Ribbons of Life illustrations

For Canadian Geographic magazine, watercolours

May-June 1999

Commissioned works demonstrating environmentally friendly ways of living close to lakes and streams, specifically aimed at cottagers.

View from a corner office

1999, watercolour, 20 x 28 inches

Commissioned by the Royal Bank of Canada as a gift for an executive departing from Vancouver for Toronto. The view is of English Bay from his corner office on a late-winter day, and was framed with an engraved plaque reading "Lotusland."



St. George's School

1999, watercolour, 20 x 30 inches

A prestigious private school in Vancouver, St. George's uses a former convent for its junior grades. Situated on a park-like property whose trees screen the view of it from the road. I wanted to paint a portion of it in a way that showed the relationship of the building to its landscape, rather than just paint an architectural detail. The challenge was to modify and position the trees so that the school was actually visible. I chose an autumn palette to enliven what would otherwise have been a duet of green and grey.





Crofton House School

1998, watercolour, 18 x 22 inches

For its centenary, Vancouver's most prestigious private girls' school commissioned an image of the school's inner courtyard and printed it as a poster by Benwell-Atkins, which was sold during the school's anniversary celebrations.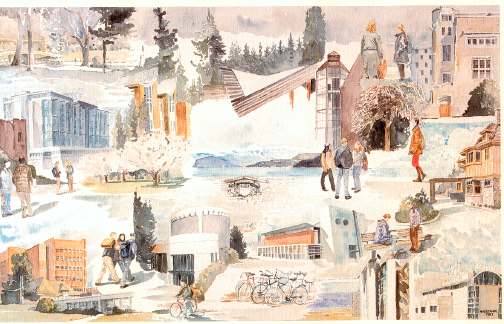 University of British Columbia Campus
1997, watercolour, 22 x 35 inches
Commissioned for UBC President Dr. David Strangway's President's Circle – donors who had given more than $250,000 to the University of British Columbia - this image is a large "sketchbook page" of people, buildings and landscapes on the campus in the springtime. It was printed as a high-quality reproduction by Hazeldine Press of Vancouver, autographed and numbered, and given to the members of the President's Circle.
Return to home page