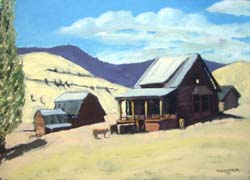 British Columbia Oils pre-2010
Return to home page
Return to Artwork Index page
Send an email about prices, etc.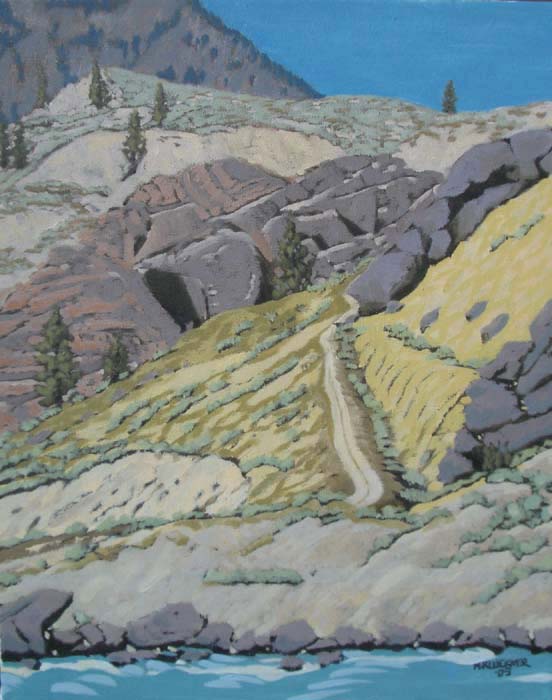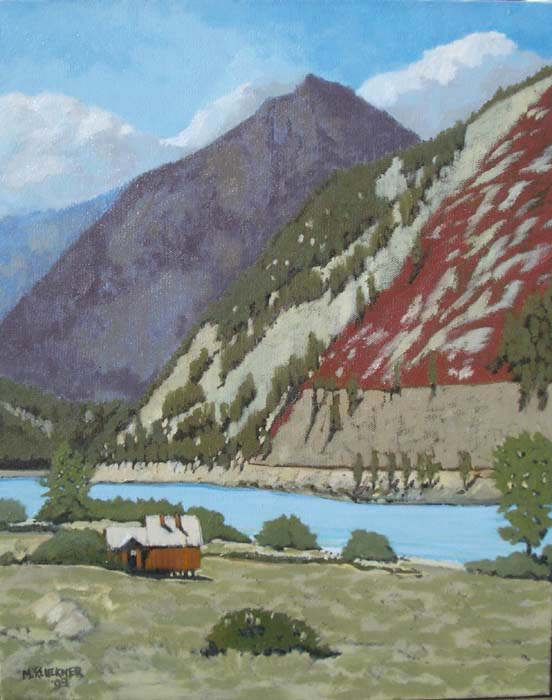 Left:

Riverbank

; Right:

Thompson River.

Both oil on canvas, 51 x 40.5 cm (20 x 16 inches), 2009
... playing with the remembered colours and shapes of the dry Thompson River canyon near Spences Bridge, and the way the distant light drops to blue ...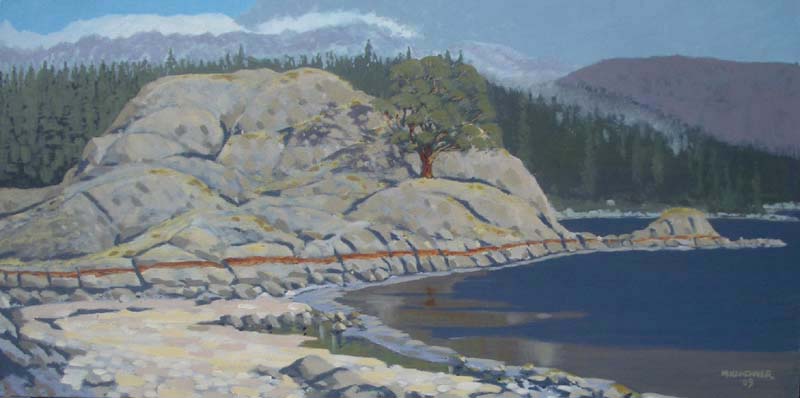 Westcoast Confection,

46 x 92 cm. (18 x 36 inches), oil on canvas, 2009
This is a confection, as in something made up, because I had watercolour image in an old sketchbook of a rocky outcropping near Sechelt, but as I repainted it I added an arbutus tree, colourful rocks, picturesque bays, looming cedars, mist spilling down a distant hillside, and raking evening sunlight. Waving kayakers, romping otters, basking seals, a spirit bear and a distant clearcut were considered but rejected so far.






Cafe & Gas Station


Oil on board
46 x 27.5 cm
18 x 11 inches
2009

This is a reworking of an earlier image of the Kettle River near Rock Creek. I realize that when I paint in oils it's the colours, not the forms, that have all the emotional pull for me – in other words, more experimental or arbitrary colour schemes just tend to leave me cold. With this palette, I see those shadows on that grass colour and I'm right back there on a warm summer day....





Arbutus Island


2009
Oil on board
37.5 x 27 cm
14 3/4 x 10 3/4 inches

Donated to the Savary Island Land Trust auction, August '09





Boundary Ranch


2009
Oil on board
37.5 x 27 cm
14 3/4 x 10 3/4 inches



Gulf Islands farm


2009
Oil on board
37.5 x 27 cm
14 3/4 x 10 3/4 inches
Chinatown Edge


2006
Oil on linen





Fog Hill Market


2006
Oil on canvas



Store on Fir Street


2006
Oil on canvas




Store on Fir Street 2


2006
Oil on canvas

Written/painted before 2006: The paintings below, all oils, grew out of my experience with the book

Vanishing British Columbia

and my desire to create a series of iconic, somewhat-abstracted-yet-more-or-less-representational landscapes of the different regions of the province. It's an ongoing project, even though some of the pictures were exhibited in a touring show that went to Grand Forks, Qualicum Beach, Salmon Arm and Wells in 2006 and 2007.

At some point I will try to write out a real "artist's statement." The grand Emily Carr landscapes from the 1930s of west-coast forests do for them what I would like to do for the rest of the province. I'm happy with the body of work I created in

Vanishing British Columbia

, all small watercolours that capture colour and light in the province's diverse regions, but I want to go an extra step toward something less site-specific and pictorial/painterly. And bigger. I just can't think of the work of any artist or artists that have done for the province what Emily Carr did for the north coast. I saw Tak Tanabe's prairie landscapes at the Vancouver Art Gallery in 2006 and thought they came close to the kind of thing I want to do in BC, although his more recent west-coast pieces are too painterly, too pictorial and representational, at least for me. And, as witnessed by "Flattened Buildings at 4th and Bayswater," I can't resist the siren call of an impending demolition. Anyway, I'd love to hear from anyone who can recommend artwork/websites that show me the paths others have taken, or to argue with anyone about the validity of it.


Position your mouse over a painting to see a larger image of it. (Sorry, this part of the page isn't tablet-friendly!)

Position your mouse over a painting to see a larger image