A selection of old sold paintings on Vancouver themes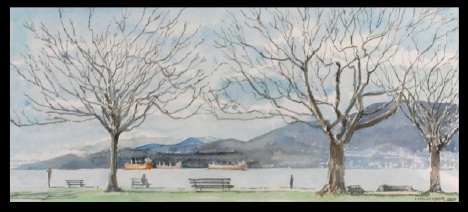 Kits Beach in April
SOLD
THE BEACH NEAR THE FOOT OF TRAFALGAR
Watercolour approx. 24 x 36 inches

SOLD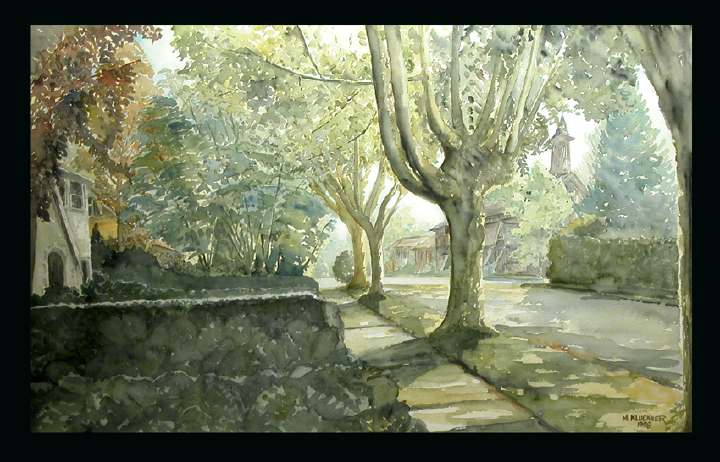 KERRISDALE ST. MARY'S
Watercolour approx. 24 x 36 inches
SOLD
Michael Kluckner
STUMPHENGE (Maple Grove Park)

Watercolour
27 x 35 inches

SOLD
Michael Kluckner
SPRING CONFECTION

Watercolour
18 X 11.5 inches

SOLD

Michael Kluckner
CHERRY BLOSSOMS IN THE RAIN

Watercolour
12.5 x 18.5 inches

SOLD

Michael Kluckner
HOUSE IN DAPPLE

Watercolour 1998
27 1/2" x 35 1/2"

SOLD
Freighter off Spanish Banks

Watercolour 14 1/2" x 9"



Rain Easing Near English Bay

Fall, 2000

Watercolour, 22" x 14"

Rain Ending on False Creek

Watercolour, 15 1/4" x 21 3/4"

Summer 2000

From the edge of the dock at Granville Island, with Burrard Bridge framing the West End towers above Sunset Beach. The industrial False Creek of my boyhood, when the docks and floats were lined with fishboats and the odd shanty, has vanished, replaced with rows of ininteresting, gleaming white yachts and the occasional interesting old pleasure boat.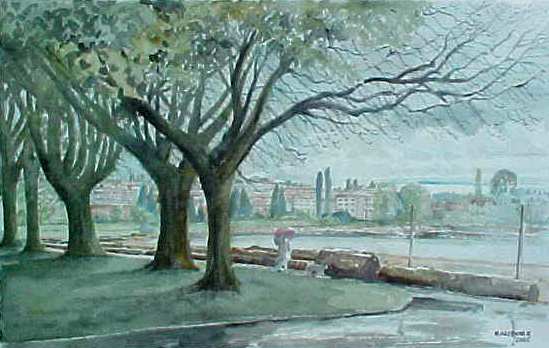 Drizzle at Kits Beach, Spring 2000 Watercolour, 13 1/4" x 22"
From near the foot of Whyte Avenue on a cold April day, a line of trees follows the curve of the bay south towards the bathhouse. The two poles are for summer volleyball games; the trademark Vancouver beach logs are lined up on the raked beach awaiting the arrival of warm weather.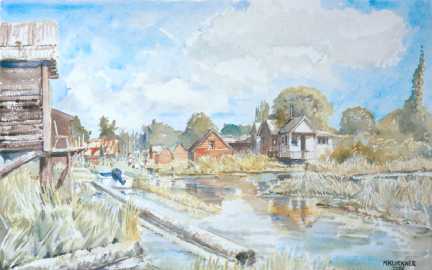 Storm Clouds (Figuratively Speaking) over Finn Slough Summer 2000 Watercolour 14" x 22"

The marvellously picturesque community of floathouses and shacks on a slough of the Fraser River near the foot of Number 4 Road in Richmond. A magnet for every painter who hears of it, with urgency added to the quest by the constant threats to the community's future.
Frontal System Arriving From the Northwest

Spring 2000

Watercolour, 12" x 18"

One does tend to get rather obsessed with weather and winter storms. Spanish Banks, looking past Point Atkinson with the profile of Bowen Island on the left. The clouds beginning to thicken and gather and the wind just starting to pick up across the water. Obviously the rain has already begun in Howe Sound.

Freighter in English Bay

Spring 2000

More "freighter porn". I'm becoming addicted to these huge ships, unloaded and riding high on the swell, waiting patiently in English Bay for their turn at Vancouver's inefficient, union-dominated waterfront terminals.
Yachty Confection

26 1/2" x 35 1/2" watercolour. 1998

One of the most recognizable scenes in Vancouver: the yacht basin in False Creek, looking toward Granville Island with Bridges Restaurant dominating the view, and Granville Bridge in the distance.

Downtown Sidewalk

Fall, 2000

Puddles, sidewalk, rain, umbrellas, reflections.
Marine Crescent

Spring 2000

Hard to tell on this little reproduction, but it was a successful effort to capture the misty light and mirror-sheened streets of Vancouver just at the point that a heavy rain stops.
Terrace in the sunshine

Summer 2000

The miscellany on the front terrace at the farmhouse, with the set of Adirondack chairs Christine picked up at a yard sale for $15 (that's for the set, not each). Anyway, this reproduction looks very washed out on my screen.
Brenda's chimney

Summer 2001

A friend's rather well-known Kitsilano garden
Artwork and text ©Michael Kluckner, 1995-2007