From Albert L. Mahon (grandson), 2022: Albert H. Mahon, Mechanical Engineer, in charge of Grand Trunk Pacific Railway construction from the West Coast heading east, and was a dignitary at the driving of the last spike. The Mahon family at times lived in a boxcar, such as at Prince George. Mahon later became Superintendent of the Edson Alberta rail yards. Edson was the junction of the rail spur line that lead to the source of coal, at Coalspur, SW of Edson. The coal was used to fuel mainline locomotives, and to energize the rail yard. Edson was the junction of the spur line that was the source of coal, at Coalspur, SW of Edson. the town named for Edson Chamberlain, GTPR president.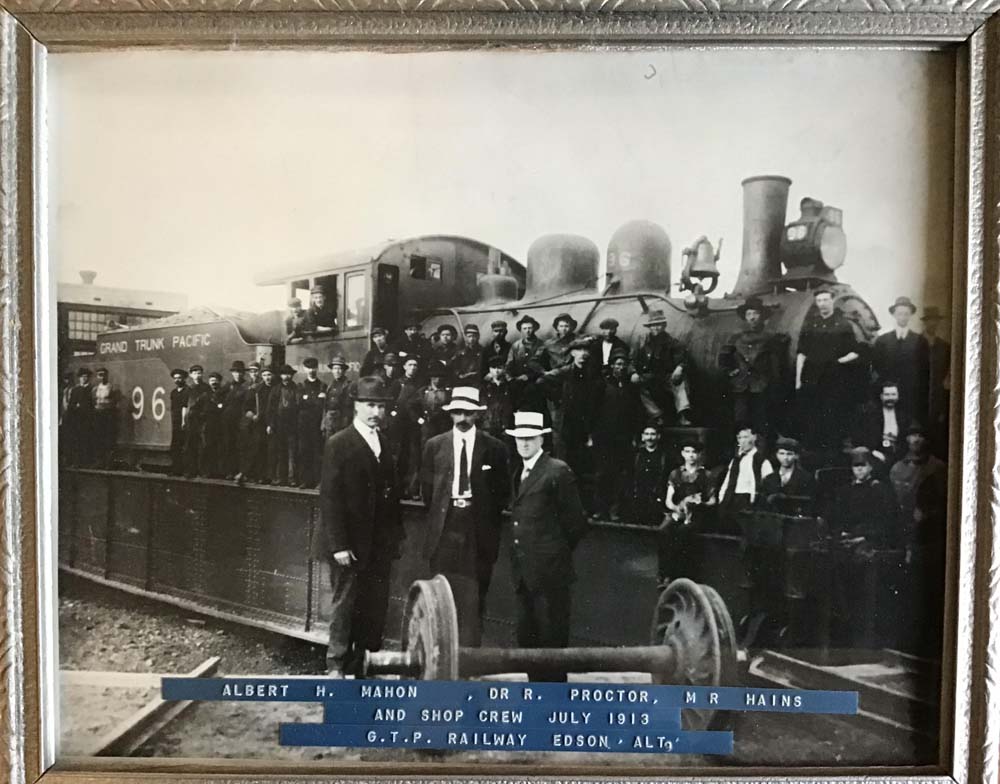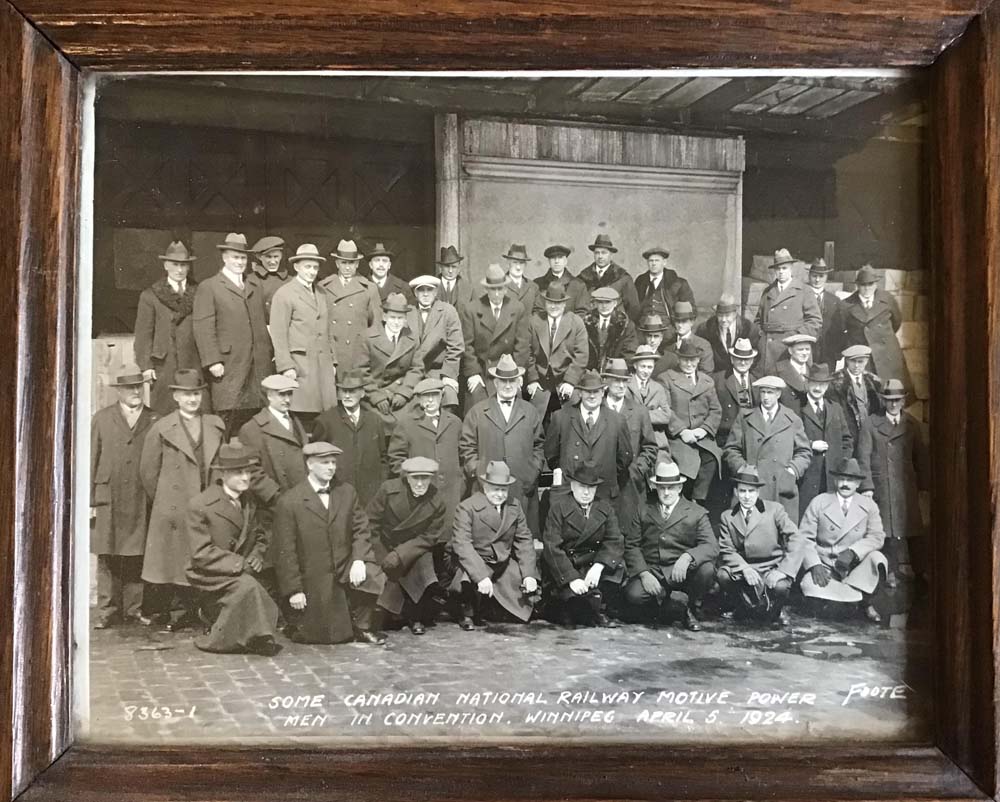 *************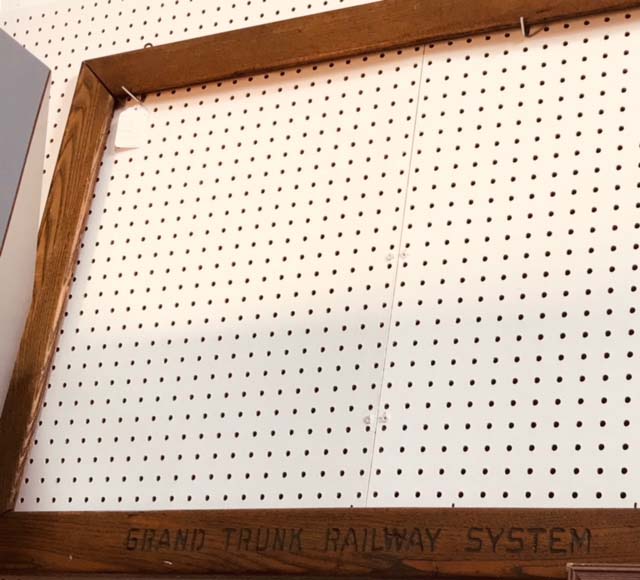 From Jonathan Esar, 2018: I was wondering if you could help identify this GTR wooden frame . I've seen others but not in this font.
From Lorne Wasylishen, 2015: I bought this at an online auction in Waterloo Indiana (amazing how much of our stuff ended up in the USA) and it now hangs, securely locked to the wall in the Smithers station. All original with wavy glass, a picture of Moose Lake B.C at Redpass Junction (45miles west of Jasper) where the GTP diverged northwest towards Prince Rupert and the Canadian Northern continued southwest to Vancouver. I managed to acquire another with a slightly different style of frame containing a picture of a Saskatchewan wheat field from a lady in Nova Scotia, It has new glass and mat board due to some damage , there is no provenance on either item. From what I could find out these were hung in various stations along the GTP line to give travellers an idea of what the rest of the country looked like. There is a query about these frames on the GTP page from Gilbert in Timmins Ontario, 2009. If you still have his contact info perhaps you can alert him.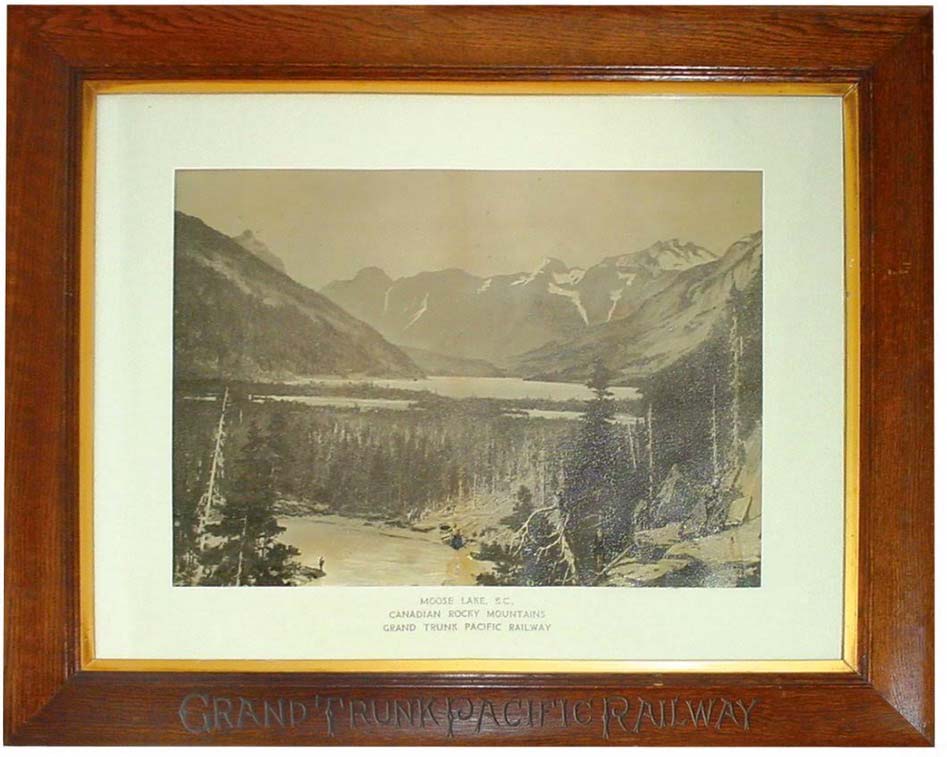 From Steve Barnett, 2015: I would like to share some photos of a GTP switch lock and key, (and you have my permission to post on your web site). GTP artifacts are quite rare, and in my quest to search for a GTP lock, I was quite surprised that it not only took 26 years of waiting, but that there also were few or no photos of GTP switch keys and locks to be found anywhere that I could use as reference material.

The switch key is numbered 161 and shows quite a lot of wear from opening many switch locks during it's lifetime. The lock is in working order and I believe it may have been made by the Robert Mitchell Company of Montreal.

In speaking with other collectors, I raised the question wondering why such few locks from this line exist. It was thought that many were turned in for scrap and the brass was used during WWI to make artillery shells, ammunition and other brass items needed during that period.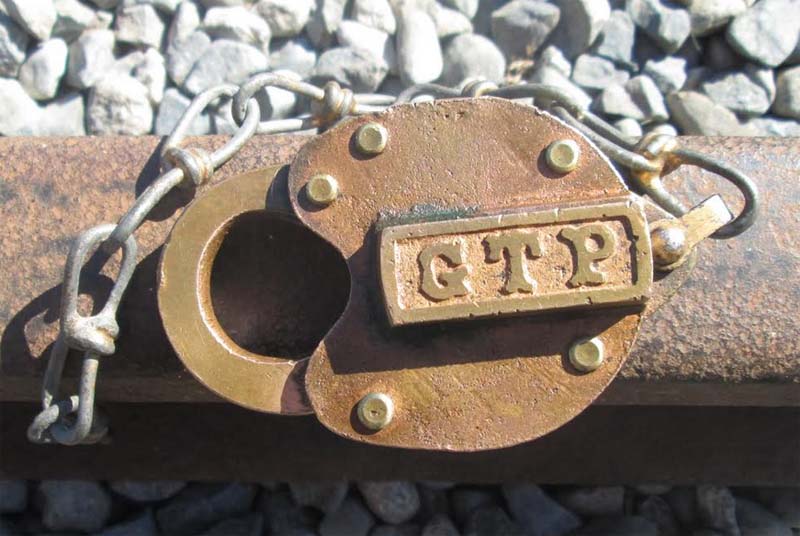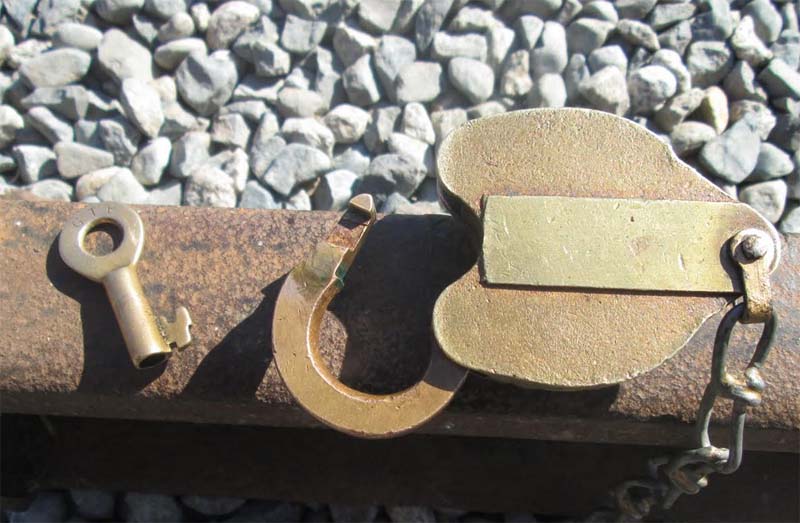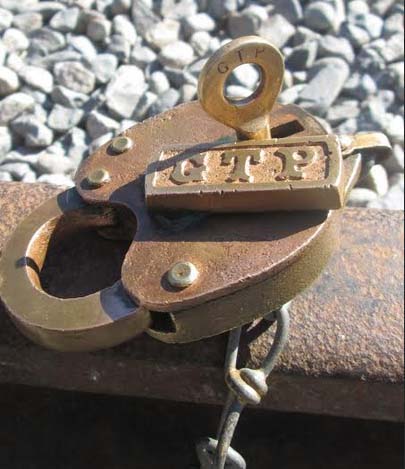 ********************


From Peter Newman, 2014: I thought that I would share a link to a web site I recently created. It features 75 professionally restored slides taken in Canada during the final days of steam / first days of diesels. The photographer was the late Del Rosamond. I think you'll find his images remarkable for their content and quality. In the last three weeks, my embedded counter shows over 10,000 visitors. I hope that you'll feel free to share this link with anyone / groups that might enjoy site.

www.CanadianSteam.Smugmug.com

From Larry Tallon, 2014: My father was, I think, was one of the first operators stationed at Tyee. He worked for CN for forty years and died at the Age of 63 in 1957. This means he was sent out from Ottawa around 1917. I have a picture of him sitting in front of the station. Would you have any access to CN records about this? I have the original equipment they sent with him. Typewriter, adding machine, practice key and a gold Hamilton watch. I don't know exactly what to do with it all. Is there a society for its preservation? I have no one to hand it down to and don't want to sell it.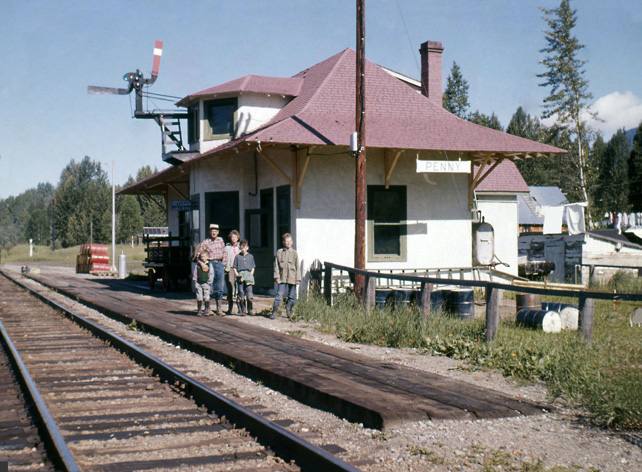 From Dirk Mendel, 2013: The Penny Station in 1961. That's me under the arm of my dad, and I was born in Penny!

From John Leybourne, 2012: In 1919 my father Fred Leybourne and his brother Lance had both just returned from France after WW1. Their uncle Ed Chesley was a prospector and railway man and had land in the area. Fred and Lance decided to go to BC from Ontario to homestead probably to recover from the effects of their wartime service. They had a little cabin just across from the station in Shames [3rd stop west of Terrace]. I don't know how long they lasted but they both returned to Ontario.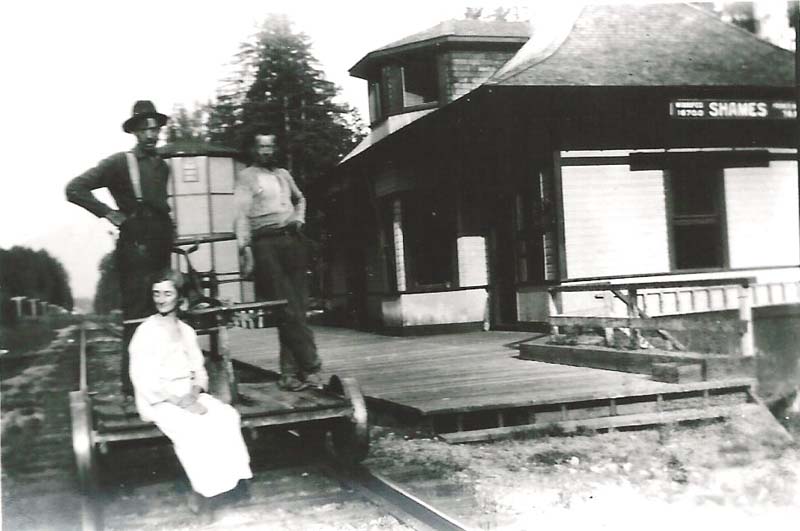 Below, a photo of a construction locomotive and crew from John Leybourne....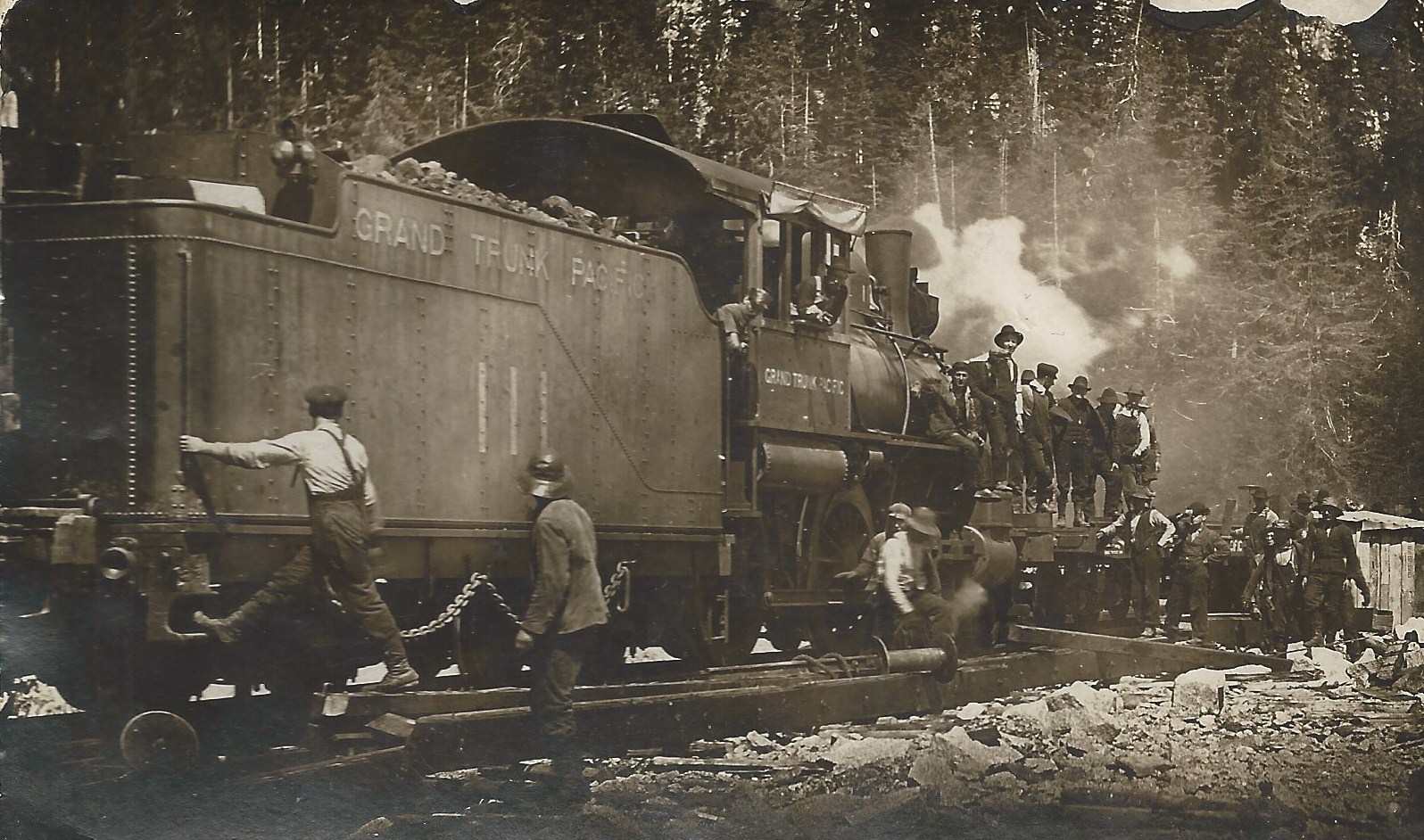 ***
From Lorne Wasylishen, Smithers, 2011: I have in my possession a CNR station clock and need information to identify which station it came from. If anyone has pictures or memories of what the Kwinitsa station clock (or any station clock) looked like please contact Michael and he can forward the information to me.
Earlier note: Pelham Hardcastle was the last permanent operator working in the Kitwanga station, he was later promoted to a a train dispatcher and is now retired in Alberta. There were some temporary people there after him before the station was shut down in 1985 when CTC came in. Between the shutdown and the station being moved I know two railroaders who were rummaging in there and found two brass GTP spittoons. One has since been lost in a house fire and I am presently trying to track down the other. I'm trying to collect photos of all the stations from Redpass Jct. to Prince Rupert, not even close yet but making progress.
From Robert McDonald, Port Townsend, 2008: I got a copy of CN Western Stations (2002), and was irked to learn there officially no such thing as a "Type E station." Had to go back and change my photo options. Neither the GTP nor the CNR sanctioned that designation. The correct designation is Plan 100-152. There were eight Plan 100-152 stations on the Smithers Division, Skeena Subdivision.
Update, 2008: Just a note to say "Hello!" and let you know there is an update to my CN stations blog entries.

www.oil-electric.com/2008/09/type-e-mythology.html]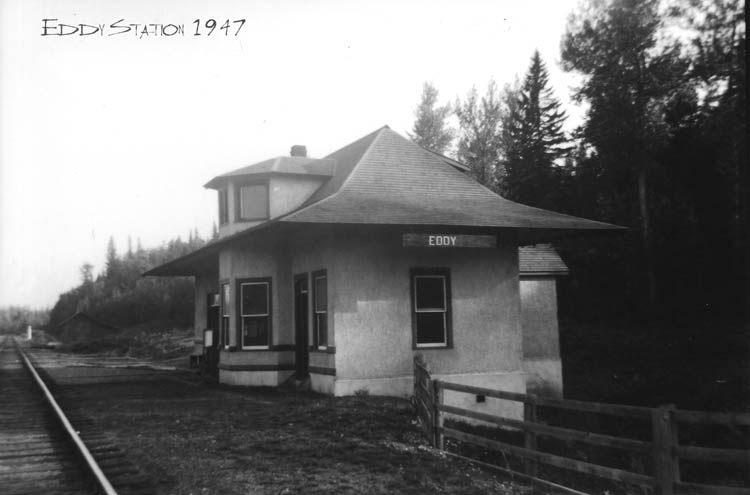 From Robert Frear, 2011: This was at Eddy, B.C., about 7 mi east of McBride. I remember this Station was still standing in about '63, but the CNR burned it down shortly thereafter. Too bad I was so young and foolish and rather ignorant back then, otherwise it would be still be in Eddy, as I am yet...