A 2005 sketchbook, with the beginnings of a double-page watercolour of the beach at Denman Island, BC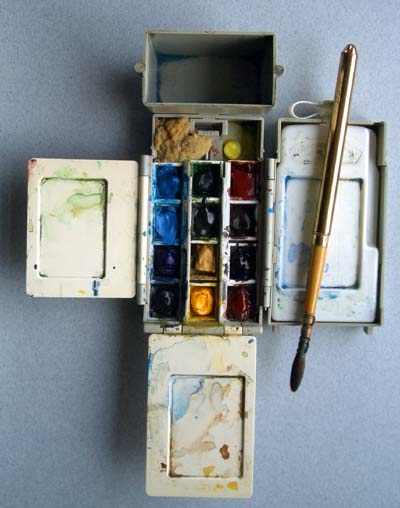 My travel paintbox colours (14 of them): cerulean blue, manganese blue, ultramarine light, Payne's grey, cadmium yellow (a little blob of it), cadmium yellow deep, yellow ochre, olive green, viridian, burnt sienna, burnt umber, sepia and Indian red + rose madder sharing a single tub. When I moved to Australia in 2006, I replaced the manganese blue with cobalt blue but soon went back to the manganese to get a brighter sky colour.


This little paintbox and the single brush is actually a real nuisance, requiring a looser, wet-into-wet technique than I perhaps might otherwise use; the resulting pictures reflect the truism that watercolour is the interplay of water and chance. With a lot of them now (2013), I block in background colours and shadows and finish them at home with a bigger paintbox (same colours) and sable brushes where I can control the wetness of the paper and get some texture into brushstrokes.


During July, 2003, I travelled to Percé in the Gaspésie, at the extreme eastern end of Québec on the Gulf of St. Lawrence, to give a seminar on travel painting in watercolours and creating sketchbooks (carnets de voyage et aquarelles) for the Université Laval's International Summer School. The page on Percé has the results and on a linked page the sketches from 2004 and 2005. In 2006 and 2007 I gave the same course at the Island Mountain Arts Centre in Wells, BC. I formalized the course for 2011 in Percé and at Susan Gorris's Art in the Country in Langley, BC, as "The Grammar of Space," spending a lot more time on the structure of pictorial space and different ways of representing it.

Around 2004, largely due to the difficulties of painting in European cities, I modified my technique and began to use small annotated pencil sketches as the on-site "plein air" image, then painted as soon as possible after that – often in a hotel room – while the colour memory was still fresh in my mind. You can see some of these on the Turkey-Greece page. Pencil drawings of people became one of my major activities in 2008 during the Spain-France trip. I began using chiaroscuro (brush and ink) drawings as a travel medium extensively in Australia. Typically, I use a mix of the techniques now, and sometimes go back to images and paint them as oils afterward, as I did for the Costa Rica trip. No way am I about to start lugging oil paints around on trips – that's for younger/stronger/braver people who like to paint alla prima and don't mind checked baggage.

***


I contributed to a Travel Painting blog, now defunct, at greggfretheim.blogspot.com/

***


In 2008, I had a lengthy correspondence with Dutch art student Siri Hol. Read the conversation.

2008: Note to Donna McMenamin, who was enquiring about what kind of sketchbook I use: Like you I couldn't find commercial sketchbooks with good-quality watercolour paper. I make them myself (not very well -- I'm not a very good bookbinder). I buy Arches 140# cold-pressed paper (22 x 30) which I tear into 3's -- i.e sheets that are 10 x 22 inches. I then fold them and make 16-page "signatures" using 4 of the sheets (so the page size is 10 x 11 inches), sew them into a "book block", glue the binding edge and put a cover on it. The process is a bit too complex to describe here but there are good bookbinding sites on the web, and books in the library, that describe the process. Believe me, I'm not a good craftsman, but the process is relatively simple and the books are very durable. I use 140# paper because you can paint on it both sides and it's relatively easy to flatten after you've painted wet. Don't use 90# – you can't paint both sides!!

You can make the books any size you want, of course. I've tended to stick with the 10 x 11 size because it gives me space for an image that will fit onto my scanner (for the web and reproduction) and some space to write comments. As well, the pages are big enough for multiple vignettes. The book I'm taking to France with me next week is 4 signatures – thus, 62 pages (you lose the outside 2 pages because they're attached by the end papers to the cover) – and weighs just over 2 lbs, so it's not too heavy to carry, and it fits easily into my luggage (we travel with carry-on only).

...however (2012), since the Emirates and India in 2009, the watercolour sketchbook I now carry is 7 1/2 x 11 inches (i.e. one-quarter of a standard sheet, rather than the 1/3 described above), with a simple soft cover of a sheet of heavy art paper glued to it to further reduce weight. This smaller page size fits easily onto the scanner for reproducing the images on this website and elsewhere. I also carry a Moleskine 8 1/4 x 5 1/4 inch (21 x 13 cm) sketchbook for pencil – the one with the buff-coloured paper.

... furthermore (2016) I'm carrying folded sheets of 22 x 10 inch (1/3 of an Imperial sheet) paper for the watercolours I start en route.

Update 2013: I find I'm spending almost all my travelling 'art time' drawing with pencil in a Moleskine 8 1/4 x 5 1/4 inch (21 x 13 cm) sketchbook, mainly because I'm most interested in drawing people now. But I do work up some of the landscapy bits later into oils (or digital paintings, using a Wacom Bamboo tablet, intermittently since the Portland trip in 2012). I still get some good watercolour time and results if we're travelling in a car, such as the Arizona-New Mexico trip that was all about landscape. But the pencil sketchbook is very satisfying, and I can work on it anywhere – hotel room with bad light, bar stool, a few minutes caught here and there anywhere. Everybody who is honest about travelling admits how boring it sometimes is, with too much time to kill away from the familiar routines of home, and a bit of scribbling in the sketchbook does for me what a cryptic crossword does for my Christine or a novel does for other people.

It's also about the weight of luggage – when we're travelling like we did in Malaysia with just small carry bags, I try to keep mine below about 6 kilos/14 pounds, difficult to do with both an iPad (2 lbs.) and a watercolour sketchbook with the small paintbox (2 lbs.). As I get older, everything (even the electronics) has to get lighter. Update about luggage, 2019: art supplies are limited to a Moleskine sketchbook, a small box of coloured pencils (see below) and a small cellphone. Total weight of my bag is about 7 pounds or 3 kilos. Old-age mobility!


...update 2018: a friend gave me some coloured pencils ...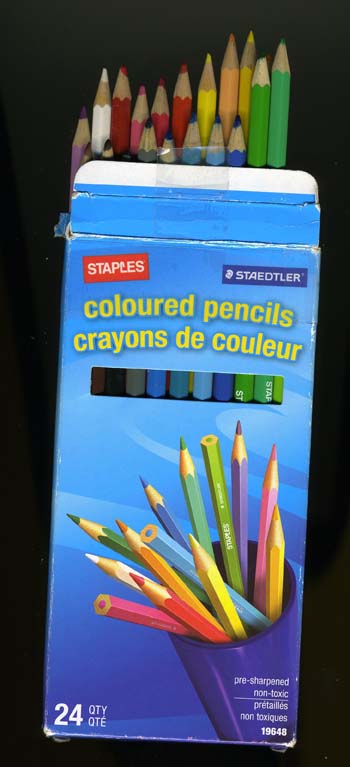 ... after I complained about not having any coloured medium with me for the pink flamingos in the
Yucatan
when I was there with just the Moleskine 8 1/4 x 5 1/4 inch (21 x 13 cm) sketchbook and a black pencil. They're okay – I feel like a little kid colouring-in with a handful of pencils – although they certainly don't give the beautiful surface and saturation of watercolour on proper paper. The page of
trips in 2018
has the first set of results. The result is an odd combination of outlines and colouring-in – not entirely satisfactory but worth exploring.
Their main advantage is they're dry and light, require no set-up and no take-down – I'm travelling super-light now with a bag that's about 3 kilos containing clothes and everything else for a month or so.
Update 2019:
I've given up on the coloured pencils for the time being. For the
Japan trip
, I took just traditional Japanese ink and paper and described them on
this page, a look at Japanese aesthetics and art media
.
Update 2022:
I'm increasingly uninterested in painting watercolours when I travel (although I would probably really enjoy it if we returned to a landscapey place like
France
, such as the 2016 trip). Instead, I'm looking for more graphic images that I can do in ink with a brush, as in the
sumi
and
suiboku
images in the
Japan trip
, where I've included a little sidebar on Chinese and Japanese painting techniques.