We covered a lot of ground in 2- 1/2 weeks in late January, with a cheap 2-hour flight from Barcelona to Marrakech efficiently making the big jump into Africa. We spent 5 days in Barcelona, 4 days in Marrakech, took the bus to Essouira and back, then the overnight train from Marrakech to Tangier (not recommended as the couchette is 4 bunks and no privacy, but, anyway, it did cover that distance in a dazed state of semi-sleep and was cheapish), then ferry and bus from Tangier to Tarifa to Algeciras and trains north in stages to Cordoba, Madrid and back to Barcelona.

I was in northern Morocco in 1971 and don't remember a whole lot, which should not be construed as meaning I was stoned all the time (my excuse is that it's a long time ago!). I think I only got as far south as Tetouan but may have gone to Fez before turning north.

We did cover a lot of ground but the amount of time we had, such as the 2 days and nights in Tangier, felt about right. There's a sameness to the souks and the cafés; the architecture is wonderful but repetitive; the people are friendly, intense, persistent. It would have been nice to walk in the desert and to see some of the villages, but it was winter.

Morocco is a model of how a Muslim country ought to be: diverse, tolerant, exciting – it seems to be the only one, other than Turkey and wonderful Asian ones such as Malaysia, that is both interesting and accessible to the semi-adventurous traveller nowadays.

Barcelona was a promise to return we made to each other, after little more than passing through in 1992. The trip by train through Spain (the trains are mainly on the plain, right?) picked up a few sights along the way, especially the grand mosque/cathedral in Cordoba and a revisit to the Prado in Madrid.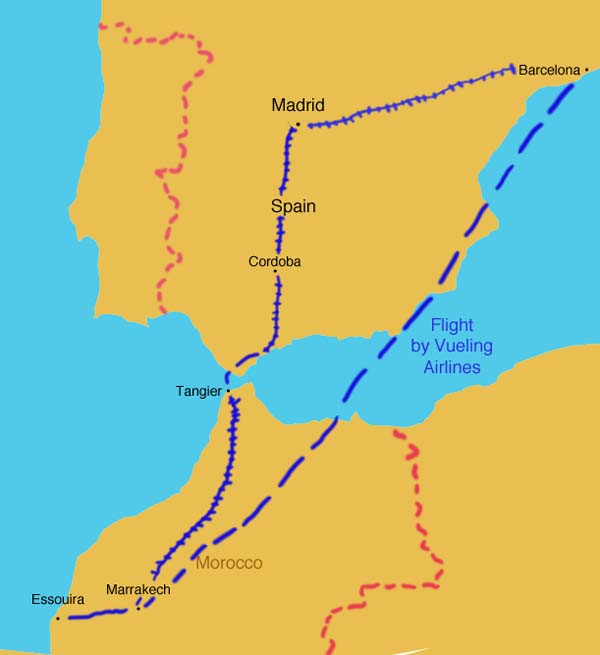 Click here to see a roll of snapshots from the cellphone camera.

People don't like having their pictures taken;
an exception might be made by the merchant or artisan who is trying to entice you to buy a satchel/carpet/teapot.

"Every photograph is an act of aggression" – Susan Sontag

Christine's extensive set of photos are on her 2bustickets blog.