We took the opportunity presented by being in the "neighbourhood" (the
Emirates trip
) to fly the 3 hours to Delhi from Dubai and travel in one small part of teeming immense India. Rajasthan is the classically beautiful desert State on India's west coast adjoining Pakistan; Agra, in Uttar Pradesh near Rajasthan's eastern border, is home to the immortal Taj Mahal; and nearby Delhi, with its 13 million inhabitants, is a place to view the contrasts between the Old Delhi of the Hindu and Mughal eras and the New Delhi of the British Raj in its twilight years. A theme common to the areas we visited was the grand Mughal civilization of the 16th to 18th centuries, of Akbar the Great and Shah Jahan, of the Red Fort in Delhi and the "pink city" of Jaipur.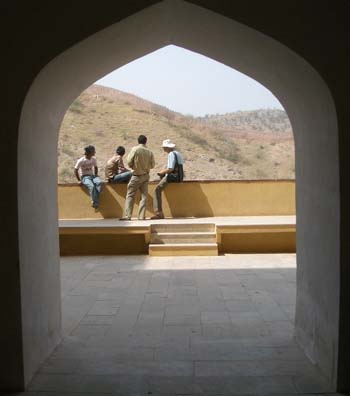 Attempting to draw the spectacular view from Amber Fort while also attempting to answer a million questions. "You're from Australia? Ah, Aussie! Aussie! Aussie! Oi! Oi! Oi! Ricky Ponting! [sporting chants and the name of the current cricket team captain] Sydney! Melbourne! I have many friends there.... what are you
doing
???" In any of the places where I attempted to draw or paint, I had at most 5 minutes before I was surrounded by young men who stood
right there,
often mere inches away, sometimes blocking my line of view. Oh for a fortful of reserved, reticent Canadians at a time like that....
India was the most difficult place where I've ever tried to paint. It is immensely crowded, people are aggressively curious (friendly), and there is absolutely none of that sense of aloofness, of personal space, that allows a travelling artist in many parts of the world to contemplate the surroundings uninterrupted. I ended up spending my time drawing frantically in the small Moleskine sketchbook I carry and had only a few opportunities, such as the hotel rooftop in Agra with the view of the Taj Mahal at dawn, to get out the watercolours. Thus, much of what appears below was painted or completed when I got back. I needed good sable brushes to add texture and layers of colour to capture the particularly grainy, dusty quality of the place (I usually carry just a squirrel-mop travel brush that's okay for washes), and the landscape and clothing colours forced me to use other paints than what I normally carry: semi-opaque gouache colours such as Jaune Brilliant and a hot pink called Thio-Violet, to supplement my paintbox's Rose Madder and Indian Red. And the light itself is somehow thick, fat; the high sunlight is diffused through dust hanging in the air. Logically one would have to crank up the colour temperature, but there was something else that had to be added -- a kind of energy, of agitated movement, that crackled through almost every place.
The best of our photographs from India, and narrative about other aspects of our trip, are on
Christine's blog
.