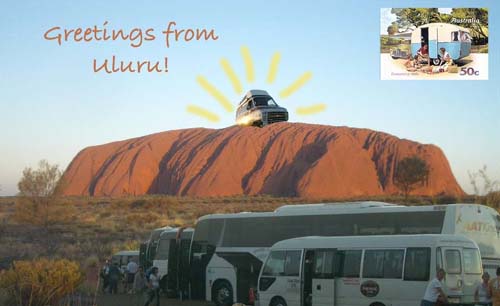 In late 2009, after we sold our house in the Blue Mountains of New South Wales, we were given the opportunity by our generous friends John and Susan to use their 1985 Chevy campervan for a roadtrip. Over ten weeks in the Australian spring we covered 12,500 km, travelling from Sydney north along the Pacific coast to tropical Queensland, west into the Outback as far as Tennant Creek, south through the central desert to Alice Springs and Uluru, east from Adelaide along the Great Ocean Road to Melbourne, then north through Victoria and western NSW to our starting point.

Christine wrote and photographed the trip extensively, putting the results up on her blog, while I did a few photomontages like the two here and a lot of brush and ink paintings similar to the chiaroscuro drawings I had started to do before we went on the road. Unlike the dozens of previous trips that are chronicled on my travel page, I left the watercolours in their sack, only getting them out briefly and attempting to use them in the desert east of Alice Springs.

A few reasons why: first, the scale of the trip and the number of places were so overwhelming there wasn't enough time to chronicle the landscape in watercolours; second, the light and colours are so intense, the shadows so deep and black, that I decided to use Chinese ink as a sketching medium and save more elaborate and colourful works for later, maybe (in oils); third, it's so bloody hot and the flies are so plentiful in most areas that I can only marvel at the stoicism of Australian plein-air painters. And although it might seem odd to travel in such a colourful place with only black ink, I believe these chiaroscuro drawings capture a lot of the essential harshness of the Australian climate and landscape (and of course, if I were a photographer and used only black and white film people would say 'ooh, how sophisticated').

So my artwork from this trip followed quite a different path, concentrating on the experience of the campervan and caravan parks, the people along the way, plus some buildings and landscapes which "work" in the medium, more or less. The challenge with brush and ink is to create images where the shadows and forms define other shapes – in other words, where you're not drawing with outlines – and where the pattern of black and white on the paper is pleasing in its own rather abstract way. Like all pictures, representational or not, they ought to look as good upside down as right side up. In the main they are created images rather than pictures of specific places, if you catch my drift: the subjects of the artwork end up being defined by invention and arrangement of the background.

These pictures are for sale, by the way.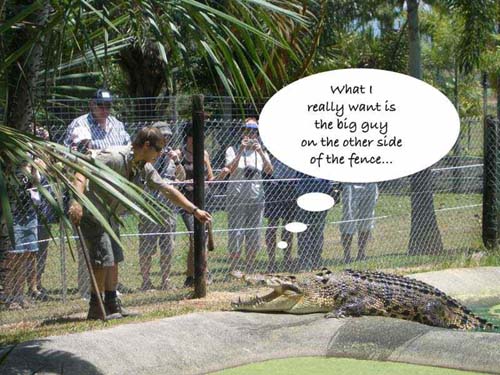 Crocodile farm in Innisfail, Queensland