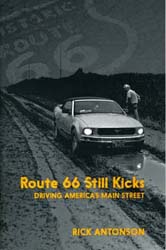 Steinbeck's "mother road," the historic Route 66 of novels, songs and TV fame, has been mostly wiped out by Interstate 40; the remaining bits, such as the strips through Flagstaff, Gallup and Albuquerque, have been homogenized by the passage of time and the spread of chain motels and fast-food outlets. We crossed Route 66 at Flagstaff and drove the section (actually I-40) from Gallup to Albuquerque. By coincidence, a couple of acquaintances from our neck of the woods, both deeply involved in tourism and the travel industry, had recently driven the entire length of it from Chicago to LA, getting off I-40 for every vestige of the historic road, and published the journey as Route 66 Still Kicks: Driving America's Main Street (by Rick Antonson, Dundurn Press, 2012): a great "buddy book," entertaining to read with lots of lore gleaned along the way. They stayed in the Hotel Monte Vista in Flagstaff, as did we, but bypassed ABQ in favour of a classic motel in Gallup.

Nostalgia clings to the surviving diners (in both senses: the cafés and the patrons), usually conflating the Route 66 medallion, beer ads with slogans like "Beer is the answer (I've forgotten the question)," vintage musclecars like Corvettes from the Route 66 TV show of the 1960s, and early rock 'n' roll.

Some snapshots of signs and places along the roadside.

(Below) I scribbled the decor of an Albuquerque diner into the small sketchbook while we waited for a pizza one night.