A long-awaited and oft-postponed trip for me. Over many decades I had formed an image of Japanese culture, from learning judo and karate in my teens to studying Japanese art and dallying with Zen Buddhism in my 20s, to reading more recently of its "demographic time bomb" as it resists immigration and its birth rate declines, and even to imagining the Japanese-Canadian world as reflected in my wartime graphic novel Toshiko. Japan is so different from the diverse melting pot of (urban) North America, as 98% of Japan is ethnically/racially Japanese, yet nobody could deny how well the society works – efficient and orderly despite its huge population, high-tech, prosperous, and no visible poverty (at least everywhere we went). On the surface at least it works very well, although the high suicide rate, predominantly of young men, makes you question what's really going on.

Anyway, this blog is about travel artwork – aesthetics and tourism – rather than sociological speculation. I took my Moleskine sketchbook and pencil, as always, and took snapshots of unpaintable curiosities with the cellphone, but for "paintings" I did only sumi-e – brush-ink work using an ink stick and stone (which weighed a pound and threatened my rule about lightweight luggage) on washi, handmade Japanese paper that I bought in the Tokyu Hands "lifestyle" chain store, the only art-supply place I came across. I only did black and white, mimicking most Japanese painting before the Meiji period of the late 19th century.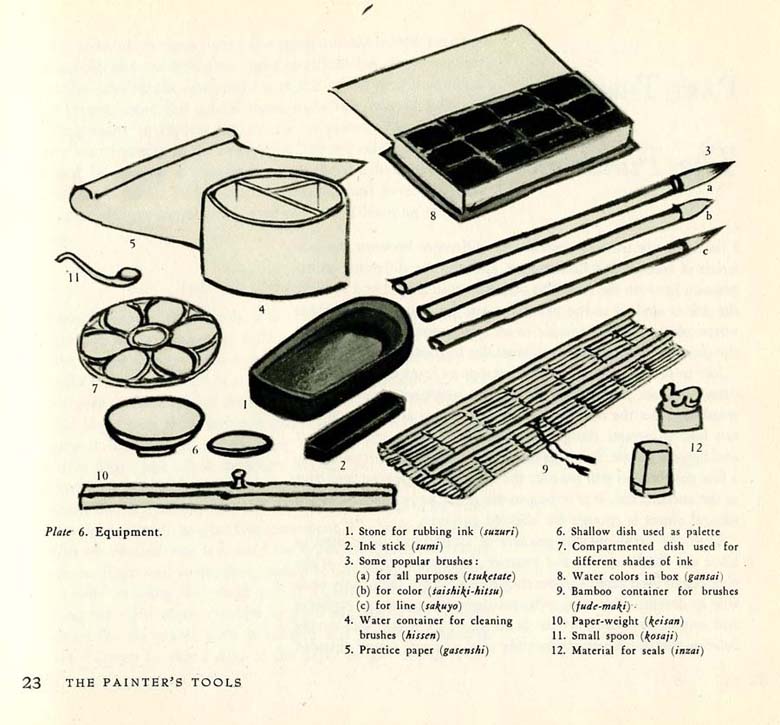 From "Japanese Ink-Painting" by Ryukyu Saito (Tuttle, 1959): a much more elaborate set of gear than I travelled with.



Mostly I was looking for "traditional" Japanese landscapes to see if I could imitate that style of painting, and not surprisingly didn't find many opportunities in the cities where 90% of Japanese live. But there were a few spots, including a river near Kyoto, and the Noto peninsula which we explored in a rental car, that gave me the chance to get off the tourism treadmill and the rigidity of bus and train stops, grind the sumi in a little water in the suiboku technique, and paint quietly.

I wrote this out in this little essay on Japanese art and aesthetics, which opens as a pop-up on a computer and a separate screen on a tablet or phone.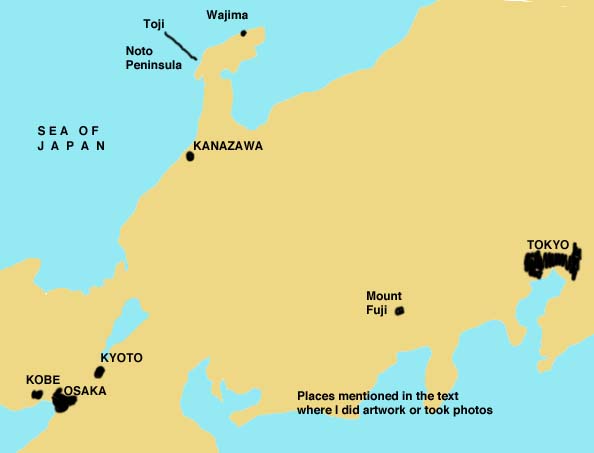 The pencil Moleskine is my travel diary and the sumi-e will end up in my next art show. I've put cellphone snapshots down at the bottom of the page, so keep scrolling...

The Moleskine pages are reproduced at their original size, about 5 1/4 x 8 1/4 inches (13 x 20 cm), at least if you look at them on a "normal" screen.