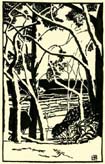 Contact me
Go to home page
Return to main travel page
Australia

via

Taiwan

2012
*
Michael Kluckner


Back to Australia yet again, this time to attend our daughter's wedding, on a trip that wasn't intended to be a major travel-painting assault on a hapless piece of landscape, as most of my journeys are. But it turned out there was a lot of time hanging about and some good opportunities to paint landscapes when we spent a week in a beach shack on the coast south of Sydney.

Not for the first time, we flew Vancouver-Sydney via Taiwan on China Airlines, but this time I did a few pencil doodles during a morning's sightseeing during the layover, whetting the appetite, perhaps, for future trips there. I've put them at the bottom of this web page.

| | |
| --- | --- |
| | We spent an afternoon in Newtown, the vintage, hip area of Sydney where we rented for a few months toward the end of the years we lived in Australia, and found ourselves in the bar of 'The Marly' – the Marlborough Hotel on King Street. Part of the attraction was a Roger Federer match on the TV against somebody I've forgotten (the Australian Open was on); demonstrating skill at multi-tasking, I whipped some rather distorted sketches of the other patrons into the Moleskine. |
| | |
| --- | --- |
| | |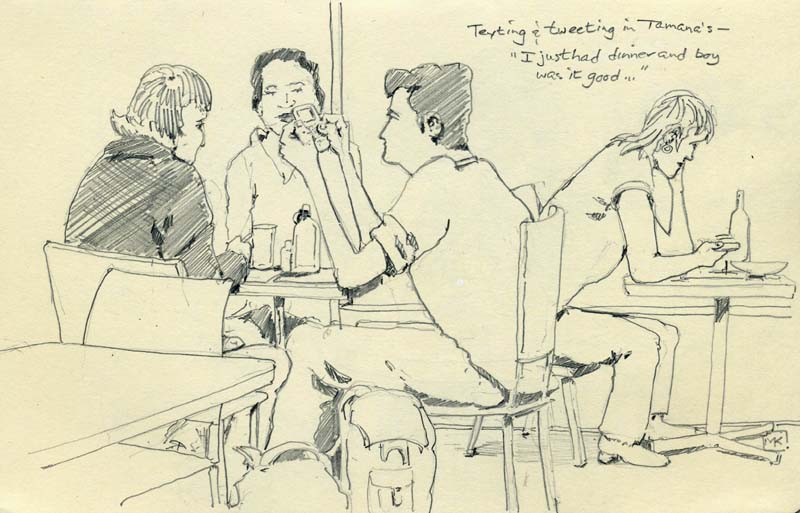 Tamana's North Indian Diner is a fixture of Newtown's King Street.....


Pebbly Beach in Murramarang National Park

We rented a fibro shack (see below) on the bluff above the beach, about 4 hours south of Sydney.

The weather the first couple of days was beautiful, typical summer sun and heat, which changed then to four days of cool clouds and rain, explaining the huge change of light and ocean colour in the watercolours below. I had never seen the Pacific Ocean on that part of the coast in storm mode; under the grey sky, the water becomes a pale, cold turquoise (viridian with a little cerulean from the paintbox). Under a blue sky, the water is the richest blue, the shallows and waves a vibrant tropical green, an intensity that watercolour just can't achieve.

All the colours end up distorted in the memory. The midday light is too bright to experience without sunglasses, at least for my feeble northern eyes, so my visual memory is pumped like Kodachrome, making my sunny-day watercolours seem pale.



True colours, in oils – this painting based on Nambucca Heads that I did in 2009.

Above: The shorelines and headlands are eroded sandstone interlaced with strips of other minerals, sometimes iron that has rusted away, leaving a kind of 'tesselated pavement' with rock pools that are visible just at low tide. Below: a storm surf on a cloudy day near Snake Bay (fortunately snakeless when we hiked there).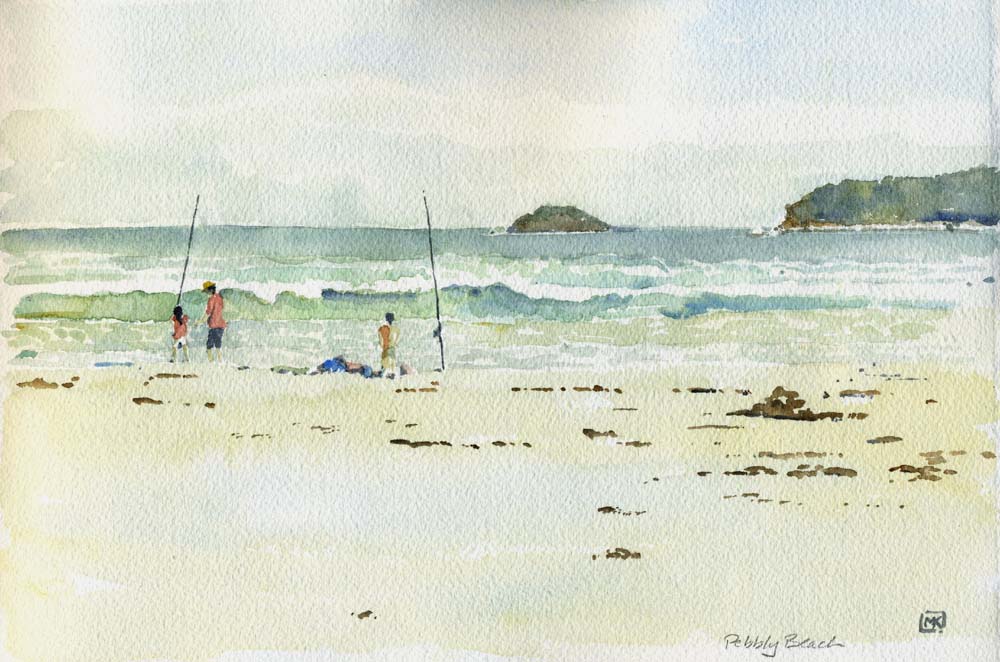 Above: a family surf-fishing on Pebbly Beach on a stormy day, scraps of brown kelp on the sand. Below: the eroded sandstone headland that frames the end of the sand beach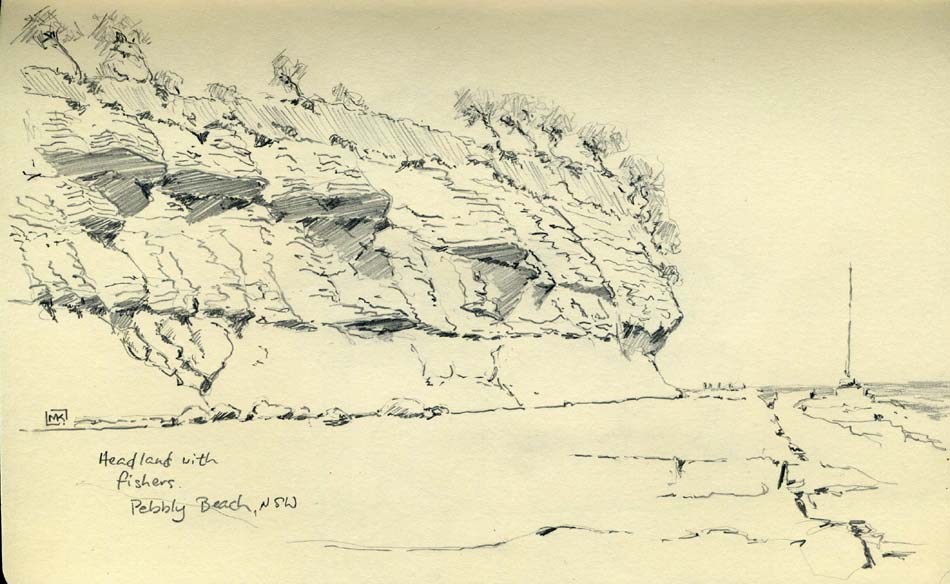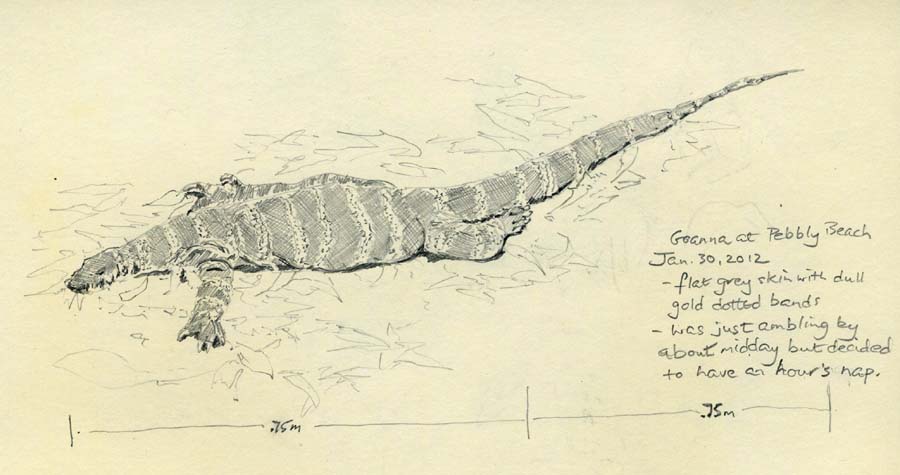 The wildlife, including flocks of brilliant parrots that I didn't attempt to draw, share the park and beach with the cottages. Renters are warned not to leave their cottage doors open because of the goannas, which move alarmingly quickly when they want to and are too scary and aggressive to shoo away. The kangaroos get a little hay every evening to keep them around. A number of the females had joeys in their pouches, sometimes with their cute little heads sticking out and nibbling at the grass while the mothers grazed. It seems such a practical way of raising their young: the newborn is not much bigger than a peanut yet somehow has the instinct to crawl into the mother's pouch, where it can grow and suckle and be kept safe until it's much less vulnerable than, say, the large baby of a mammal. Yet marsupials only survived and prospered in Australia ...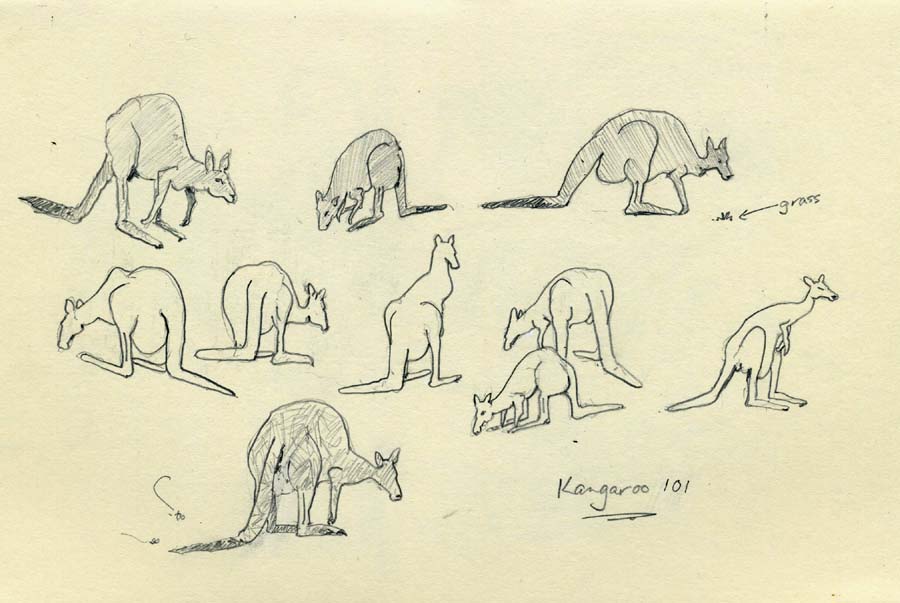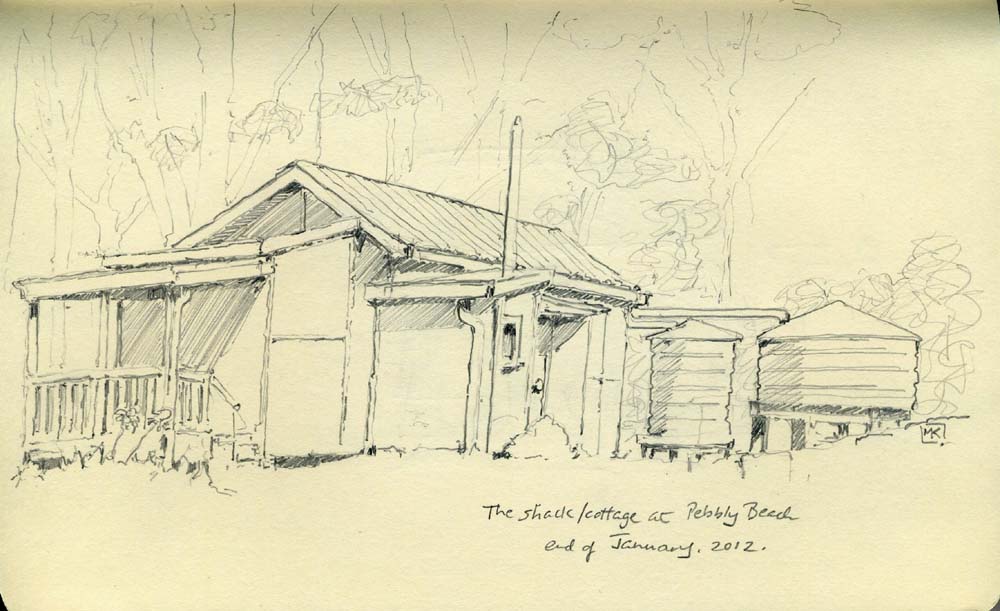 Part of the Australian birthright for people a generation or two ago was the beach shack, usually sheated in fiber-asbestos sheating, known as fibro, as in this 1930's ad. Australia had no softwood plywood industry and fibro provided a useful alternative, at least until the dangers of asbestos were confirmed in the 1970s, for all kinds of construction. Regardless of health risks, the country is still chockers with fibro buildings, which are perfectly safe as long as they're kept painted and you don't scrape them or drill holes or do anything that creates asbestos dust. They're certainly more dangerous to demolish than to leave standing.

Cancers caused by asbestos are a huge national problem, rivalling melanomas, perhaps. James Hardie & Co. decamped for Holland some years ago, then to Ireland, where corporate liability laws are less stringent than in Australia.

In the drawing of our shack above I included the water tanks and the small toilet block with its venting stack that occasionally adds its sweet perfume to the scent of eucalyptus on the breeze.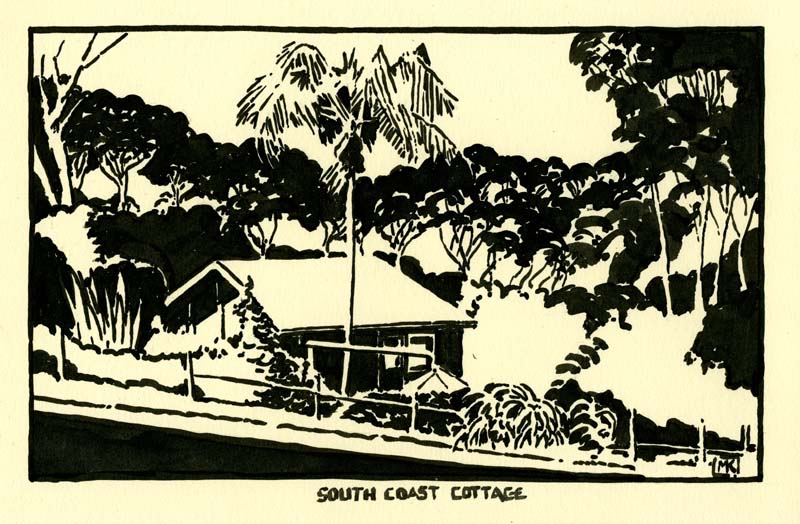 | | |
| --- | --- |
| | |
Left: the trunk of a spotted gum, fabulous with its abstract patches of colour.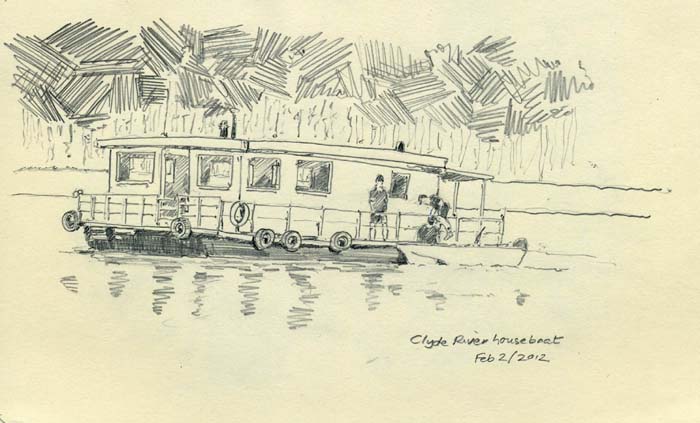 The Clyde River empties into the Pacific at Bateman's Bay, the town 20 minutes south of Pebbly Beach.


... and, to Taiwan

The tourist board of the R.O.C. (Republic of China) provides a couple of free tours for in-transit passengers laying over in Taipei. The interesting one (to us) visits a couple of traditional towns southwest of the international airport that were centres of the pottery industry; the other goes right into Taipei, a trip easy to make unaccompanied on the high-speed train that passes near the airport.

Very quickly, while we were wandering around Sanxia and Yingge, I sketched the sights. The curious thing, to my eye, is the number of concrete, multi-family buildings, even on the edges of rice paddies or out in the middle of fields, absorbing the huge population and replacing the traditional courtyard-style houses. None of them will be finalists in a beauty contest. Most have multiple structures on their roofs that are probably water tanks, and almost every window has either a small cantilevered greenhouse for a few plants or an air-conditioning unit. It really is an interesting landscape, at least for a painter.

Below: an old fig tree near a temple provided a sort of public square for a few local traders and poor people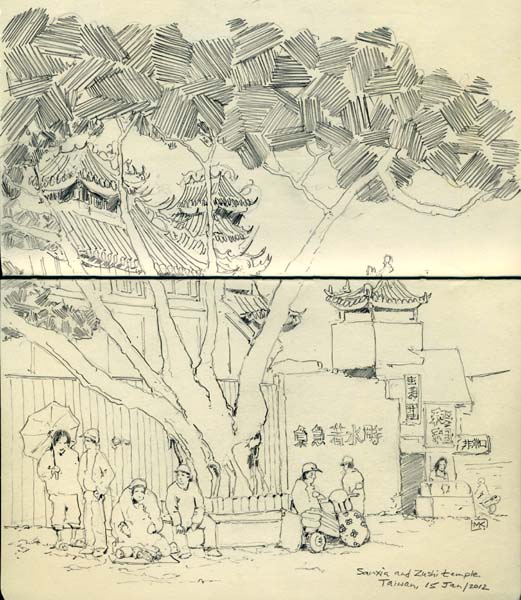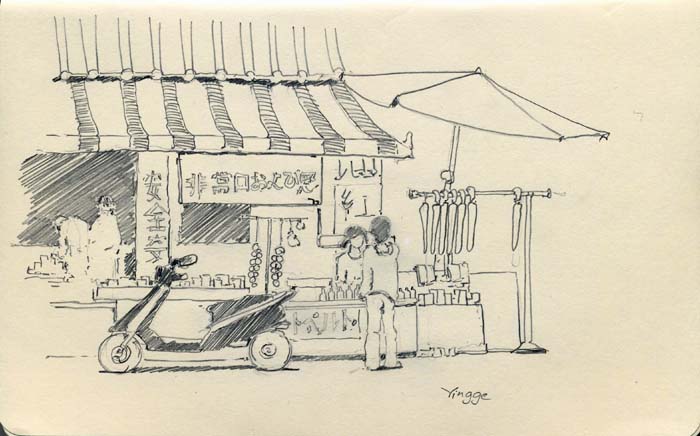 Scooters, scooters everywhere....


Initially, any time I've been in Asia, I've found the number of people wearing facemasks disconcerting. Are they protecting themselves from airborne plagues or are they protecting their fellow citizens? It turns out to be the latter and it seems so eminently considerate and practical that it's a habit I wish western cities would adopt. Instead, at home, winter is like a gauntlet to run, with sneezing, coughing people on every bus, in shops and offices.

Travelling is a bit like war: lots of boredom interspersed with brief periods of excitement. The inflatable (or rubber?) giraffe stuffed into the trolley at Taoyuan Airport must have been a gift for the businessman's child. I guess he would bend it double to stuff into the overhead locker. "Daddy Daddy! Did you bring me an iPad from your trip?" "Uh .... no, I brought you a rubber thing ...."

Below: peanuts with fish, that is, silvery slivers of salty finny bits, are standard in the cocktail bar.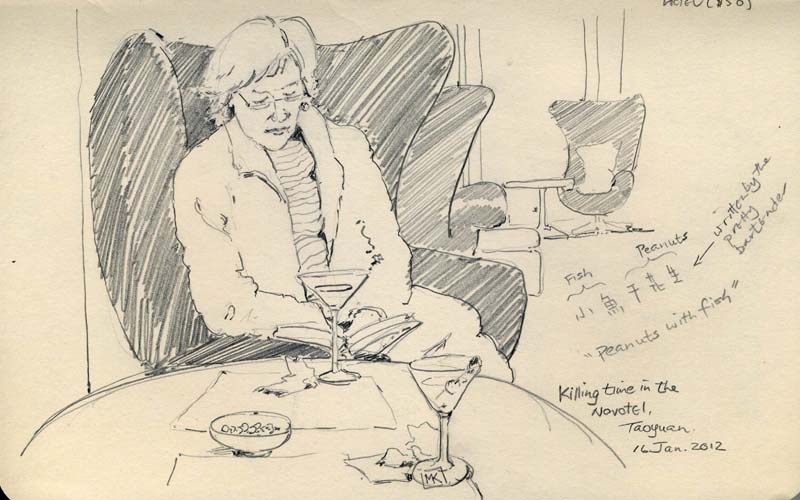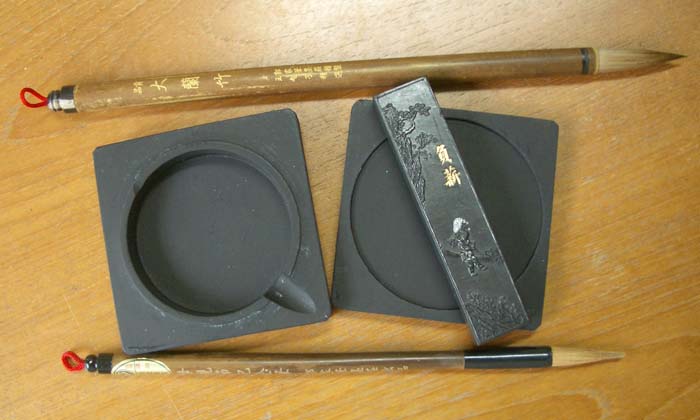 I found a traditional calligraphy shop in Taipei selling the essentials of Chinese painting. Somewhere I still have my old bamboo brush from 40 years ago when I loved Zen art and painted misty

sumi-e

landscapes and read and re-read The Mustard Seed Garden Manual of Painting. My old ink stone disappeared many years ago, so this new one, the ink stick and the brushes may get me on that road again.




Contact me Go to home page Return to main travel page


Artwork & text © Michael Kluckner, 2012