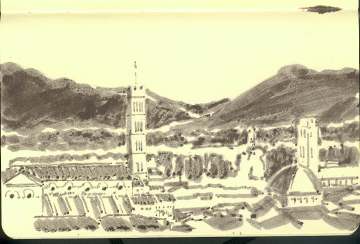 The Moleskine sketchbook with brush and ink – it didn't really work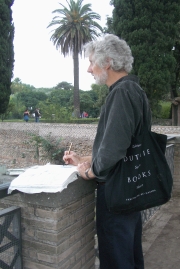 Painting on the handmade sketchbook on the Palatine Hill in Rome--the mobile, footsore sketcher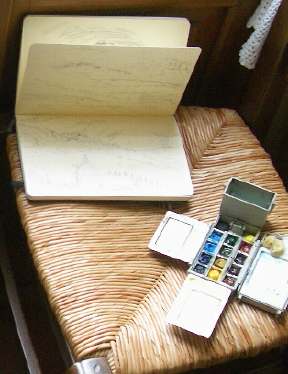 The Moleskine book with an annotated pencil drawing and the tiny watercolour box. I found it necessary to seek the repose of indoors in order to adequately wet the paper and underpaint the watercolours.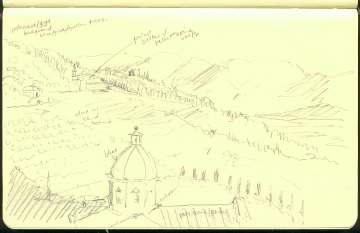 An annotated pencil drawing in the Moleskine book, used as a reference for a watercolour on Arches paper in the sketchbook.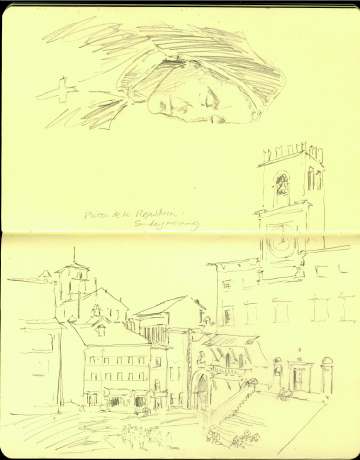 Pure pencil in the Moleskine book (what the paper is really good for). A medidative nun on the train to Camucia, and the town square in Cortona.
October, 2004
Portability and "finishability": As this wasn't intended to be a pure painting trip, more a holiday with some painting fitted into the slow moments, I determined to carry only the lightest, most portable art materials. Thus, a Cotman watercolour box, a single Isabey squirrel-mop travel brush, pencils, an eraser, my handmade 10 x 11 inch (1/6th of an imperial sheet) sketchbook of Arches 140# cold-pressed paper, and the Moleskine sketchbook.We had absolutely limited amounts of luggage (only carry-on) as we were determined to be mobile and unencumbered, travelling without a car and moving around on foot, by train and by bus.
"Finishability" means I didn't want to bring home a pile of unfinished work, but wanted to see what I could complete on the road. Some of the sketches are very unfinished.
The Snapshot vs. The View: the two great travel painters of all time, in my opinion, were J.M.W. Turner and John Singer Sargent. Sargent, active around the turn of the 20th century, was very influenced by the look of the camera snapshot (following Degas's lead) and produced an enormous number of intimate, cropped views. Turner, painting before the camera was invented, painted spontaneous, almost abstracted views of places like Venice; in many cases when he was travelling he was documenting scenes which were later engraved and printed as popularly priced sets; in other cases, he painted very spontaneously by way of preparation for larger studio oils (Sargent did the same, but also used photographs for his studio oils and very rarely painted long views like Turner's).
On previous trips, I've painted the sort of cropped, intimate scenes that are like snapshots. This time I tried to pull back and record long views, such as the one of Firenze and the view from the tower in Lucca.These are the sorts of images that a camera mostly fails at, as cameras distort space, exaggerate the foreground and flatten the background to such an extent that the sense of a real 3-dimensional vista is usually lost. With a painting, even a small one, you can lay out the landscape on the paper the way your mind's eye sees it.
Technical Questions: Many of these watercolours fit rather uneasily into the no-man's land between drawing and painting. Because of the reasons of portability I mention above, I strictly limited the amount of gear I wanted to carry, but ran into the problem of always painting on dry paper. This, not surprisingly, is an occupational hazard of painting outdoors in crowded cities on hot, windy days. Nevertheless, the early pictures, especially the Roman ones, really miss the ambient light. I ended up trying to wet the paper with a tiny sponge, which was very messy and inadequate. Next time, definitely, I would make room in the bag for a small spray bottle. Otherwise, the kit worked well, and I would drag it around again, modifying the sketchbook slightly to 8 or 9 x 11 inches so that it wasn't quite so heavy to carry – it was about 3 pounds for 96 pages and a cover. Realistically, a book of about 32 sheets/64 pages would be enough for a trip of a month or so.