Although there were similarities between Indonesia and Malaysia, neither is as full-on as India. Bali is Hindu, less densely populated and as close as I ever have been to a Garden of Eden. Christine had been there many years ago and was curious to see whether it still had the magic she recalled. Bali is very distinctive; touristy, yes, but a beautifully gentle culture as long as you're not hanging out in surfie-party areas like Kuta Beach.

We flew into Jakarta from Tokyo and spent the first 4 days with friends, Helen and Ken. Ken is a Canadian expat artist who has produced a tremendous body of work in the 29 years they have lived there. Following Ken's "shock and awe tour," we took the train (about 8 hours) to Yogyakarta, the old royal capital, and after 4 days continued by train for another 8 hours to the former Dutch colonial city of Malang. Having by that time decided to hasten our passage to Bali, we caught a flight to Denpassar on the sketchy Wings Abadi airline from Malang, arriving safely and only about 2 hours late. We then spent a week in Ubud, using it as a base to explore part of the island; our travels were constrained by the pending eruption of Mount Agung, the volcano in eastern Bali, which had prompted a no-go zone around that part of the island (Agung finally erupted on November 21 about 3 weeks after we left, stranding thousands of tourists at the Denpassar airport – we continue to be lucky travellers!).

A note about money: this is what you get from an ATM...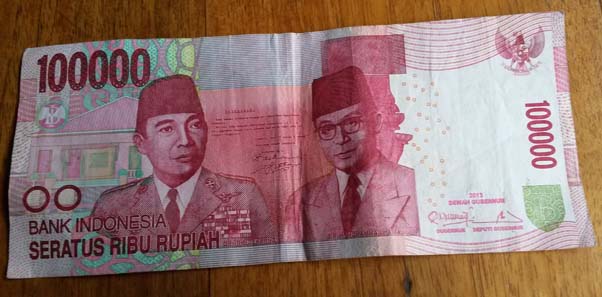 ... and it is worth $10 Australian or Canadian in 2017. Thus, 10,000 rupiah is a dollar. Count your zeros! And the online booking sites in Indonesia only seem to work with Indonesian bank cards, so if you're booking ahead as you travel or want to grab a local airline ticket you may have problems; there is a certification system that involves sending them a photo of the main page of your passport, which you may want to avoid doing. Indomart stores, which are everywhere, have a kiosk that is useful for booking train tickets and making other reservations and payments. Internet data is cheap: a SIM card for 5 GB for a month was about $7.

Painting and drawing close to the Equator: I found the combination of saturated colours, especially the greens, with the sun directly overhead and casting no shadows, to be a real challenge as I have developed my painting style based on the angled sunlight typical of countries farther away from the Equator. The light and air in Indonesia seemed oddly heavy, bright but dull, almost shadowless; typically there was at least partial cloud cover. My travel watercolours below of the rice fields look weak to my eye and I probably should repaint them in oils but won't now that we're back; drawing in pencil in a small Moleskine sketchbook was a lot more fun.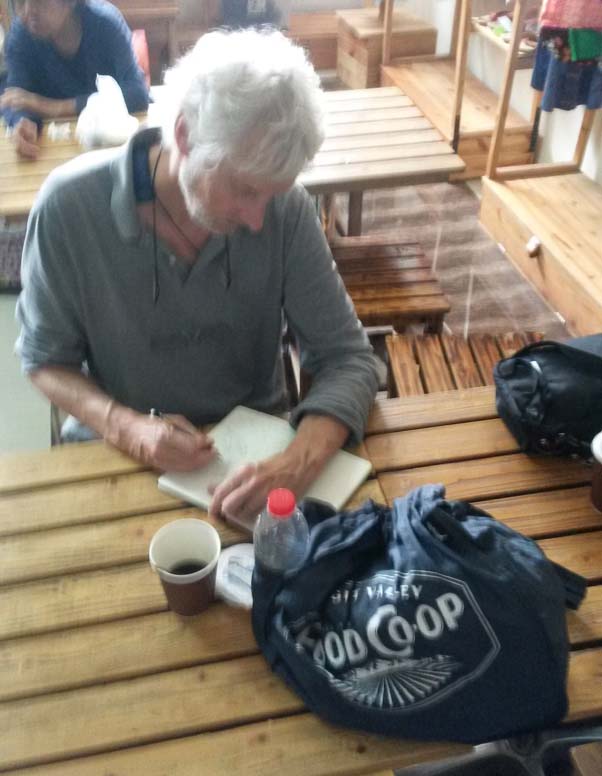 At Malang airport, waiting for Wings Abadi!

The images on Ken Pattern's website are mainly monochrome stone lithographs capturing both landscape and people and achieving a realistic atmosphere; when he paints he uses acrylics, the saturated colour being true to the light and the landscape.

My artwork done on the trip is below and there is a roll of cellphone snapshots (which opens as a pop-up on a computer or a separate window on a tablet or phone) of a number of things spotted along the way that didn't lend themselves to drawing.