Wong's Market, as it is now called, is one of the survivors of a generation of grocery stores that dotted the city, usually along the streetcar lines. Built on Main Street at 44th in 1910, it is a nondescript two-story woodframe structure, now covered in stucco but once sheathed with brick (on the north and the front) and horizontal board siding (on the south side). Downstairs is a surprisingly narrow store space, while upstairs is living quarters for the proprietors. It was the first building on that part of Main, erected once BC Electric extended the streetcar line south from 33rd to Marine Drive. Originally called the Winnott Store (see correspondence below), then the Reeve & Harding General Store, it was soon renamed Blyth's Cash Grocery and provisioned by Kelly-Douglas and Company (evidenced by the Nabob billboard on the side of the photo below).

Late in the 1930s a Japanese-Canadian family, the Fukuharas, bought the store. George Kisaburo Fukuhara was the son of a cabinet maker who worked in bamboo in a factory on East Hastings Street. Born in 1908 in Vancouver, he knew a lot of the city's history and according to his granddaughter Sian Reiko Upton "spent his youth photographing it with a camera." In 1937, having bought the store the previous year, he married Fumiko Nagata, the daughter of a Mayne Island family. She was a talented seamstress but apparently only made clothes part time for friends, devoting herself to raising her family. They worked hard and over the next few years paid off the mortgage.

In the early months of 1942, following the Japanese attack on Pearl Harbour, they lost it all.

Fumiko Fukuhara with her newborn son David on 44th Avenue just west of Main, about 1939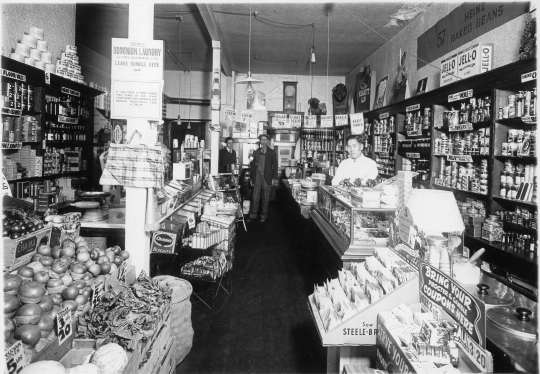 George Fukuhara inside his store, Blyth's Cash Market, about 1939. He took the picture himself, using a timer.
That January, in the wake of the attack on Pearl Harbour, the federal and provincial governments moved swiftly to rid the coast of its Japanese-Canadian residents, stripping them of their rights and turning them into "enemy aliens." Hastings Park, the site of the annual fall exhibition and the race track, became the coordinating point for their dispatch and internment. Probably the Fukuharas were not detained initially, but were allowed, as was the case with other local people, to remain in their homes under curfew. However, they were soon forced into Hastings Park where they reunited with their relatives, the Nagatas and the Konishis, who had been taken from Mayne Island in April.

Kumajiro Nagata, the extended family's "elder" who had been in charge of the Japanese businesses on Mayne Island, made the decision that they would strike off on their own, like the Japanese Canadians who went to the self-sustaining villages in the Interior (see below). Perhaps using the sponsorship of an old associate named Charlie Nakamura, originally from Telegraph Cove, who had established a railway-tie mill in Salmon Arm, they obtained permission from the BC Security Commission to set out in June for Skimikin, near Squilax in the Shuswap area.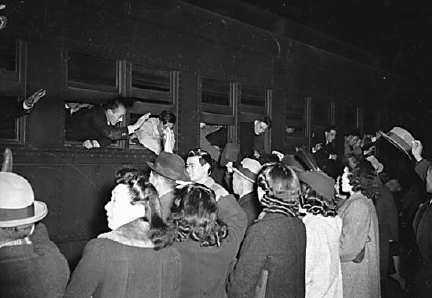 "En route to work camp near Jasper," photo taken February 25, 1942 by Jack Lindsay. City of Vancouver Archives CVA 1184-12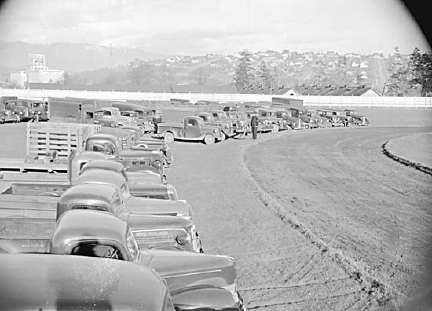 "Vehicles confiscated at Hastings Park", photo taken March 3, 1942 by Jack Lindsay. City of Vancouver Archives CVA 1184-86

(Left) the store and the house beside it, since demolished, which may have operated as a butcher store for a while. Photographer probably George Fukuhara. (Above) Fumiko Fukuhara and her son David walking on Granville Street in downtown Vancouver about 1941, taken by an unknown street photographer, probably Foncie Pulice.


Family photos courtesy of Kathy Upton
From Mike Jackson, Jackson's General Store, 2022: I wanted to reach out to you and let you know that a friend and I have an accepted offer on the old WONG'S market store on Main st. Vancouver.

When I searched up the shop a year ago, I came across your website....a year later and here we are. I'd love to fill you in on the story of how this went down.

I own and operate a boutique general store in Vancouver @ 1490 Kingsway.
This would and likely will be the PERFECT location for our second store.

From Maxine Schleger, 2022: Here is some information on the early years of the store at 5993 Main St., commonly known as Wong's Market.

The store first opened as a post office and grocer in 1911. Although it is now at the corner of Main St. and E 44th Avenue, at that time it was Main and E 46th Avenue, located in the municipality of South Vancouver. William A. Wagenhauser established it as the Winnott Post Office, but he was only there for one year as postmaster and proprietor of the grocery store.

It changed ownership several times during its first ten years in business. From 1914 to 1917, it was run by Munro & Arnett, who specialized in dynamite, specifically stumping powder. This was used for removing tree stumps from the recently forested land in South Vancouver. The store's catering to the land clearing industry illustrates how relatively undeveloped the surrounding area was during its early years of operation.

Here is a short article about Munro & Arnett's business from the Greater Vancouver Chinook, September 26, 1914 p. 4.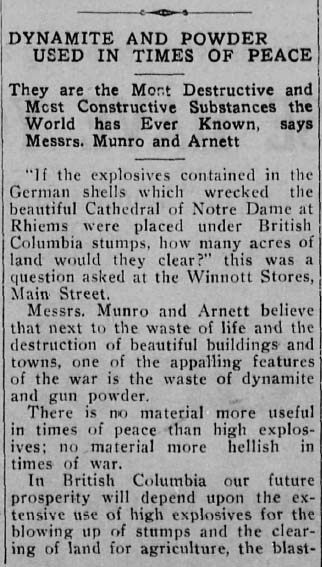 And here is an ad from The Greater Vancouver Chinook December 19, 1914 p. 9.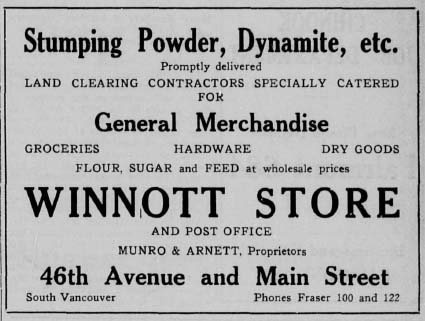 From Guillermina Coronado Davila, Guadalajara, Mexico, 2021:

I'm currently working on my thesis, titled: "An evolving identity: Nikkei Canadians and their approach to Japanese-ness after WWII. The case of Vancouver." My purpose is to look at how the relocation and internment of Japanese and Japanese Canadians during World War II in Canada negatively affected the approach of those communities and their descendants regarding the Japanese side of their identity.

Part of the plan for my research is to interview nikkei Canadians who would be willing to share their families' experiences during WWII. To achieve this goal, I designed a survey focused on requesting information about their families' history living in Canada and whether or not they know of any relatives relocated to Canadian Internment camps during the war. Since the current state of affairs regarding the pandemic has made it virtually impossible for me to travel to British Columbia to apply this survey among the nikkei Canadian community in person, I would like to ask for your help in bridging our geographic gap.


Here you can find the link to the form for the nikkei members to fill.

https://forms.gle/bbrQzxyofaj1hSzCA

All data obtained through this exercise will remain confidential. No names or personal data will be published nor shared with any person or institution; they will be used only for statistical purposes and to find possible candidates for further interviews, which would also be voluntary.

I intend to reach the highest number of members possible for this data to be a closer representation of today's Japanese Canadian community in British Columbia.
Return to Vanishing B.C. main page

Artwork and text ©Michael Kluckner, 2001, 2002