From 1943 until 1952 Hatsue Konishi worked on the Calhoun farm, while her younger sister Setsuko kept house for Henry and Hilda Calhoun during the summers. Kiyono and Kumazo Nagata stayed on in their cabin until about 1949, then moved into a new house they and son John built in Gleneden, where they lived until repatriating to Japan in 1953. John Nagata developed a sawmill of his own at White Lake, married Miyuki Yoshida of Chase and remained in Gleneden to raise his family. George and Fumiko Fukuhara moved to Grindrod after the war to work in the sawmill; later, he became the foreman at the Chase sawmill, renowned for his skill as a log scaler, then returned to the coast in the 1960s so their five children could have better educational opportunities. As for the Calhouns, they continued vegetable farming until at least the late 1950s, losing in 1954 the highway traffic that used to go down their road when the alignment was straightened to its current one directly from Carlin to Tappen. And Charlie Nakamura had a large sawmill in Salmon Arm West called Salmon Arm Timber, which apparently went bankrupt about 1961.

The Konishis came closest to repeating their Mayne Island experience. From 1943 to 1946 they stayed in the log house east of Calhoun's, then moved onto the next property south (three of the tenants who later moved into the log house died in a fire there). Soon, they were growing 6 1/2 acres of strawberries and had built greenhouses for tomatoes. In the 1950's or early 1960's, they were able to build a modest, modern bungalow, stucco above pink horizontal board siding, in front of the cabin they occupied in 1947 – the one sketched above that I think is the last survivor of the buildings from the war years – which is now (2003) home to their son Fiko. His cousin's granddaughter described it as "a small, nondescript kind of house surrounded by trees and garden, but its smallness and obscurity just underlines the Nikkei wish to blend in." Fiko spent his career with Clearwater Timber Products, then retired about ten years ago to the family property. The greenhouses are long-since demolished. His older sisters Hatsue and Setsuko live in Kamloops. Jenji Konishi, the youngest of the four children, is a retired professional forester living on Vancouver Island.

* * *

(I first heard of this wartime community through a caller to BC Almanac, the CBC radio program, named Sian Reiko Upton, who was talking about her most significant place in the province. She is the daughter of Kathy Fukuhara Upton, who was born in the Skimikin Valley in the bitter winter of 1942-3. She described visiting the last two cabins with her grandmother and mother in 1996, shortly before they were demolished. "Entering the cabins on a hot muggy day, my mother teared up, while my grandmother chattered excitedly in Japanese about the various things she found on the site: the old root cellar where she and Granny Nagata made root beer and sake; pieces of old Vancouver Sun and Japanese newspapers stuffed into cracks; the windows and nails which they'd brought on the train from Vancouver. 'Remember this . . . oh!' she cried at each find; and a story would unfold. On the floor of the Minamimayes' house she picked up a piece of cardboard and wood with the family name written in Japanese and English: Minamimaye. I do not know what happened to that family." Sian went on to write about the reticence that hovered over Nikkei families--an atmosphere well captured in Joy Kogawa's Obasan. As well, "many old Nikkei families remain close through informal support networks, intermarriage, visits and so on--this was illustrated last year when my grandfather [George Fukuhara] died. I think this will end with my generation: we children of Trudeau's multicultural society do not remember the difficulties of living in wartime/postwar white Canada. We do not view life in terms of restrictions, and tend to look outwards rather than inwards . . . hence our globetrotting!"

One extraordinary aspect of the story is how they all survived. The Nikkei, according to Sian Reiko Upton, "were already experienced migrants. They were peasants, too--hardy types. They did really extraordinarily well during the war, something that portrayals of them as victims obscures--most kids ended up with tertiary education, and a decent grounding in their own culture and language. My Mum and I probably know more about making Japanese food from scratch than most native Japanese today, and we all know about peasant-style self-sufficiency."

Sian is an anthropologist; her mother Kathy is a highschool art teacher in Mission.

[Sources: correspondence and conversations with Kathy Upton, Sian Reiko Upton, Hatsue Yoshida, Fiko Konishi, Mieko Kawase, Carol Schaafsma (who with her husband have owned since the 1950s the Mikkelson dairy farm at Calhoun Road and the TransCanada highway), Dean Trenholme (the farm north of the Schaafsmas; he helped build the Calhoun's big barn in the 1950s), and Allan Wilson (local historian). A story about George Fukuhara appeared in A Town Called Chase by Joyce Dunn, Theytus Books, 1986, pp. 288-291. Obasan by Joy Kogawa was published by Penguin in 1981.]

-------------------------------------


From Guillermina Coronado Davila, Guadalajara, Mexico, 2021:

I'm currently working on my thesis, titled: "An evolving identity: Nikkei Canadians and their approach to Japanese-ness after WWII. The case of Vancouver." My purpose is to look at how the relocation and internment of Japanese and Japanese Canadians during World War II in Canada negatively affected the approach of those communities and their descendants regarding the Japanese side of their identity.

Part of the plan for my research is to interview nikkei Canadians who would be willing to share their families' experiences during WWII. To achieve this goal, I designed a survey focused on requesting information about their families' history living in Canada and whether or not they know of any relatives relocated to Canadian Internment camps during the war. Since the current state of affairs regarding the pandemic has made it virtually impossible for me to travel to British Columbia to apply this survey among the nikkei Canadian community in person, I would like to ask for your help in bridging our geographic gap.


Here you can find the link to the form for the nikkei members to fill.

https://forms.gle/bbrQzxyofaj1hSzCA

All data obtained through this exercise will remain confidential. No names or personal data will be published nor shared with any person or institution; they will be used only for statistical purposes and to find possible candidates for further interviews, which would also be voluntary.

I intend to reach the highest number of members possible for this data to be a closer representation of today's Japanese Canadian community in British Columbia.

---------------------------


From Ria O'Brien, 2020: I'm Ria O'Brien (formerly Cameron), my grandfather was Fiko Konishi. Unfortunately the property was sold when my grandfather became too ill to look after it, and the old cabin's roof collapsed shortly before, and the new owners removed the whole thing.


From Sandi Arts, 2019: I am the granddaughter of Kumajiro Konishi (daughter of Jenji). Here is a photo from a couple of years ago of the cabin you painted.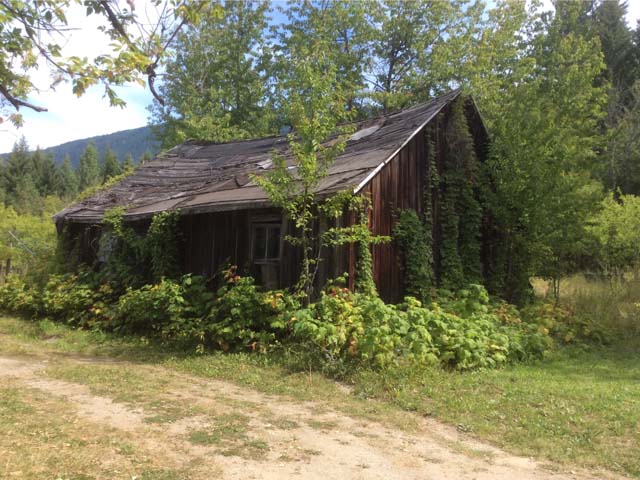 Correspondence about Japanese Canadians in the Shuswap





From Lynn Salas, 2017: I was Lynn Robson back then, and I remember being a friend to Ellen Hosokawa sometime in the 1950's. Since I didn't attend Carlin School, as Ellen did, it must have been in high school. (My memory isn't as good as it used to be…) I lived in Salmon Arm, and attended J L Jackson high school. My grandparents, Edward and Rose Fiala, (incorrectly spelled Filas on the map) lived next to Bill Gooch, and my aunt Edith Munro, lived across the road. I recall going to Ellen's place down a steep road beside Bill Gooch's, and being taken aback at where she and her family lived. But, being young, and not knowing any better, I suppose I just accepted the situation. At the time, I knew nothing of the Japanese situation.

From Malcolm Annala, 2017: I went to the Tappen school which was on Bolton road just a short way up from Frank Robert's store which is named on one of the hand drawn maps. I went there in 1939 to 1943, when my stepfather was sent to Vernon army camp for basic training. We lived in my grandfather's house, James Smart had built it with lumber from the fish hatchery which was demolished in the early twenties. When he came back from the war, I went back to the Tappen school for grade eight where some of the Kawase children were attending. They were Tamiye, Hana and Tada and I remember them quite well as I had a visit from Tamiye here where I live in Duncan a few years ago.

As I went to school in Salmon Arm during the war years, there were two Japanese boys in the school, Sid and Art Iwata and I think their father had a small farm near the school where he raised some berry crops.
We moved back to Tappen where I went to grade eight and that's where I got to know the Kawase children. Then we went back into Salmon Arm where I went to high school and knew several Japanese students there. Harry Nakagawa, Setsuko Konishi, Ada Tanamura and the Kawases, one of the brothers to Tamiye was Yoshio who was a year ahead of me. I don't remember any animosity towards the Japanese at all, they were accepted by us and took part in many activities at school. I remember playing some kind of rugby at the school and Harry Nakagawa who was about one hundred pounds trying to tackle Bruce Larsen who was double his size, got knocked into a wood platform and got a bloody head out of it. We helped him get bandaged and he was back in the game so we all cheered Harry! Harry and Tamiye both went on to become teachers and they both were at one of the school reunions so I had a good visit with them there.

I do remember that one of the Japanese girls I named in the last email to you was chosen Salmon Arm's May Queen, that was quite an honour in those days but I don't know what year it was, but in the late forties I am sure and her name was Setsuko Konishi. There may be a mention in the archives at the Haney Museum in Salmon Arm.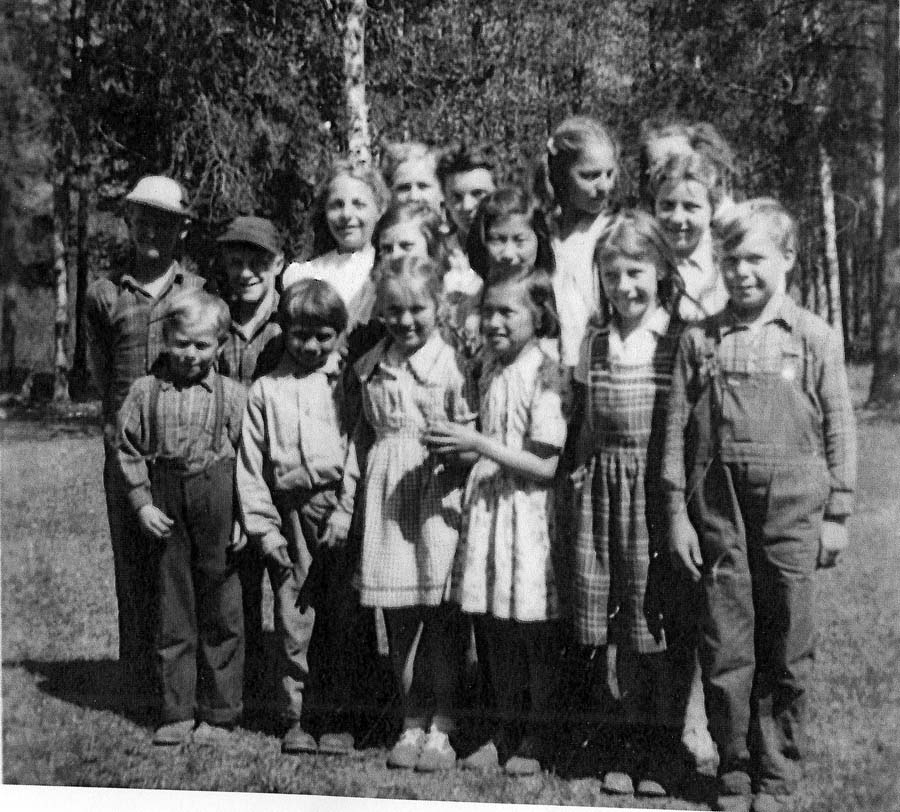 Back row: two boys with hats from left, Malcolm Annala, my cousin Billy Annala, Eva Deutch, unknown, K. McKinnon, next 3 unknown. Front 2 rows: left to right Harvey Bailey, 2 unknowns, Maureen McKinnon, Tamiye Kawase with Hana right in front of her, Gracie Hawley and Buck Bailey. Photo by the teacher, Audrey Gunby Johnson.


From Alfred Hosokawa, 2016/2017:

I was born in Paldi, B.C., October 30, 1940 in an East Indian community west of Duncan. My father and many other Japanese men worked for Mayo Lumber Co. My father was a commercial fisherman as well and worked for Charlie Nakamura who had a few boats. At the time of the internment my father was employed building fishing boats in the Steveson area. From Hastings Park where all the Japanese were first placed, we ended up in Roseberry.B.C., and later to New Denver. After 1945 we were allowed to leave New Denver but not allowed to return to the coast until 1949. We ended up in Birch Island, just north of Kamloops and the following year to Tappen in 1947. From what I heard the government had talked to farmers in various places in B.C. who had houses on their properties and were willing to rent to the Japanese families from internment camps.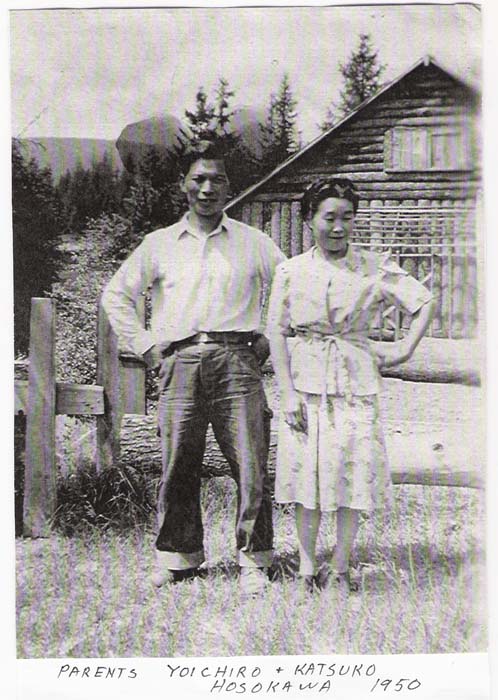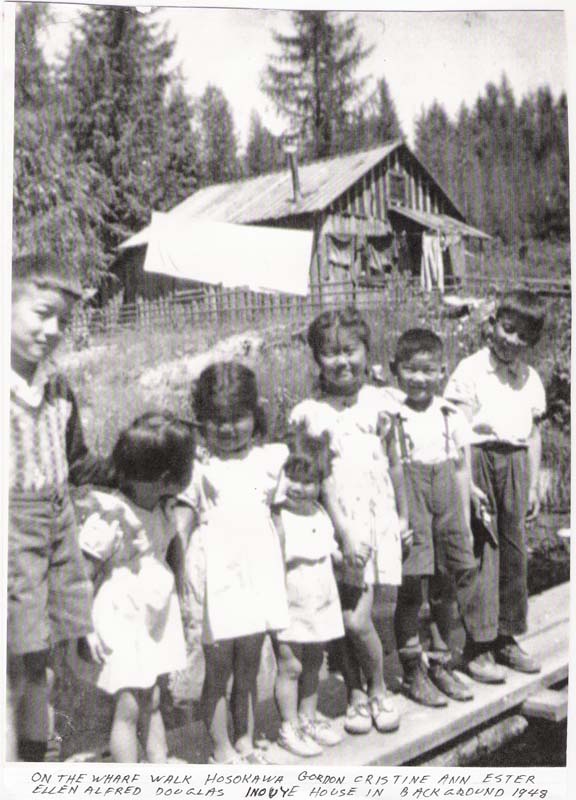 We ended up at Bill and Eilene Gooch's place, where they had 4 small houses. These were slat shacks with cardboard inside to keep the weather out... The whole area was small farms 50 to 100 acres or so with the 7 6 (seven six) Ranch covering a section of land up against the Cougar Mountains. The Goochs were quite the family. Bill and his wife Eilene and his father had milk cows, steers, pigs, etc. and a few acres of grain. Bill was a WW 2 vet just back from the Pacific front where he was a tail gunner on a B29 bomber. A good man, as was the rest of the family. His father was a WW1 vet. Quite the character. He had a groove on the top of his head where a bullet parted his scalp. At Easter, he'd sit on a chair in the yard with an egg on the top of his head with his hair mussed up around it while everyone was running around looking for eggs. He showed us the bullet holes in his leg. He said they dragged a rag soaked in iodine through the wound to prevent infection. It must have been painful.

I spent some time coiling hay with a pitch fork for Bill, cut firewood on a tractor-powered circular saw and later on he took me on a fishing trip up to the Twinlakes on the Fly Hills. Every fall when it came time to thrash wheat, the only thrashing machine in the area would go from farm to farm. The thrasher was powered by crossed belts, 20 feet long and 10 inches wide, hooked up to stationary tractor as the power source. My job was to feed the thrasher with a pitchfork. At the end of the day there would be two picnic tables end-to-end loaded with food for the workers. The 7 6 ranch name is gone now. The ranch was owned by Gordon McArther (maybe McArthur), his wife and son Jim. Jim was a good friend of mine. One day in 1953, we loaded up a wagon with hay, saddled up a couple of quarter horses, tied them to the back of the wagon and took the whole shebang out to where the cattle were. After unloading the hay we'd take the horses out for a ride. Our school was just north of the ranch. It had a tall potbelly cast-iron stove for heat and grade 8 students took turns a month at a time to head out to school early and light up the stove.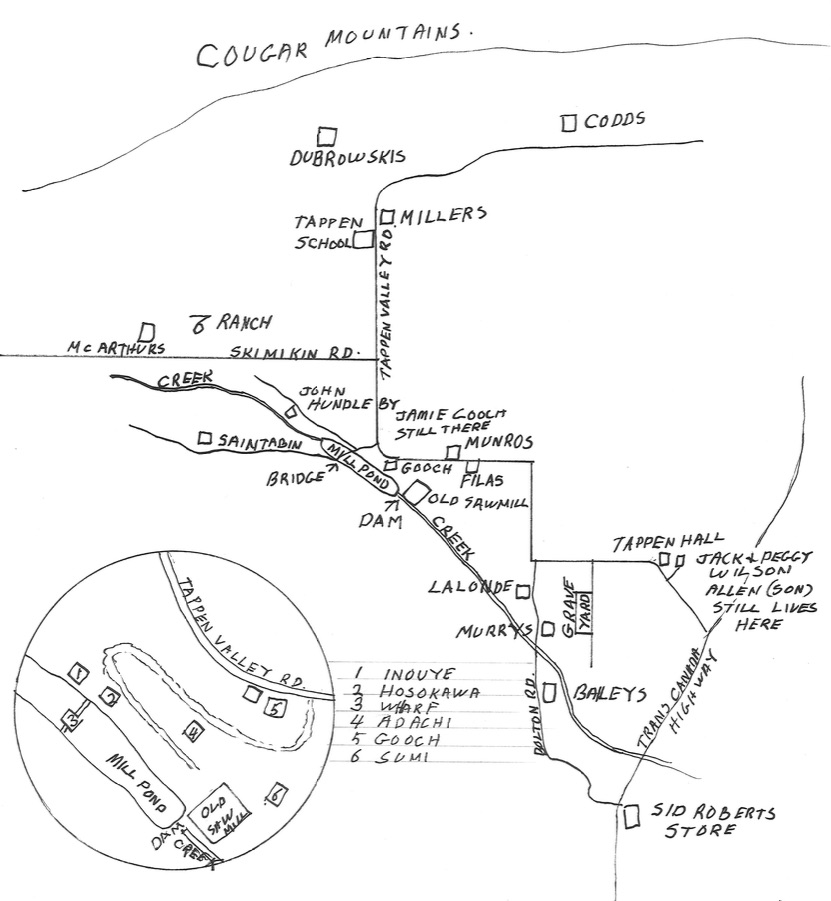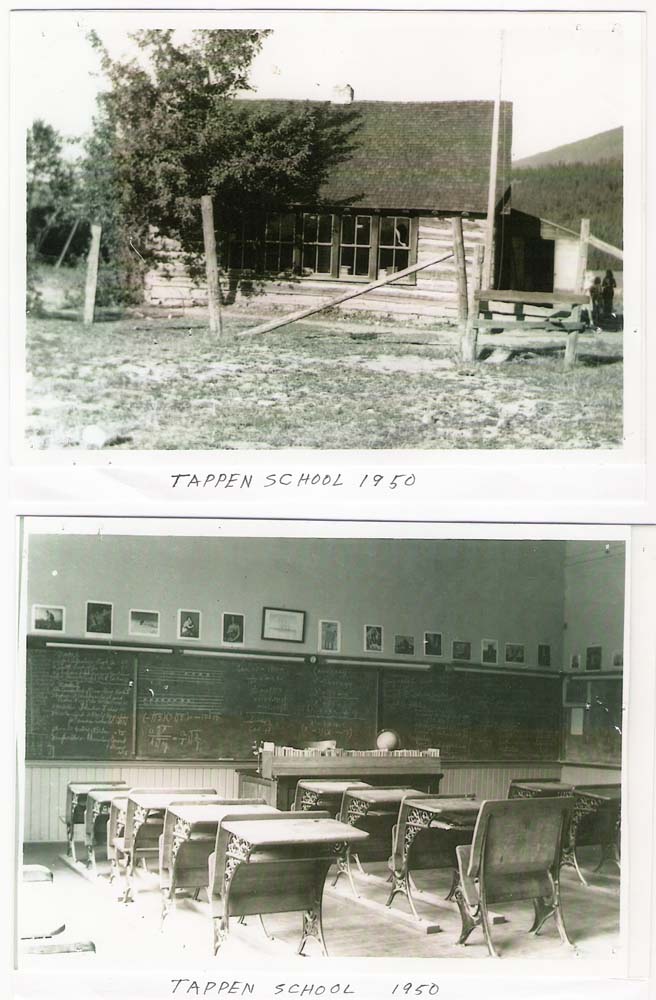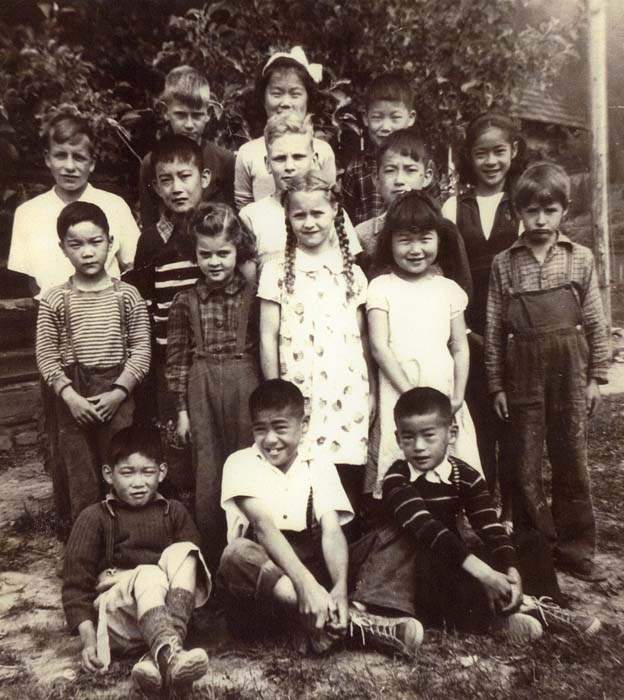 Tappen Valley School, 1950–2

Front row, Glen Inouye, Ronald Inouye, Derrick Inouye. Second row: Charlie Simi, Jeanene Miller, Sharon Thicket, Ann Hosokawa, Jack Thicket. Third row: Ralph Saint Abingdon, Douglas Hosokawa, Picton Cod, Gordon Hosokawa, Rona Inouye, [unnamed]. Fourth row: Jim McArthur, Ellen Hosokawa, Alfred Hosokawa (Me). I was born in 1940. That picture is around 1950-52. Our family lived in Tappen from 1946–55.



In 1952-53 Tappen School was closed and we were transferred to Carlin School. Across the road from Tappen School were the Millers. We used to cross the road onto their property to pick wild strawberries. One day she came out and told us not to pick the strawberries so we picked her a bunch which surprised her and she allowed us to pick again. The drinking water came from a well on their property till one day there were just too many critters in the water, so we ended up going to the Dobrowskis' further up the road (formerly Kellys').

The Dobrowskis came from England and had two long English cars. I remember looking at the speedometer and it read 120 miles per hour. Everytime we went there for water he had these 5 black Labs with him. He liked to hunt but in the strangest way. He'd sit out in the middle of the field on a swivel piano stool with his shotgun, looking for geese. Continuing along the road and around the corner was the Cod family. They had three children, Julian, Picton (Bunny), and a sister whose name I don't remember. The father was the minister at the United Church. Our group was separate from those along the Trans Canada Highway.

The house we lived in was a slab shack, 2x4 and pole construction with fir slabs on the outside and cardboard on the inside to keep the weather out. We had two woodstoves going in the winter to keep warm. New Year's was a big event in the country. At midnight my dad would fire 3 shots up the mountain with his rifle as would others in the area. We didn't have electricity so there were no appliances.. my mom did all the laundry by hand and in the winter we would cut huge blocks of ice from the pond and store it in the sawdust bin for future use. We always had a huge garden, as did the Inouye family next door. Every fall we'd buy a smoked hindquarter of a pig from Bill, our landlord. We did a lot of hunting and fishing as well.

The pond by our house was a dammed-up creek with plenty of trout and often ducks. One morning 1953-54(?) I went to get a bucket of water from the pond and it was gone. The dirt dam had burst. It wiped out all the pump houses and water wheels along the way to the lake. They were quickly repaired as that was their only source of water. The new water wheels were a sight to see as were the hydraulic pumps that looked like octopuses with no legs. There was 13 in our family and the Inouye family next door had 9. All the men there worked for Charlie Nakamura who had started up logging and sawmills in the Fly Hills/Skimikin area, White Lake and Notch Hill. They were mostly cutting railroad ties. The last place my dad and others worked at was Nakamura's Fly Hill Lumber Company in the Skimikin area on the side of Cougar Mountain. In 1955-56 Charlie Nakamura built a large sawmill about 2 miles west of Salmon Arm. Several houses were built or remodelled there and some of the families from Tappen moved there. It was called Salmon Arm Lumber and Timber Company We used to call it the SALT MILL.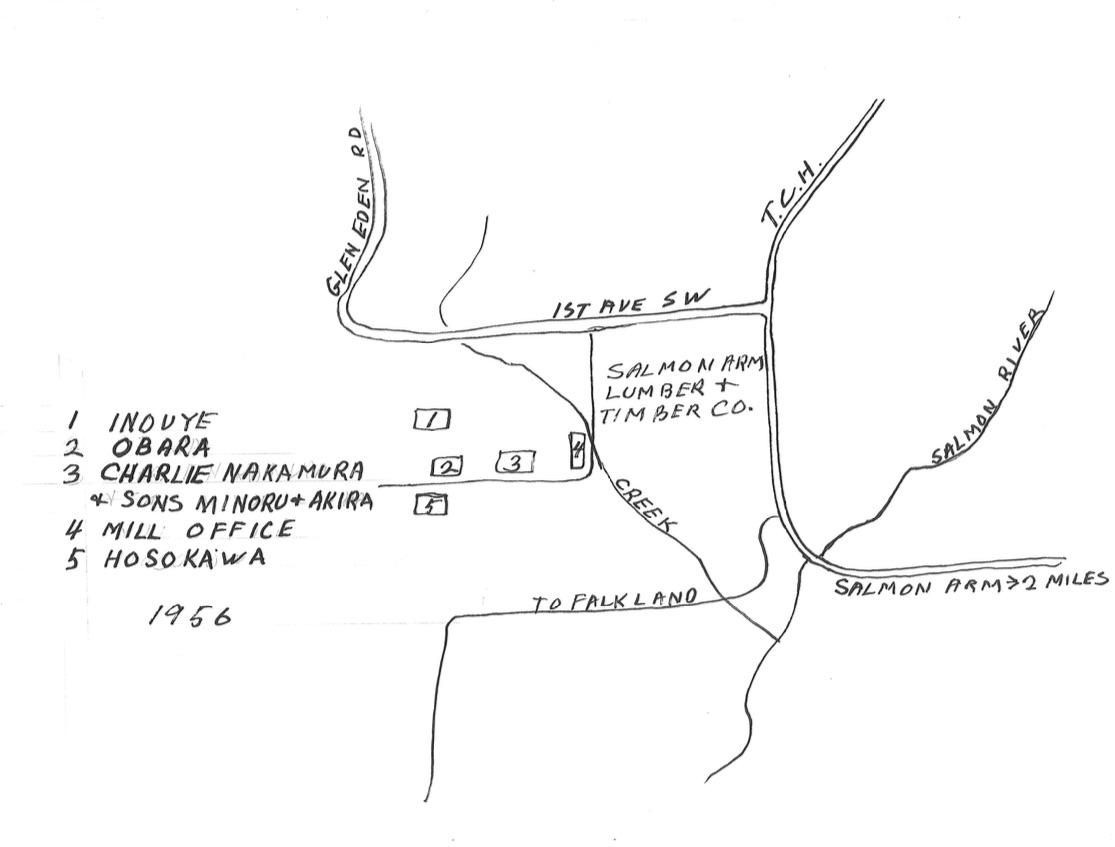 During that period my dad built a speed boat for Mr. Nakamura of yellow cedar about 16 ft. long with a V8 motor in it. I never did know what happened to that boat but it was so well built that I would not be surprised if it's still around somewhere. I went to the Tappen Cemetery recently and found many names of people I used to know. One caught my eye. It was John Hundleby. My older brothers and I would see him often as we would hunt and fish in that area. The gravestone is weathered so bad you can hardly read it anymore. I'm sure there are many more stories from other areas in BC where the Japanese ended up that will soon be forgotten as time goes by. I hope people write their memories of these times to be published.



***



From Bill Suckling, Blind Bay, 2011: I was reading about the Japanese connection around Carlin/Tappen and think there might be another small site of interest which may be left over as well. I will confer with a friend who lived in the area at the time (mid 50's) who claims he went to school on the same bus as the kids from what he called "Jap Camp." A Japanese family lived across the road from us in Salmon Arm: the Ogawas. They were more affluent [than the Tappen families].... I remember going to that small place in question as a kid with one of the Ogawas to fish in the creek and remember seeing the old brown shacks with water lines running above ground to the wash house. Wood shavings piled all around the bases of the buildings. I believe one or more of the houses is still there and will check it out with permission and my camera then let you know for sure. I live close by in Blind Bay.

Yesterday I met with my friend Picton Codd who grew up next to the Calhouns in Tappen. We actually drove over to where the house and what he remembers as the big shed or building were located. The only remaining visible evidence is the concrete foundation of what probably was the location of the processing plant or whatever they called it. Interestingly enough I have never been down that original highway in all the years I lived in this area, in fact did not know it was the old original highway. I need to get out more.

Pic is a retired RCMP living close by here in Blind Bay. While chatting about the comments on the web site ... the Japanese cabins in the Shuswap ... and with reference to the comments from Dennis Cowell 2011 regarding an older man riding a bicycle along the highway in the Tappan/Carlin area. Pic knew him quite well actually ... he is mentioned in the same article. His name is Shig Sakon. He also tells me the reason for his shy appearance was simply due to the fact he never learned to speak our language and avoided contact as a result.

[As for the two small cabins – the 'other small site of interest' mentioned above], Pic was not sure when they were built but the children of Japanese families living there attended the same school he did in Tappen. He said the kids spoke of Birch Island and New Denver which of course were internment camps. So it is possible they came to this location after the camps or perhaps they had family/friends in those camps.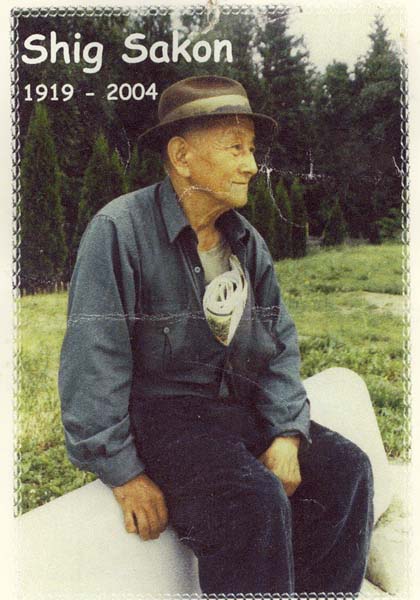 Photo submitted by Bill Suckling.

From Greg Grant, 2016: in reading this story I too remember the man on the highway at Carlin. I moved to Sorrento in 1963 to the old Anglican church retreat on the lake just below the motel with my parents. I went to school at Carlin and in our travels back and forth to Salmon Arm we saw this old timer on the highway frequently. And as a young boy I remember him as avoiding eye contact. It was puzzling to me. Now I know a little history behind the man I only knew from the highway.


***
From Dennis Cowell in Kamloops, 2011: Having lived in Salmon Arm for many years, I remember in the 1980's and early nineties an elderly Japanese-looking man, who we used to call the bicycle man, always riding a bicycle in the Carlin area. I used to work for the highways dept there and when he passed us by he would be very shy and would avoid eye contact if possible. I was told he had to get other people to do his banking and other business for him as he was too shy to do it himself. I wonder after reading about the Japanese family there if he was one of the sons in the photograph on your website. At the time we thought he may have been a lone farm worker, but after reading your article I did not realize there were other Japanese in the area during the war years.

Note from Gary Yoshida, 2009: i have always wanted to thank you for writing your book; "vanishing b.c.", it is a pleasure each time going to your website and reading what our mother's childhood was like growing up in mayne island and post war home of the skimikin valley near tappen. hatsue yoshida (nee konishi) has provided such great memories to pass on to further generations and helps educate those who would like to learn more about this beautiful province's past. i am warmed reading about my grandfather's farm and remember the calhoun farm next door.

kumajiro konishi, (our grandfather) i'm told from our family, had a great passion for photography and to see the photos of their original home in mayne island and the post war photos in tappen are truly wonderful, i'm sure all of my brothers are amazed and have fond memories as well. looking at the book and your website to see our relatives as young children in the mayne island section of your work is quite fantastic, and reading these recollections also reminds us that we need to remember where we came from and pay homage to those who sacrificed their lives for their future generations.

Contact me
Return to Vanishing B.C. main page

Artwork and text ©Michael Kluckner, 2001, 2002