From 1943 until 1952 Hatsue Konishi worked on the Calhoun farm, while her younger sister Setsuko kept house for Henry and Hilda Calhoun during the summers. Kiyono and Kumazo Nagata stayed on in their cabin until about 1949, then moved into a new house they and son John built in Gleneden, where they lived until repatriating to Japan in 1953. John Nagata developed a sawmill of his own at White Lake, married Miyuki Yoshida of Chase and remained in Gleneden to raise his family. George and Fumiko Fukuhara moved to Grindrod after the war to work in the sawmill; later, he became the foreman at the Chase sawmill, renowned for his skill as a log scaler, then returned to the coast in the 1960s so their five children could have better educational opportunities. As for the Calhouns, they continued vegetable farming until at least the late 1950s, losing in 1954 the highway traffic that used to go down their road when the alignment was straightened to its current one directly from Carlin to Tappen. And Charlie Nakamura had a large sawmill in Salmon Arm West called Salmon Arm Timber, which apparently went bankrupt about 1961.

The Konishis came closest to repeating their Mayne Island experience. From 1943 to 1946 they stayed in the log house east of Calhoun's, then moved onto the next property south (three of the tenants who later moved into the log house died in a fire there). Soon, they were growing 6 1/2 acres of strawberries and had built greenhouses for tomatoes. In the 1950's or early 1960's, they were able to build a modest, modern bungalow, stucco above pink horizontal board siding, in front of the cabin they occupied in 1947 – the one sketched above that I think is the last survivor of the buildings from the war years – which is now (2003) home to their son Fiko. His cousin's granddaughter described it as "a small, nondescript kind of house surrounded by trees and garden, but its smallness and obscurity just underlines the Nikkei wish to blend in." Fiko spent his career with Clearwater Timber Products, then retired about ten years ago to the family property. The greenhouses are long-since demolished. His older sisters Hatsue and Setsuko live in Kamloops. Jenji Konishi, the youngest of the four children, is a retired professional forester living on Vancouver Island.

* * *

(I first heard of this wartime community through a caller to BC Almanac, the CBC radio program, named Sian Reiko Upton, who was talking about her most significant place in the province. She is the daughter of Kathy Fukuhara Upton, who was born in the Skimikin Valley in the bitter winter of 1942-3. She described visiting the last two cabins with her grandmother and mother in 1996, shortly before they were demolished. "Entering the cabins on a hot muggy day, my mother teared up, while my grandmother chattered excitedly in Japanese about the various things she found on the site: the old root cellar where she and Granny Nagata made root beer and sake; pieces of old Vancouver Sun and Japanese newspapers stuffed into cracks; the windows and nails which they'd brought on the train from Vancouver. 'Remember this . . . oh!' she cried at each find; and a story would unfold. On the floor of the Minamimayes' house she picked up a piece of cardboard and wood with the family name written in Japanese and English: Minamimaye. I do not know what happened to that family." Sian went on to write about the reticence that hovered over Nikkei families--an atmosphere well captured in Joy Kogawa's Obasan. As well, "many old Nikkei families remain close through informal support networks, intermarriage, visits and so on--this was illustrated last year when my grandfather [George Fukuhara] died. I think this will end with my generation: we children of Trudeau's multicultural society do not remember the difficulties of living in wartime/postwar white Canada. We do not view life in terms of restrictions, and tend to look outwards rather than inwards . . . hence our globetrotting!"

One extraordinary aspect of the story is how they all survived. The Nikkei, according to Sian Reiko Upton, "were already experienced migrants. They were peasants, too--hardy types. They did really extraordinarily well during the war, something that portrayals of them as victims obscures--most kids ended up with tertiary education, and a decent grounding in their own culture and language. My Mum and I probably know more about making Japanese food from scratch than most native Japanese today, and we all know about peasant-style self-sufficiency."

Sian is an anthropologist; her mother Kathy is a highschool art teacher in Mission.

[Sources: correspondence and conversations with Kathy Upton, Sian Reiko Upton, Hatsue Yoshida, Fiko Konishi, Mieko Kawase, Carol Schaafsma (who with her husband have owned since the 1950s the Mikkelson dairy farm at Calhoun Road and the TransCanada highway), Dean Trenholme (the farm north of the Schaafsmas; he helped build the Calhoun's big barn in the 1950s), and Allan Wilson (local historian). A story about George Fukuhara appeared in A Town Called Chase by Joyce Dunn, Theytus Books, 1986, pp. 288-291. Obasan by Joy Kogawa was published by Penguin in 1981.]


From Ria O'Brien, 2020: I'm Ria O'Brien (formerly Cameron), my grandfather was Fiko Konishi. Unfortunately the property was sold when my grandfather became too ill to look after it, and the old cabin's roof collapsed shortly before, and the new owners removed the whole thing.


From Sandi Arts, 2019: I am the granddaughter of Kumajiro Konishi (daughter of Jenji). Here is a photo from a couple of years ago of the cabin you painted.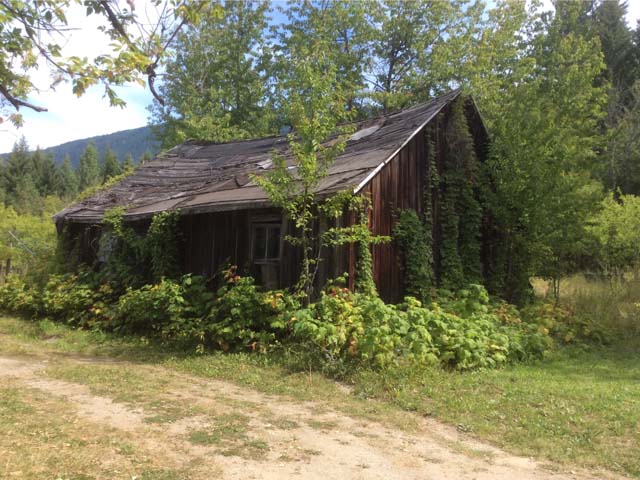 Update 2019: Fiko Konishi died at the age of 84 on January 9, 2019. His sister Setsuko Iwasaki died on October 29, 2009. Thanks to niece Sandi for notifying me about Fiko.
The Konishis in front of the log cabin they rented from 1943-1946, photographed by Kumajiro Konishi. This building burned to the ground about 1952, killing three of its occupants. Back, left to right: Mrs. E. Hayashi, Mrs. Chiyoko Konishi, Fiko Konishi, Mrs. Fumiko Fukuhara with daughter Kathy. Front: Mie-chan Hayashi, David Fukuhara, Haruyo Hayashi and Jenji Konishi. The Hayashis were visiting from Chase.