A novelist, journalist, socialite, botanist, explorer, and World War I ambulance driver, Julia Henshaw was a unique and colourful personality. This graphic biography follows her extraordinary life from Montreal to Vancouver, from the Rocky Mountains to England, and from the mining towns of BC's Kootenays to the battlefields of France and Belgium. Her strongly expressed views of women's roles and voting rights, of racial and class issues, and of Canada's relationship to Great Britain and the USA are an illuminating contrast with the values of her contemporaries, and with society today.




132 pages, black and white, 7 5/8 x 10 3/4 inches, soft cover

Published by

Midtown Press

, Vancouver, 2018

ISBN 978-1-988242-20-0

Suggested retail: $19.95


Available from all bookstores (real ones and on-line, too), plus the Comic Shop on 4th Avenue in Vancouver.

Here are the upcoming public events for Julia:

• LAUNCH at Massy Books, 229 East Georgia Street in Vancouver's Chinatown, May 15 at 7 pm
• VanCAF, the comic arts festival, at the Roundhouse Community Centre on Saturday and Sunday May 19 and 20. I will be there for much of the weekend at the Midtown Press table.
• A brief talk and signing at Black Bond Books in Ladner scheduled for June 9, time TBA.

...and then later at ...
• Nelson Public Library, June 28th at 7 pm
• Grizzly Books, Revelstoke, June 29th, probably late afternoon
• Salmon Arm Public Library, June 30th, 2 pm.
• Radium Public Library, 6:30 pm.
• Whyte Museum of the Canadian Rockies, Banff, October 17th, 2 pm
• Friends of the BC Archives, Victoria, October 21st.
• Vancouver Historical Society, Museum of Vancouver, October 25th, 7:30 pm.
• Langley Heritage Society's Douglas Day banquet, Fort Langley Community Hall, November 16, 2018

REVIEWS and other notices are posted below.




(My Facebook page will have up-to-date posts about events although I will put major ones on the "newstuff" page on this site; more permanent items such as reviews will be posted below)

Julia mixes the graphic novel genre with a lot of digital visual material, including newspaper facsimiles and some historic photographs, to fill in the blanks in the record of Julia Henshaw's eventful life. It also has me (the author) as a recurring character – not at all unusual as witnessed by Art Spiegelman in Maus and the narrator in Persepolis, to name a couple of famous examples. The mixing of different media is something I first saw in Shigeru Mizuki's Showa history of Japan; I've used Photoshop Elements to bend and distort newspaper pages, for example.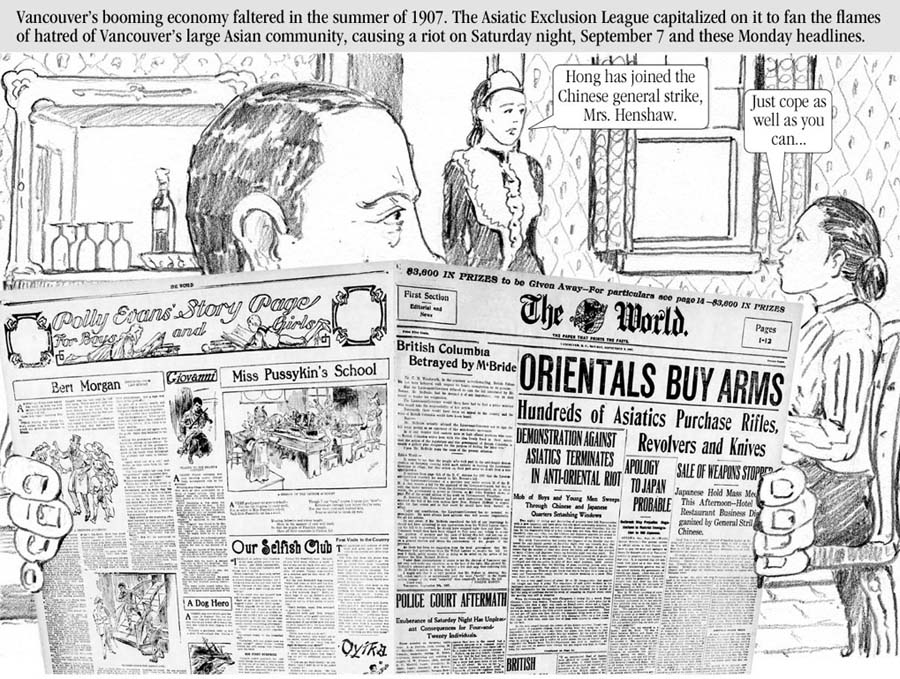 The high-resolution newspaper facsimiles, and the 480-dpi printing of them in the graphic novel itself, means they can actually be read with a magnifying glass. This is "history getting its voice back."