A middle-aged man with memories as sharp as sciatica of wandering along the open road is concerned that he has become too settled to try anything new or, indeed, even to retry anything old. Once upon a time a charter member of the Order of the Volkswagen Bus, he had taken the vows of poverty (by only owning stuff that would fit in the bus) and utility (by knowing how to keep it running himself). A quarter century later, dragged down by a complicated, busy life, laden with useless possessions and unnecessary responsibilities, he wonders if he can recapture even a whiff of the unfettered joys of youth and its boundless future.
However, being a conservative, truly middle-aged sort of a person, he can only do it cautiously, like the guy at a highschool reunion who dances hot and slow with an ancient girlfriend but has no real desire to sleep with her. Like a sticky sweet dessert, the reality can be disappointing, right?
He is aware of the Winnebago warriors, most of them elderly, who have the spirit of wanderlust he had when he was young, and says to himself, well, it's only because they never went further than their hair-dryer cords could reach when they were young – that's why they're on the road now. But in their RVs they're not really travelling because they're pulling along enough stuff to fill a standard bungalow, and they congregate in ghettos with hook-ups and sani-dumps where they watch their TVs and while away the time between meals. The question nags at him: are they really losers, or are they merely more prosperous versions of what he once was?
Risking ridicule from his wife and friends, he buys an old, rusted Volkswagen bus from a scruffy youth and sets off for California, retracing the route of a similar odyssey 25 years ago. The slow-moving hippie bus is not only his beast of burden, its windshield is a lens through which modern American culture -- fast-paced, strung out along the roadsides, isolated by wealth and technology – comes into sharper focus. Ironically, the lens works both ways, and he finds that strangers define him just through their perception of the old van. Louts flash peace symbols, gas jockeys ask whether he's heard that Jerry Garcia is dead, and seniors in RV parks shun him and won't invite him inside their motor homes to see their gun collections and discuss their operations.
As it is a trip in the slow lane, he spends minimum time on the interstates and maximum time along the little roads – William Least Heat Moon's Blue Highways – along the coasts of Washington, Oregon and northern California. His raison de voyage, beyond escaping la horreur de domicile and rediscovering a slower pace, is to revisit the region within San Francisco's orbit. In the consumer-mad, gadget-obsessed 1950s and 1960s, a low-tech dream of beatniks and hippies living the simple life was invented there; then, in the 80s, a new, gadget-obsessed dream got started in the Silicon Valley just to the south.
Nearing the dreaded half-century mark, he discovers he is better able to come to terms with his need for roots and a comfortable home while chugging through the countryside and waxing nostalgic about the good old days of wandering on the open road. Volkswagen buses, and his memories of fixing them and keeping them running, become a metaphor for his evolution from the "know-how" generation to the "know-how-much" one.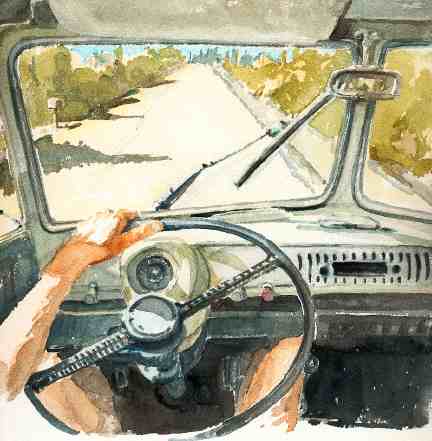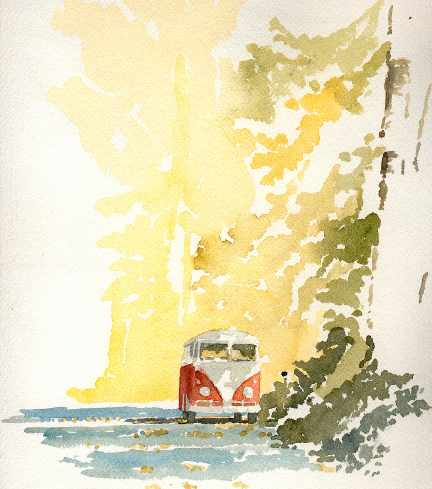 Roadside bus, from the sketchbook